So, you've made it into Southampton University. Congratulations! With one week to go until you move in you will have already been bombarded with information about the University itself, your checklist for moving into your accommodation and what to bring with you, things you need to do to enrol, and details regarding freshers week and the all-important masterpass.
However, perhaps some of the most important information needed is where to go for a good night out. You may have heard of Jesters nightclub (check out our essential survival guide here) but there are plenty more places where you can make a fool of yourself on the dance floor (obviously not speaking from personal experience, I am an amazing drunk dancer). So, without further ado, here's your comprehensive guide to the most popular nightclubs, handily split into their different locations, with what the (most of the) owners have to say about their establishments, all in one place. Fancy.
Portswood
Oh, Portswood, how we love you so. This is the area of Southampton where the majority of second and third-years live and mingle with the eccentric locals.  You'll also find many bars, restaurants, takeaways, and charity shops, along with the famous gelato Sprinkles and its rival, Scoops. There's also a Waitrose here, so it's a classy place. Portswood is home to a couple of our most beloved nightclubs, and as it's not too far from most halls of residence and the university, many socials end up in this most beautiful of places.
Jesters
We may as well start with the most (in)famous. The Palace of Dreams has an international reputation, and is rumoured to be the worst nightclub in Europe. So why is it so popular? There is certainly no other club like it – you should all strive to go at least once (luckily for those in Chamberlain halls, this is on your first night). With a vast array of pint-sized 'cocktails' (okay, multiple shots with lemonade and fruit juice chucked in) which change colour every time you order them, ridiculously cheap drinks, Jesters really is one of the cheapest nights out you can have in this wonderful city. If you don't fancy your night out to be too wild, you can always visit the adjacent Clowns Wine Bar, where the drinks prices are virtually identical to Jesters and there are actual sofas. In addition to all this wonder, there is the incredibly popular Cider Festival, which gives you a chance to win the priceless Gold Card, which grants you free entry and queue jump on every night except Mondays. Held at the start and end of the year, all you have to do is spend 12 hours in the place! Easy. One more thing, they play the Baywatch theme every single night. 
What they have to say: "Keep calm and down a Jesticle 😀. Southampton's cheapest night out. Jesters Mondays! 60p pints and 50p shots. Unbeatable."
Sobar

If you walk lightly further down the Costa del Portswood from Jesters you arrive at Sobar, but you certainly won't be sober by the end of the night there! With a gargantuan outdoor area it is unlike many clubs in that it is easy to make a fool of yourself on the dancefloor as well as having a 'civilised' conversation where you can actually hear the other person speak. Popular with many students on most nights, its drink prices are amongst the cheapest you will find anywhere. If the drink Jesters is mostly associated with is the Jesticle, for Sobar it is certainly the Quad-Vod – although Southampton Council have banned the practice of having 4 shots of vodka in one drink, so now it is officially  'only' three.
What they have to say: "Sobar is the biggest and cheapest student-only venue in the city! So:Crazy Tuesday's with our £1 Double Vodka and Carnival Fridays with £1 J Bombs and Inflatables in the garden make Sobar the ultimate student venue. The main attraction is Sobar's massive year round garden and how close it is to the University. Come check us out."
Virtually next to Jesters and Clowns is The Hobbit, a Lord of the Rings-inspired pub with a massive outdoor section. It is also home to a variety of imaginatively named cocktails, including Frodo, Gandalf, Legolas…. you get the idea. If you are feeling courageous enough, you can attempt the Fellowship Quest, which involves consuming all 12 cocktails (not all on one night). If you conquer this challenge, you get a free t-shirt, and the chance to buy a special cocktail. Home to a massive outdoor area, a burger van and traditional pub stalwarts such as pool and table football tables, the Hobbit is an exciting place to go for casual drinks or for a night out in itself.
Perhaps it is most famous for its legal wranglings with Hollywood over the use of its name. Thankfully, it is still called the Hobbit, and we hope it stays that way!
Bedford Place
If you venture away from the safety of Portswood and head towards the big, bad city centre (or away from it if you live in Mayflower Halls) then you will find Bedford Place. What makes this place stand out in Southampton is the vast array of nightclubs in one small area, which makes this place the chief location of the freshers week tradition that is 'Big Night Out'.
Popworld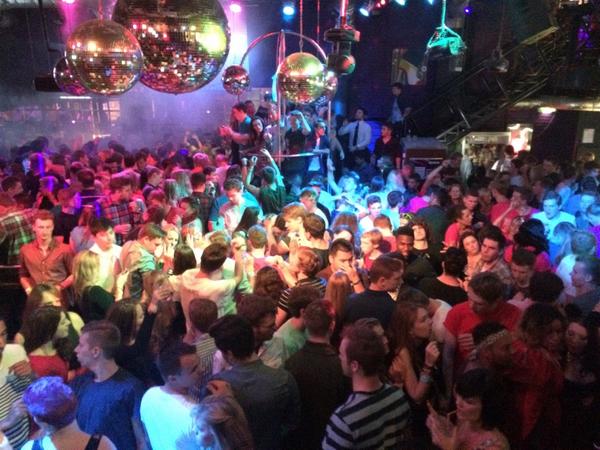 Feta the devil you know, Could it Brie magic?, Don't you want me baby(bel)?.
That's right, Popworld is all about the cheese.
Everybody needs to release their inner nostalgia once in a while, and Popworld is the perfect place to do it. With all the old classics blasting out until the small hours, it is a great place for a night out with friends. Popular with the locals as well as students, you can expect a vibrant atmosphere every time you go there. There is also a raised dancing platform, straight out of Friends'  The One with the Routine. Oh to be in Ross and  Monica's shoes…
Popworld did not reply when contacted by Wessex Scene
Tokyo
If you like your clubs with a theme, then Tokyo is the place for you. As the name probably suggests, you can immerse yourself in the Far East experience here. With a friendly atmosphere  and regular discounts on drinks or entry on most nights, this is certainly a classy yet great value place to indulge in some alcohol-based debauchery!
What they have to say: "Southampton's Japanese twist, student atmosphere, student prices…. Located in the heart of Bedford Place, this is one venue to never miss out on! Making memories since 2010, or not in some cases ;)"
Buddha Lounge
It has 'lounge' in the title, therefore the place is pretty classy. Split into a bar, nightclub and roof terrace, there are plenty of options for the type of night you want. The nightclub itself has a good layout with a relatively large dance floor, considering the size of the place. Drinks are relatively inexpensive, although you have to make sure you go on the right night – 79p drinks on a Tuesday is certainly no bad thing! The roof terrace itself is open from 12pm when sunny and food is also served. All in all, a decent night out!
Buddha did not reply when contacted by Wessex Scene.
Orange Rooms
Although the fish that graced the entrance to the club are gone, Orange Rooms is still a very popular destination for
students. Situated in the very heart of Bedford Place, and open from 12pm, it doubles up as a restaurant before transforming into a club. With open mic nights, cinema screenings and special cocktail nights, Orange Rooms certainly provide variety to your nights out. Tuesday night is certainly the student night at Orange Rooms – their new 'Bangers and Mash' night will provide party 'bangers' and 'mash ups' as well as the usual cheap drinks, although literal bangers and mash will suit me just fine. Certainly, Orange Rooms' reputation as a great night out is well deserved.
What they have to say: "Open daily from 12pm, serving our new Street Food menu, Orange Rooms offers something for everyone. Housing 5 bars each with their own theme including a ski-lodge style chalet and a Hawaiian tiki lounge, whilst our mixologists serve the best cocktails on the south coast – 'it's a small world' here at Orange Rooms. You have to see it to believe it. There ain't no party like an Orange Rooms party! Also, students can grab one of our FREE loyalty cards to get even more mega discounts to use through out the whole week!"
Junk
Winner of Britain's best small club in 2013, music is certainly at the forefront of Junk's ethos. With a top-of-the-
range sound and lighting system, it is certainly an attractive prospect for many musicians with Frank Turner having recently DJed at the venue. As it's quite a small club, the atmosphere is lively and compact – as such, Junk has made a name for itself as one of Southampton's premiere venues. You only need to take a look at the queues outside the club on most nights for evidence of its popularity!
What they have to say: "We are the South's longest running music focused nightclub. Our emphasis is on quality music and quality sound, lighting and service which has led us to be nominated (2011) and won (2013) DJ Mag's Britain's Best Small Club award. Our weekends are focused on dance music, Friday is a more bass led affair and house music on Saturday nights. Thursday we bring in weekly promoters with different music styles every week. Tuesdays is our student focused night Shakedown offering an alternate twist to a student night – we've got full production every week, music played by Ibiza Rocks residents and of course some killer drinks deals."
90 Degrees
Open 7 days a week from midday – 2am, ninety degrees is your quintessential cocktail bar, with great value food chucked in during the day. From showing all the sport to being a classy place to go for a few (or many) drinks in the evening, you could feasibly spend the majority of your day in there. With live music every Sunday, open mic nights every Wednesday (two per month are devoted to their very own musicians) and local DJs frequenting the venue on most nights, evenings out at ninety degrees are varied from night to night.
90 Degrees did not reply when contacted by Wessex Scene.
Revolution
As part of a chain of bars throughout the country, you may be familiar with Revolution already. In a similar vein to
90 degrees, Revolution transforms from serving food during the day to a popular bar venue at night. With a specific club room and a sky terrace, Revolution is a solid choice for a sophisticated night out. Playing a wide variety of music from indie to electro-house, as well as offering cocktail-making classes, it is certainly a venue to consider for special occasions. The drinks are a little pricey, however.
Revolution did not reply when contacted by Wessex Scene
City Centre
Certainly the city centre is home to many places where you can whet your whistle, however these are the most popular clubs there, and they feature on all your Freshers timetables!
Cafe Parfait
A favourite of many students, Café Parfait is both good value and great fun. With free chocolate every Thursday and fabulous drinks deals, Mondays and Thursdays are very much the best nights for students. With VIP booths right next to the dance floor which plays all the club hits, and another floor upstairs playing more house-oriented music, Café Parfait has a fantastic reputation with many students. The club is also home to an outside area with shisha available to buy in many different flavours.
What they have to say: "Cafe Parfait is different. Unique entertainment not seen anywhere else along the South Coast. At weekends, you'll find a musical circus with aerial performers, magicians and mimes. Thursday night plays host to its longest running and most successful student night The Chocolate Factory Oompa Loompas, 75p drinks and a giant chocolate fountain. It's wonderfully bizarre! Their new Monday student night is set to be even more bonkers. "Moji" mondays offers 75p drinks, milk bottle cocktails, prop boxes, giant emojis hanging from the ceiling and last but not least free vodka jelly and ice cream. The venue is open til 4am most nights with the cheapest student drinks in the city centre. Contact the club for free vip deals for clubs, societies and birthdays."
Oceana
You may be familiar with Oceana it is part of a chain of clubs throughout the country. As Southampton's biggest club
it often plays host to many university events throughout the year, such as the Humanities Ball and last year's Grad Ball. However, it also plays a key part in the nightlife of many Southampton students. Certainly, the route to Oceana on a Wednesday night is a pilgrimage for many students! With two main rooms, playing either the new stuff or older classics, it is quite difficult to get bored there; however its immense size means that it is easy to get lost inside! Inside is also a sophisticated bar area with an abundance of cocktails and swish decor. With drinks prices at about standard rates for many clubs it's definitely a place for a special night out, as any previous fresher who travelled there on the bus will testify!
Oceana did not reply when contacted by Wessex Scene
Switch
Certainly the club of name changes. What was one Provenance became Myth, which in turn became Switch.
However, unlike the previous two guises, Switch looks like it has staying power, quickly establishing itself as the place to be on Friday nights – the 'juiced' promotion, with very cheap drinks, has proven to be extremely popular. With a set-up unlike many other clubs, you will certainly be impressed when you walk (or stumble) inside. Essentially, it is one massive dancefloor with bars upstairs and surrounding it. The club has recently undergone development work to improve access to the bars, so hopefully the problem of a seemingly never-ending wait for a drink will be solved. Switch is heavily involved in local music, with it playing host as the afterparty venue to the upcoming Southampton Soundclash festival.
Switch did not reply when contacted by Wessex Scene
St. Mary's
The Edge
Located in that awkward place just outside Portswood but not quite in the city centre, The Edge is one of Southampton's most popular clubs, especially with LGBT+ groups mainly thanks to its long opening hours and very good drinks deals. Situated very close to Liberty Point halls of residence. With a BBQ in the garden, and extremely cheap drinks, a night out at the Edge is great fun. The bar section upstairs is where you'll find karaoke and a photo booth.
What they have to say: 'The Edge is Southampton's gay club and is open 6 nights a week to party right through till 5am! Expect cash giveaways, video DJ's, tasty cocktails, fun karaoke, delicious BBQ, vodka slush puppies, foam parties, celebrity guests, house music, pop music and much, much more! Our busiest nights are Wednesdays and Saturdays. If you're looking for a cheap night out, visit us on Wednesdays and Sundays!"
Lennon's
Also joining The Edge in that awkward place outside Portswood but not in the city centre is Lennon's nightclub.
Named after the family who own it (and not the second-best Beatle), it is a relatively small club with a devoted fanbase, as the music played there is certainly unlike many clubs in Southampton – a mixture of old-school psychedelia, indie and rock. As well as this, there are live bands who perform regularly – in the past they have included both The Kooks and Royal Blood.
What they have to say: "On Fridays, Lennons hosts District DJ's playing Pop Punk, rock and metal. Saturday's are club Psychedelia, on this night we put local and touring indie rock band, DJ sets playing indie, 60's and ska. Both nights have cheap drinks deals. Lennons is a club you can dance your heart out, you can have a drink without denting your finances too much."
This list is of course not exclusive, there are plenty of other venues for you to explore on your night out, including the
Talking Heads
, 
Joiners
 and, for all you metal-enthusiasts,
Dungeon
. Add several pubs and bars into the mix, and you have a city with fantastic nightlife!