Emma Blyth, an Eastleigh local, is planning to give Southampton its first ever cat café. A couple months into her adventure, I had the opportunity to have a chat with her about her plans…
What prompted you to try and make this into a reality?
Most mornings driving to work, I would think about what I could be doing with my life and, like most, I would find it hard to get motivated for the job I was doing. I started asking myself what I could do that would reignite my passion and make me feel excited to wake up in the morning. I see so many people living out their dreams and in a career that makes them happy. I felt it was time I did the same. I've spent many years building a career in the construction industry and I'm very proud of what I've achieved, but I can't help but wonder 'what if?'. Life is so short and I want to be able to look back in years to come and know that I tried things and that made my life as happy as it can be!
I have now spent the last 2 years wondering 'what if?' and whilst I kept putting it off, the feeling didn't go away. Recently I have seen other Cat Cafés become popular and seen the wonderful work they do. It was always something I had considered but the fear of whether it would succeed, be different enough or how people would react to the business was too overwhelming for me at the time. Now I am so confident in the venture, due to the passion I have for it, that I know that it is the perfect time to make this a huge success.
I've always wanted to work with animals and I absolutely love the idea of having a business that will allow me to do that, whilst also allowing me to help animals and support people and local communities.
How will this café be beneficial to customers?
We want to promote awareness of rescue cats, whilst supporting local rehoming centres. Our aim is to partner with local rescue centres by sharing information to help people understand what to consider when looking into adoption. Often, smaller local rescue centres can be overshadowed by the leading organisations. Whilst we fully support these, we want to support local organisations who are "full to capacity" and need additional help. We will hold regular events to raise money, with all donations distributed between the rescue centres we team up with. We also plan to hold events for both children and the elderly where they can come along and interact with the cats and have a safe, comfortable place to visit for some animal company and a nice cup of tea and cake.
Cats are wonderful for stress relief and to help people dealing with anxiety.  We feel our café will be the perfect place for people to come and enjoy an hour away from their day to de-stress. We are primarily focused on the wellbeing of the cats and promotion of animal welfare but equally, we are committed to supporting the community and will plan to do so by holding events and offering hospitality to groups, charities and disabled people within the local community.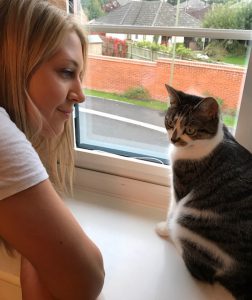 Have you got any kitties yet?
No, we won't be looking to get our kitties until we have a secure and comfortable home ready for them. Our aim is to house around 10 rescue cats. We hope to give them the 'forever home' they've always wished for.
We are running a campaign to help raise funds to create the best possible home for the cats. It's going to require a lot to make spaces for the cats to escape to, have enough exercise equipment and build comfortable and serene places for them to sleep in. We know it's a lot to ask, but even a donation of £10 can go a huge way to creating this, by buying a cat bed, a scratch post or materials to build their private areas. We are incredibly grateful for the donations we have already received and for those received moving forward.  We have huge gratitude to every kind donator, as their donation, no matter how much, is helping to create such a wonderful place for rehoming these beautiful animals.
How will you balance animal care and good customer service?
Our main concern is animal welfare and making sure the cats have everything they need and want in a home. The cats will have their own room where they will eat and sleep. The cats will all have their own bedroom that only they can gain access to, via an identity micro chipped cat flap. The cats will have high up areas and places for them to escape to, if they want to get away for some peace and quiet. We will have professional help to ensure the cats are happy and healthy and they will have regular checks by a vet to ensure their ongoing welfare. We will have a kitchen and food preparation area that will be completely separate from the cat friendly areas. They will have no way of getting entry into this area, so we can guarantee excellent food hygiene at all times. There will be rules for our customers to follow, as the cat's welfare and happiness is our main concern, but we want to create a welcoming and comfortable place for you to visit and we will make sure we do all we can to make your visit a wonderful experience.
Were you inspired by Pause Cat Café in Bournemouth? What lessons did/could you take from them?
I was really inspired by Jaya at Pause, I think she's done an amazing job with the Bournemouth Cat Café. I have learned a lot from Pause after my visit and it definitely opened my eyes as to how much work goes into running a cat café and the number of things you need to think about. I have most certainly taken a lot from my wonderful experience with Pause café and I feel confident I know what I need to do to make sure the welfare of the cats is met and we create a fantastic place to visit.
What makes you stand out from other cat cafés?
To be honest, I'm so impressed with the cat cafés that currently exist, I don't think I would do anything particularly different or feel there is a need to stand out. I'm thrilled to be able to continue the brilliant work of what the existing cafés are already doing, by raising awareness for rescue cats. The only thing that may make us different from others is the element to our café that we wish to focus on which is pet bereavement. It is something I've gone through myself and want to help others who are going through, or have gone through. Bereavement is a very hard time for people and my wish is to create a space that people can share their feelings and memories of their pets, not just cats.
Why do you think this café has the potential to be a success?
I think it has the potential to be a success based on the support we have already received. We have only been established as a concept for 2 months and the wonderful support and comments we have received have made me confident that people will come see us to support what we are doing.
As I mentioned, I did have reservations, as all new businesses would, but I've seen other Cat Cafés succeed and that helps me feel confident that people do appreciate what we are doing and want to help support that.
Have you run into any difficulty in your journey to start this up?
Nothing too difficult as yet, I'm sure there's still time! There have certainly been challenges, but it's been a positive learning experience and completely worth the work put into it. It's been really eye opening, seeing how much goes into starting up your own business. It's not been easy and I only expect it to get harder, but I'm up for the challenge and fully believe in what we are trying to achieve.
How far are you from making this dream into a reality?
We are not quite there yet, but every day we get closer and closer. I want it to be 100% perfect for both the cats and our wonderful customers and that takes time to get everything right. I am currently in talks with a premises and hope to be able to announce the location of our Cat cafe by the end of November. It hasn't been easy finding the perfect premises and location, but we hope this will be the one and we can start building our fantastic cat café.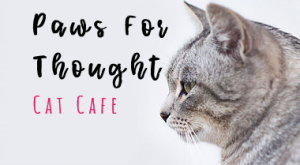 Any ideas on location?
We originally wanted to have the café in Southampton Centre so it was central for everyone in the area. When I looked further into this it became clear that this was not the best idea for the cats as I wouldn't feel comfortable having the cats living in a busy area which it is also popular for nightlife.
We have therefore been looking into quieter surrounding areas and we are hoping this to be the Romsey or Chandlers Ford. It was important to us that it is easily accessible for everyone, ensuring there is plenty of public transport and that it is a nice quiet location for the cats to reside.
Why should students especially get behind this?
We really hope students will get behind us. So much so that we will hold evenings or mornings where students can book at a discounted cost and spend some time doing coursework or just have time to chill out with friends, whilst being in the company of our cats to help forget the stresses of student life.
We are also aware that many students won't have the fortune of having a pet, due to being in student accommodation or the overwhelming time commitment to their studies. We believe that coming to visit us can help you get your kitty fix. And what student doesn't usually require copious amounts of coffee and cake to get them through?! We can guarantee both of these things!
If anyone would like to donate or for those feeling lucky, they are offering a £2 donation perk on the Indiegogo funding page which enters you into an XMAS raffle.
Prizes are a voucher for Flip Out Southampton for 4 people, an Xmas hamper, Afternoon Tea for Two within the Southampton Area, plus vouchers for you to redeem at the café when it opens in 2018.
Please visit their funding page @ https://igg.me/at/pawsforthoughtcatcafe