Wessex Scene on the Scene: My Experience at Southampton Pride 2018
Southampton Pride 2018 (amusingly hashtagged #SOPROUD) was my first-ever Pride event. Normally quite anxious and out-of-place at crowded and noisy events, I originally hadn't intended to go. However, a few well-meaning LGBT friends added me to a Facebook group chat where they were arranging to meet up at Pride and enjoy the day together. Initially hesitant, I eventually ceded, and decided to go.
The morning of Pride was chaotic. After going to bed at 2AM, apprehensive about the whole event, I was woken by my mother at 6AM to find out my dad was in hospital after having a heart attack. I waited at home for a few hours, while she drove to the hospital, messaging my friends to let them know I probably wouldn't be coming. Thankfully, a few hours later, my dad had come out of surgery, was awake and recovering, and my mum gave me the all clear over the phone, saying he'd be fine and I shouldn't worry about visiting today, as far-and-wide members of both his and her large families were already flooding in. So, shaken but not deterred, I packed my bag and set off for Southampton.
Of course, I arrived first. Clambering off a train just after midday, I texted a few of my friends to find out they were either waiting on partners, lifts, or delayed due to other unforeseen circumstances. Alone at my first Pride, I was too scared to enter the Guildhall Square, where the main part of the event was taking place so instead, I went to Mettricks, and had a beer. Sipping at the cold beverage, I watched people enter and exit the fenced-off square across the road, admiring all the varied attendees.
Eventually, friends started to arrive and I met up with my friend, and his affectionately-termed "gaggle of gays", just as the parade began moving past. It was a beautiful whirl of colour and glitter, banners and flags, as unique individuals came together to celebrate their differences. A chaotic display of unity and individuality all in one. After the parade had passed, the group ambled down the road after it, and I moved on to meet up with some other friends who'd arrived. They were both incredibly well-dressed, putting my t-shirt and jeans to shame, and on the lookout for food, so we stopped by at Slug and Lettuce and I had a delicious, but expensive, cocktail. "But it's Pride!" I thought, as I pulled out my card. After a while, the parade returned up the main street on its way to the main arena. We watched it pass through the windows, remarking on the ingenious costumes, then wandered back up ourselves.
After passing the security checks, we had a look around, balking at the queue for the glitter-face-paint stall, and settled instead for purchasing some flags. Buying a large pansexual pride flag, I wrapped it around myself to wear as a skirt over my jeans for the rest of the day. Next, we spotted some other friends sat on the crowded patch of grass near Guildhall and had a catch-up. After a while, we dispersed, some heading off to check out the rides and, more importantly, the chick-handling area. I went in the opposite direction, out of Guildhall Square and up the road to the Cenotaph, where I found the first group sat under a tree, draped with rainbow merchandise, drinking wine and singing along to ABBA on someone's phone. What a picture. Naturally, I sat with them, joining in until the time began to approach that the Cheeky Girls were going to be on the main stage. Intrigued, we headed back.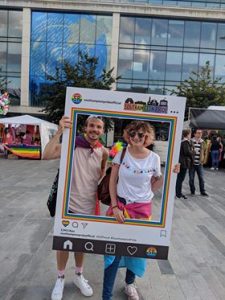 Arriving, we edged our way slowly towards the front, until there were only a few heads to look over when my friend's nostalgic faves finally appeared. We danced wildly to what I must admit wasn't very good singing, but it was fun nonetheless, and the crowd loved it, singing along to the culturally ubiquitous lyrics with enthusiasm. Following the performance, we reunited with other companions to sit in a huddle on the Guildhall steps, eating candyfloss as the sun went down.
As darkness descended, it was obvious where the next stop on our Pride romp had to be: The Edge. Arriving early, the queue was thankfully short and so began a night of exhausting dance, interspersed with breaks for drinks, to complain about the lack of ABBA and discuss the day. I thanked my friend for accompanying me on my first Pride, and for making it so fun.
Around midnight I started flagging, and, remembering I had a 40-minute walk to my Southampton student house, decided to leave. Grabbing my bag from the cloakroom, I had my final positive experience of the night – someone tapped my shoulder and pulled me aside to speak into my ear over the music. 'Hey, I don't know how you identify,' they began, 'but the way you express yourself and your identity… Don't ever change! Don't let anyone tell you to do it differently!'
This sentiment summed up the attitude I'd observed all day, and finished my Pride story with a moral of sorts. I could only say a grateful, and somewhat intoxicated, 'Thank you! You too!' before the crowd around the cloakroom pushed me away. I had a goodbye hug with my friend at the door, and thanked him again, promising to message the group when I got home. And with that, I walked out into the quiet streets and made my way home, content with a successful experience at my first ever Pride: #SOPROUD.