Women In Sport: An Interview With Laurie Pestana
As part of Wessex Scene's coverage of Women in Sports week, we will be bringing you an exclusive interview each day from just a few of the many talented women we have competing in a wide range of sports here at Southampton. First up we are lucky enough to have been able to interview Laurie Pestana, who is a second year marine biology but who has a love and skill for track cycling. 
How did you get into track cycling?
I got into track when I was about 11 or 12, cycling was going really well and my coach asked if I wanted a go on a single speed bike (we trained at a velodrome anyway but it was outdoors on road bikes) and I said yes and from then I was hooked!
What is your favourite discipline within track cycling, are you a sprinter or more of an endurance rider?
My favourite discipline would be any of the bunch races, or the opening lady in the team sprint. I used to be an avid sprinter, but as I've gotten older I've become more of an endurance sprinter and being such a small person. I love being able to nip through gaps in a group that other bigger riders cant or get off the line on a standing start so much faster because there's so much less of me! Dynamite comes in small packages!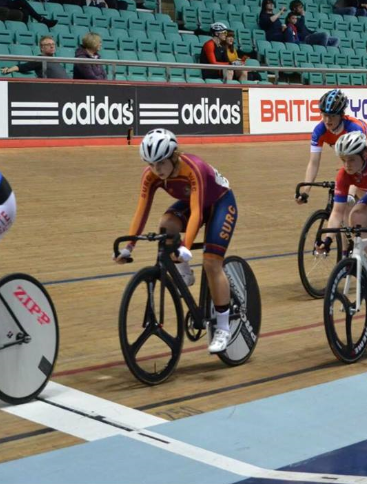 Who would you say is your role model is?
My role model would probably be Kristina Vogel, she's a sprinter, but she's so aggressive, assertive and dominant in her riding. It's fantastic to watch and I love how she's destroying the female stereotype in cycling that girl's riding is a lot 'softer', because I reckon this lady would smash any guy she rode against!
What struggles/problems have you have you had to overcome?
I had a bad crash when I was younger and doing quite well in the sport, that took me out of the Olympic talent programme and sport altogether, but a couple years on I'm trying to bounce back harder than ever.
What was your favourite moment of Team GB in the velodrome in Rio?
My favourite moment in the velodrome was the men's team pursuit final. I don't think I have ever been so nervous watching a race in my life, even before my own races I've never felt that anxious! It was a fantastic comeback for a fantastic gold!
You've been selected for the Team GB talent scheme, what does that involve?
It's a Talent ID pathway basically with Sport England looking for the next round of sprinters for 2020, which means it entails weights, lots and lots of weights!
Where do you see your sporting career taking you?
I used to be embarrassed to seem ambitious, but that's something I need to get over and be a role model for younger girls in the sport. I'm not afraid to say that someday I want to be world champion on the track, or at least riding some of the major international races with a major team. If I don't give it my all now, I'll spend the rest of my life questioning it, so really I've got nothing to lose.
What would you say to other women thinking of getting involved in track cycling?
Absolutely get involved in track cycling. It's fantastic. It's far safer than road riding and a great place to build up confidence and make some tight friends.
Do you think there is enough media coverage of women's track cycling and if not what do you think could be done to fix this?
Luckily thanks to the fantastic efforts of GB in Rio, the likes of Laura Trott and team have made a fantastic show of women in the sport, however it's still nothing compared to their male counterparts. All I ever get told is that I'm like 'Chris Hoy' and whilst that's a huge compliment, it's just not good enough. They say women in cycling provide boring races, but I totally disagree, the teams are much smaller so it makes it so much harder to control races like you see in Team Sky in the men's racing so you don't have a dominant team. What you have is raw talent and raw racing and it couldn't be more exciting when you don't know what's going to happen. It doesn't help when there's only one female at the top of UCI, but hopefully we'll have more female members leading British cycling this coming season.