As part of Wessex Scene's coverage of Women in Sports week, we will be bringing you an exclusive interview each day from just a few of the many talented women we have competing in a wide range of sports here at Southampton. Today we were privileged enough to be able to interview 2nd year physicist, Isabella Walsh. She's definitely a name to keep an eye out for in the climbing world, having only been involved in climbing for 2 years she has already competed in the world championships for Para climbing among other achievements. I'm sure there's much to come…
How did you get into climbing?
I got into climbing during my freshers week at Southampton. There was a slackline set up on campus and I and my friend went to check it out. One of the people there running it asked if we were interested in climbing and my first thought was "That sounds dangerous. Yes please!" In December that year a friend from the climbing club told me about Paraclimbing competitions and last year I decided to go and give them a try!
Who would you say is your main role model?
Within climbing – definitely Sianagh Gallagher. She was the person who inspired me to start competing in the first place. She's also currently the Captain of the British Paraclimbing Team and she's been absolutely amazing at making sure that I felt welcome as a new member of the team.
What struggles/problems have you had to overcome? –
Given that climbing isn't a particularly mainstream sport, Paraclimbing is almost unheard of unless you personally know someone who competes so I do get occasional odd looks from people at climbing walls – followed promptly by surprised compliments once they see that I can actually climb, sometimes even better than they can! But everyone who I actually climb with is really supportive so if there's ever anything I can't do (like belay using a normal belay plate) they'll come up with a solution (in this case a different type of belay device called a gri-gri).
You competed for team GB on an international level, what has that been like? What has been your highlight of competing been so far?
It's been so cool! I've only been on the team for a year and already had the opportunity to travel to Austria, Italy, and France to compete. Choosing one highlight is difficult, but the World Championships were an awesome experience – even if I didn't pick up a medal. From all the kids asking us to sign autographs, to meeting Adam Ondra – the whole experience was amazing!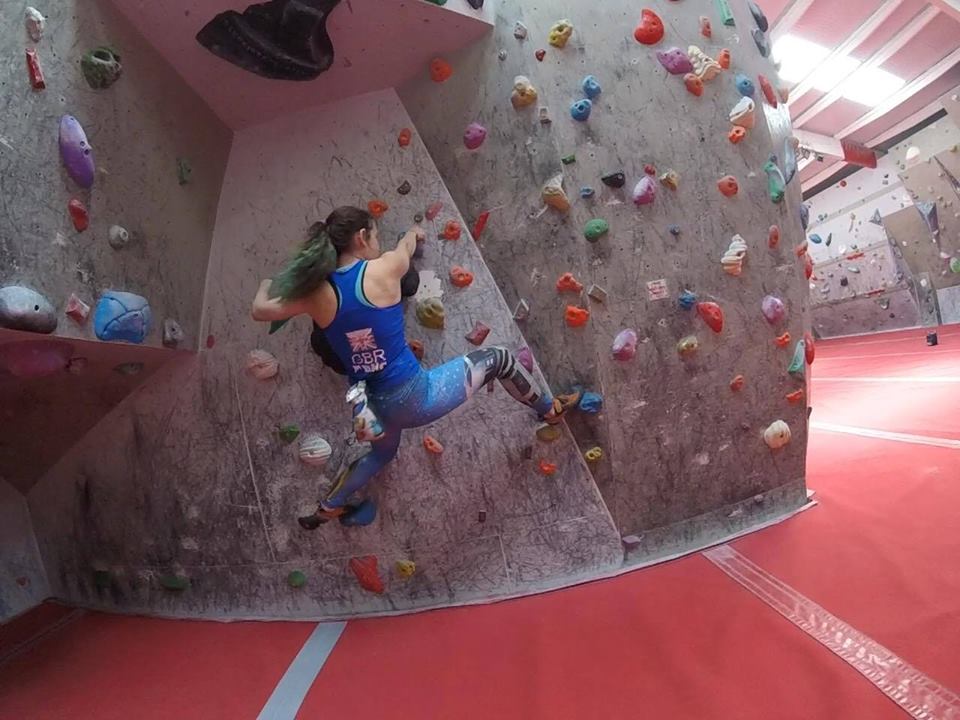 What are you aiming for next in the world of climbing?
My next goal is to retain my title as British Champion in my category and be re-selected for the GB team for next year. After that I'd definitely like to get on the podium at the European championships. I've also got my eye on a couple of outdoor routes, though they might have to wait until it gets a little warmer now!
You took up climbing at uni, what would you say to someone considering doing the same but is unsure?
Do it! I didn't know anyone in the uni climbing club when I joined and now a good 80% or so of my friends are climbers. It's a fantastic sport as it can be as difficult or as easy as you want it to be, and we're a super friendly bunch of people.
Do you want to pursue climbing as a career or somehow combine it with your physics that you are studying?
I would love to pursue climbing as a career, though I would probably need another job at the same time as travelling around competing everywhere gets pretty expensive.
Do you think there is enough media coverage of women's sport in general and if not what do you think could be done to fix this?
Being a female para-athlete in a fairly small sport, media coverage is one thing we see very little of outside of climbing specific websites (though the actual gender-split in climbing related media is a lot better than in some other sports). It is definitely noticeable on mainstream sports TV channels that the vast majority of the coverage is of men's sport, which is sad as more often than not women's sport is just as interesting to watch – if not more so! The more we spread the word and get people to realise this, the more demand there will be for coverage, and hopefully the more coverage there will be as a result.