Be Kind is a series all about living a cruelty free life and ways that you can incorporate cruelty free living into your everyday life. Since becoming vegetarian earlier this year, I have attempted to apply a cruelty free lifestyle to most areas of my life, most significantly with make up. Animal testing in this area really causes me moral dilemmas because make up is a big part of my life.
So, I thought I would put my make up bag to the test! How cruel is my make up bag? (Pictured below)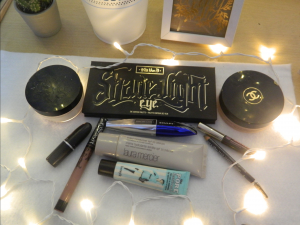 What you see here are my favourite make up products, but also what I use on a daily basis. Lets start with the face:
Benefit Porefessional: £24.50
This is one of the best primers on the market, used under foundation to minimise and hide the appearance of pores, making your make up look positively perfect (seriously it makes your face look amazing). However, upon looking on Benefit's website they are unclear whether or not they test on animals. The company states that it is "against cruelty to animals"; unfortunately the company's policy is clear that they test on animals where required by law, for example in China. Alas Benefit are not a cruelty free company.
2. Laura Mercier Tinted Moisturiser SPF 20: £34
This product is a life saver for me, with a lightweight and dewy finish it helps me look awake on mornings when I am not feeling so fresh (so every morning then!). This product is pricey but it is well worth it for how it performs and holds up on the skin – well worth every penny. Even better, Laura Mercier is also cruelty free – yay!
3. Maybelline Age Rewind Eye Concealer: £7.99
This product is not pictured above because I ran out! This is one of the cheapest products I own and I constantly rave about it to all my make up obsessed friends. Unfortunately, Maybelline is owned by L'oreal which tests on animals so I will not be re-purchasing this product.
4. Kat Von D 'Lock-It' setting powder : £20
If you don't know what baking is then get ready for your life to be changed with this product! No, its not the Mary Berry baking that we all think of, but baking is actually also known as 'cooking' your make up. I apply this underneath my eyes with a beauty blender to set my concealer and any other areas that tend to get oily. I've seen lots of beauty gurus online raving about baking and using the Laura Mercier Translucent Setting Powder to bake with; however this is a slightly more budget option – upon trying this Kat Von D's powder I realised that it does exactly the same thing and is £9 cheaper. Kat Von D is also cruelty free and vegan!
5. Solei Tan De Chanel: £30
I'm not going to lie, Chanel are one of my favourite brands (have you smelt their perfumes? They are like heaven!) but unfortunately they're not cruelty free. I typically use this product as a bronzer because of how beautiful it applies on the skin, but after I've ran out I will not be repurchasing – plus its quite expensive!
6. Soap and Glory Archery Brow Gel: £8 and Eylure Shape and Shade: £5.39
Both of these products save my brows, even when they're overgrown and unruly. However, Soap and Glory on their website state that 'we do not test our formulations on animals' but 'we can't say that every ingredient that goes into them has not, been cleared by testing on animals'. Eylure also state that they 'oppose' animal testing, but their policy is fairly ambiguous.
7. Kat Von D – Shade and Light Eye Contour Palette: £36
This palette changed my eye make up game, because of the vast range of shades – from matte coffee colours to beautiful rusty orange colours, this is perfect for travelling and can also be used for contouring and highlighting. The perfect travel cruelty free companion!
8. L'Oreal Falsh Lash Mascara: £9.99
Perhaps my favourite mascara of all time, it doesn't flake or leave black smudges under my eyes – however, L'Oreal tests on animals so I'm now in search of a cruelty free mascara.
9. MAC Whirl Lipstick: £15.50
Probably the most on trend lipstick I own, and my everyday favourite in making my lips look slightly bigger than they actually are. Unfortunately, MAC is not cruelty free and tests on animals.
10. Kat Von D  'Bow N Arrow' Liquid Lipstick: £16
The queen of lipsticks, survives a meal at 7 Bone and leaves you looking on trend and flawless! And obviously, its cruelty free as well!
The journey to becoming cruelty free is a long and arduous one, even though after I've finished up some of my favourite products that are not cruelty free, I know that I won't be contributing to a system in which thousands of animals are killed yearly.
Find out more about cruelty free living:
https://www.crueltyfreeinternational.org