Christmas. The period of eating mountains of food, taking a relaxing break and barely exercising (but promising yourself you'll fit get in the New Year) – ring any bells? The end of Christmas brings about those typical New Year's resolutions we make  every year: to get fit, lose weight, go to the gym – but let's face it, we never do. Whether it's because of the endless amounts of Christmas chocolate that's left over in the New Year, or simply the lack of motivation and determination, the majority of us all give up after a week or so. Continuously putting it off until we say "I'll do it next year". So, this year let's try and convince ourselves it'll be different; here are the best ways to stick to your New Year's resolution to get fit.
Get a gym membership.
If you haven't already got a gym membership then the best place to start is to get one. Spending your own money on a membership will definitely fuel that motivation to use it and actually go to the gym, because who wants to pay out for a membership and not use it.
Get into a routine.
Routines are the best way to get into the habit of exercising. Even if you only begin by exercising once a week, it's a start. Factor a trip (or however many times you wish to go) to the gym into your weekly routine and in no time you'll be so used to going that it'll become natural and you'll find yourself getting a lot fitter. The excuse of a hectic student work load shouldn't be a reason not to exercise, as exercising, whether you go to the gym, go for a run, or go for a swim, can be a great break from a hectic schedule and is in fact incredibly stress reliving.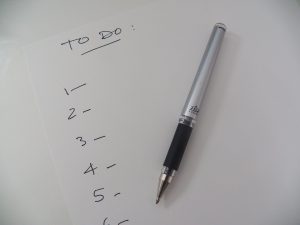 Set goals.
Setting goals provides you with greater motivation, rather than just saying "I want to get fit" or "I want to lose weight". If you want to lose weight, how much weight do you want to lose, what's your goal? If you want to lose a stone, work out a plan of action – how are you going to do that? Writing your goals or plan of action down on paper and putting it somewhere you'll notice it each day is a great way to set these goals in stone, you won't forget them and will constantly be reminded of what you are trying to achieve. This will make you more determined and remind you why you made it your New Year's resolution and why you're putting in the effort to get fit.
Break down those goals.
Break your goals down into smaller aims to meet and you'll reach your end goal a lot quicker, and you get the bonus of having mini successes on the way. Just because you want to get fit and lose weight doesn't mean you have to cut out every single treat – when you reach a milestone, for example, you've lost 3 pounds, treat yourself – have a rest day, a movie night or some chocolate. It's not the end of the world, and will motivate you more to reach your next goal for that next treat. Ultimately, you'll reach your goal faster and you'll stay happy.
Splash the cash on some gym wear.
Wondering what to spend your Christmas money on? Treat yourself and buy some gym wear. Looking the part is a great way to feel the part. If you've spent money on clothes specifically for exercise, you'll feel much more motivated to go and show off your new wear in the gym itself and it'll also give you a new-found confidence. The best feeling is knowing you've got the wear out of something you've bought. Gym wear doesn't even have to be expensive, you don't have to spend £25 on a Victoria Secret sports bra; Primark do great sports bras for £3.
Be realistic and know your limits.
Of course it would be amazing if we could be motivated for one week, train really hard, suddenly lose all the weight we wanted to, and transform into a fitness guru, but reality check – this isn't the case. Going too hard at the start of a fitness regime can really take its toll on you physically and mentally. You'll get tired and lose the motivation to carry on exercising. Know your limits and don't push yourself to the extreme. Obviously you need to challenge yourself – I'd encourage this – but don't drain yourself of all energy to the point where you don't have the motivation to carry on.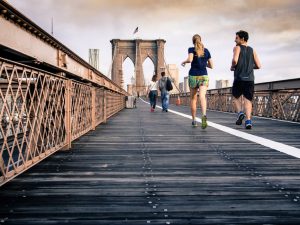 Go with friends.
Turn exercising into a social occasion. Going to the gym or for a run doesn't have to be boring and simply tiring – make it fun by having a friend join you. Having a chat and a laugh makes the experience of exercising enjoyable and consequently you'll be more inclined to go again. Furthermore, having someone else there to encourage you and keep you going will motivate you to work hard and keep with it.
Mix it up.
For some people, change can throw them off track, however for others, doing exactly the same thing every time you exercise can get boring. Keep things interesting by mixing it up – you don't have to go to the gym every single time you exercise, maybe go for a swim or a run, changing your set or route. If you're feeling adventurous, go to a class you wouldn't normally – maybe try Pilates or spinning (indoor cycling). Mixing it up ensures excitement and you might even find a new love!
New Year's resolutions can be great if you actually stick to them, hopefully these eight top tips can help you maintain that goal to get fit and/or lose weight, and you'll have an enjoyable time whilst doing so. Slip-ups make us human, so if things don't go to plan, or you miss one training session, don't give up. Re-evaluate things and try again tomorrow. I wish everyone the best of luck in getting fit in the New Year!
Happy New Year everyone!