All hail the statement sleeve. It's the trend for SS17. Over the past month or so you might have seen the rise of the new sleeve shape hitting high-street stores. And if you're like me and are obsessed with clothing that has a unique shape, you will be running down to your nearest shopping centre to get your hands on them. Sleeves have gained a lot of attraction in recent months, apparently the normal sleeve we all know just wont cut it any more. We have seen the rise and fall of the 'Cold- shoulder' top and dress and now a number of other sleeve styles have emerged. If you have fallen behind on this sleeve trend, read on to get the low down.
First off, we have the 'Trumpet Sleeve.' This is a sleeve style that starts halfway between your elbow and shoulder, and kicks out with some serious volume. Adding a bit of drama and freshness to your look, with minimal effort.
I like Topshop's: 'Crew Neck Trumpet Sleeve Top' which comes in 5 colours and is a total bargain at £15.
Next is the 'Frill Sleeve.' Frills are back in fashion in a huge way at the moment, whether it's a slimming frill across the body or on your sleeve. They give every outfit a feminine touch, away from the more androgynous and structured looks we have been seeing of late. Go for the New Look 'Shell Pink Frill Sleeve Top' (£17.99) for a show-stopping feminine look.
The Flute Sleeve is not to be confused with the Trumpet sleeve (although admittedly rather similar.) The only real difference is that the flute sleeve is quite a lot sleeker. Its less voluminous and flows more with the sleeve itself. Check out Topshop's 'Flute Frill Sleeve Knitted Top' in navy blue. (£2o) which is perfect for an everyday look with distressed jeans and ankle boots, i.e. the typical English student's uniform.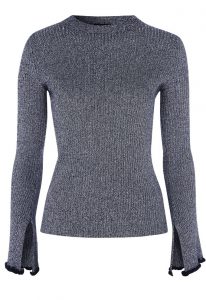 Finally, there is the 'Tie Cuff' top. This is effectively the way to create some of the aforementioned styles yourself. Wear your cuffs loose and long or in a perfect bow depending on your own personal preferance. The tied cuff style also looks particularly good on a knitted jumper. See River Islands 'Light Blue Tied Cuff Jumper' (£36) for inspiration.
So there you have it! For those of you who have been previously perplexed by this new found statement sleeve, you now have all the info to go and slay this look. YAAAASSS!