Summer is the season of special occasions: parties, weddings and everything in between but for many of us, these events involve dressing up and wearing the footwear that is globally hated by all: high heels! Never fear though, it is no longer mandatory to endure the agony of heels because this summer, flatforms are here to save us all!
High heels are vessels of endless pain, we all know it. The thought of squashing my delicate tootsies into a painful pair of six-inchers is not my idea of fun. My poor feet never seem to enjoy the experience and no matter how many plasters I apply in hope of a comfortable experience, ultimately after three hours of pain and suffering I normally end up ditching my heels and result to the less glamorous barefoot look. As you can tell, I'm really not an advocate of the no pain, no gain motto.
Flatforms are definitely a comfortable and fashionable alternative to heels. They provide you the comfort of a flat shoe with the height of a platform. What more could you want? Not only are they dreamily comfortable but they are also very on trend this season and can be found across all the high-street shops. From Primark to Zara, you can get some beautiful pairs for a reasonably affordable price that will reinvent an outfit and make your look more dressier and glam.
However, although a pair of flatforms may be a new addition to your wardrobe, they have in fact been around forever. The first pair of flatforms came about in 220 B.C. During this time, Greek actors used to wear flatform style leather sandals with a cork platform called the Cothurnus and ever since, flatforms have been featured in the fashion world. This summer season, flatforms seem to be dominating the shops and personally I couldn't be happier about this. My feet are thanking the fashion gurus of the world that this comfortable but stylish style of footwear is back in our lives.
Below are three of my favourite flatforms that can be found on the high-street at the moment. Don't let your feet suffer. Instead, feel fabulous in flatforms this summer!
1) ASOS Thrilling Tie Leg Flatforms: £28.00
I think I have honestly fallen in love with these ASOS flatforms. They are a fabulous statement, that will definitely jazz up a simplistic outfit. Pair these with a simple white dress and these shoes will definitely do all the talking. For a family BBQ or for a dressy night out these beauties are very versatile and definitely a great investment. I adore them!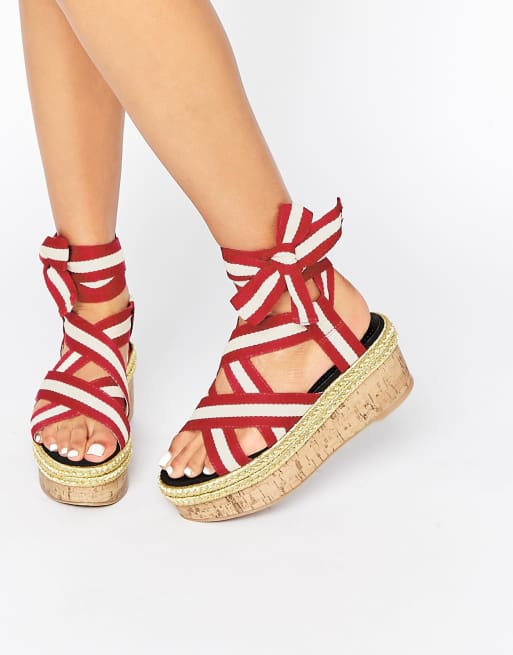 2) New Look Rose Gold Flatform £19.99                                                                 
If the above pair are too daring for you then this simplistic rose gold pair may be more suitable. Rose gold is such a good colour to invest in, as it can near enough go with anything. I don't think it would be a struggle to pair these shoes with an outfit as they can be dressed either formally or casually. For £19.99, you would definitely get your money's worth out of these.
3) Brand Attic Denim Frayed Flatforms £30.00
Last but not least are these beautiful frayed flatforms from Brand Attic. The soft blue colour of the denim is absolutely gorgeous for a summer look and this pair is especially good if you are not a fan of the cork wedge look. I may have to treat myself to a pair of these…
The dominating nature of flatforms in retailers today could signify the end of the reign of high heels. It also shows that the appearance of high heels does not need to be linked hand in hand with excruciating pain any longer. So go out and live a blister-free existence in shoes that are still fashionable!