If you're anyone who's anyone you may have heard of the slightly popular show called Love Island that graced our television screens between June and July this year. If you're anything like me, you were addicted to it – I even have the water bottle.
Now it's over it really does seem like the end of everything, seriously, what's a social life again? But, instead of mourning over this great loss, why not spend your time more wisely – how about some shopping, I mean, what else are you going to do with all that money you saved not going out every night because of the show? The girls were insanely pretty and their fashion was insane and it's surprisingly more affordable than you think. With many outfits from shops such as PrettyLittleThing, Missguided and Topshop, any student, even those with bank accounts not exactly ready for a shopping spree, can afford these desirable outfits.
If you were wondering where you can find these gorgeous outfits, two girls, Laura and Eleanor, solved that problem for you with their Instagram page @loveislandoutfits, posting where you can find the top fashion in the show. So, whether you were loving one of Camilla's dresses, eyeing up Liv's bikinis, or fancying Amber's crazy frills (or maybe you just want to stalk how much they spent on their clothes), this page is perfect for you.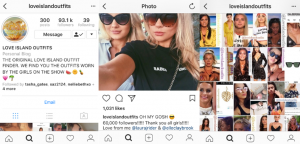 Wanting some Love Island inspired outfits? I've picked out the best fashion pieces throughout the show to create the perfect outfits that won't break the bank.
Festival
Amber's silver sequin bralette (PrettyLittleThing: £18) will steal the show and it's perfect for a popping festival look. Pair it with a black denim skirt (Missguided: £20) and a statement belt, then add some jewels (The Gypsy Shrine: £8) to work that festival vibe. Alternatively, work the girls' glitter hot pants (Elsie and Fred: £42) with a black crop top or bodysuit.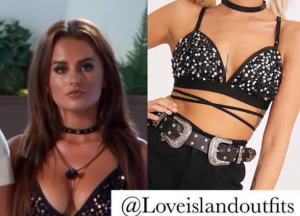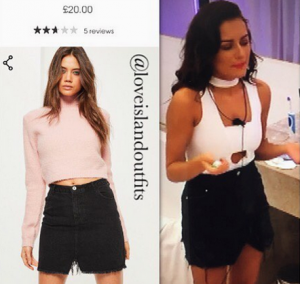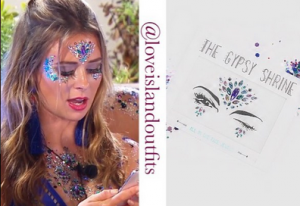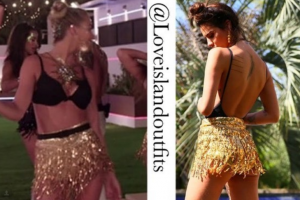 Lunch time meal
Camilla's blue floral shirt (Zara: £25.99), paired with some white jeans would be perfect for a lunchtime meal whether it's with friends or the family.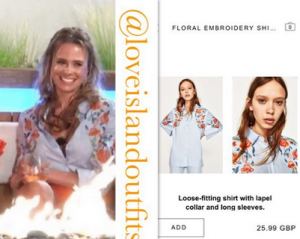 Night out
Work Tyla's plunge white bodysuit (Missguided: £16) with Olivia's cute red skirt (PrettyLittleThing: £10) for a stand out outfit for any night of the week.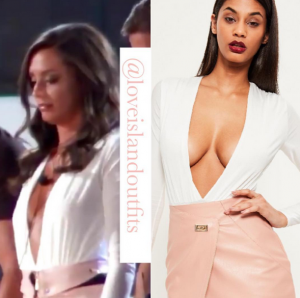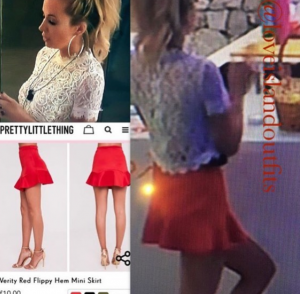 Saturday night out
Slay with this beautiful cowl neck, low back dress available in Lilac (which was worn by Tyla and Camilla), black, burgundy or nude (PrettyLittleThing: £20). You could pair it with a diamante choker (PrettyLittleThing: £15) and heels for an even more 'done-up' look.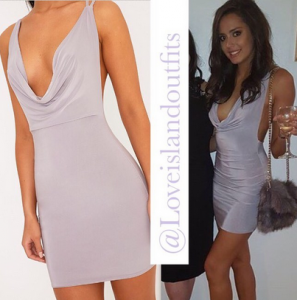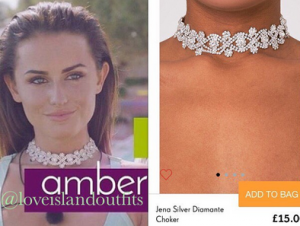 University society ball
Georgia's gorgeous red wrap dress (PrettyLittleThing: £22) makes the perfect outfit to stand out at any university ball; simple, yet beautiful. Accessorise it with a silver necklace or Amber's gold choker (The Fashion Bible: £12) and add some earrings to finish the look.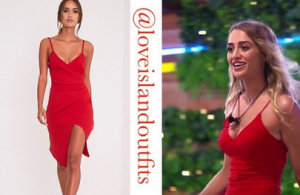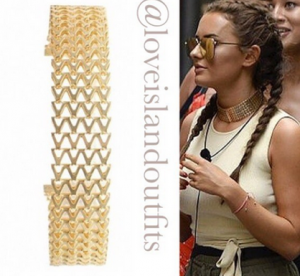 Evening drinks with the girls
A stylish outfit for an evening out is Rock Montana's sleek white jumpsuit (Missguided: £30) with some nude or white stilettos for a classic, simple look that'll slay. If you want to brighten up the outfit add some red stilettos as seen on Tyla (New Look: £19.99) and add some gold earrings to frame your face.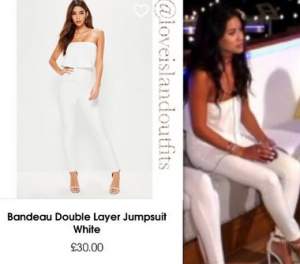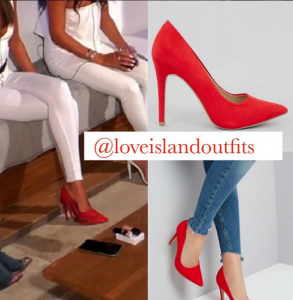 Pool party
Work this super-hot red bikini (Topshop: £40) as seen on Jess and Amber, and be the center of attention at any pool party. Accessorise it with some gold earrings (like Amber's palm leaf earrings, however, they are now out of stock), and add Montana's black lace up wedges (PrettyLittleThing: £35) and you're all set.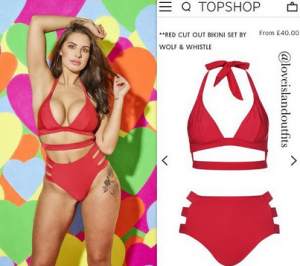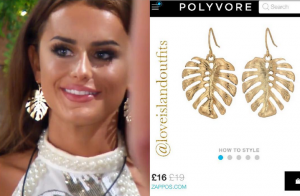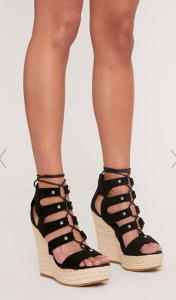 Steal the show
Pair Amber's incredible sequin finale dress (Motel Rocks: £50) with a black choker and Montana's black heeled boots (PrettyLittleThing: £35). Although not cheap, if you want to impress, this is the dress to wear!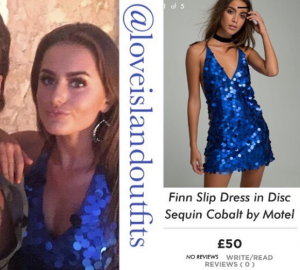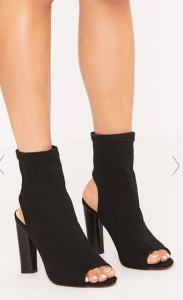 Date night
How about Amber's black denim skirt (Missguided: £20) and white bodysuit (OhPolly: £40)? A cheaper bodysuit is probably available on other websites. If you're feeling dressier, why not try a simple black dress, as seen on Liv (PrettyLittleThing: £18) and accessorise it with a diamante choker and black heels.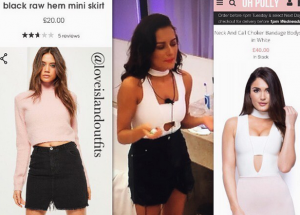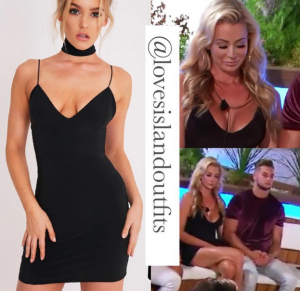 Lazy day
Netflix all day every day sounds like a great idea. Lounge around the house in Liv's cute underwear (Topshop: £5) and blue cropped sweatshirt (Miss Selfridge: £20, available in other colours).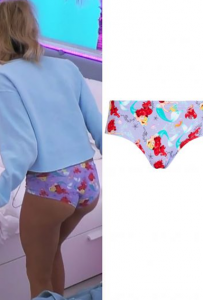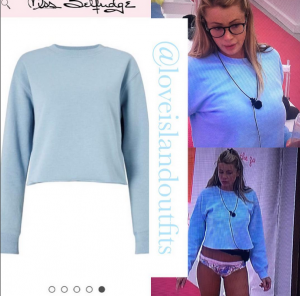 Boat ball
If you really want to impress, and have the cash to splash, the white sequin tassel dress, worn my numerous islanders, is the way to go (PrettyLittleThing: £80). Some gold earrings and statement heels would be a fashionable accessory too. If money isn't on your side, opt for Olivia's beautiful white finale dress (Originally Missguided but out of stock, but dupe available from Quiz: £19.99 and worn by Jess and Tyla).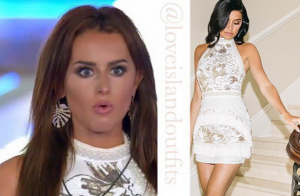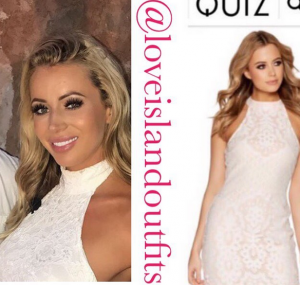 Day in the city
Tyla's gorgeous wrap floral crop top (River Island: £30) is perfect for a day in the city. Casual and appropriate for whatever you get up to, whether that be shopping, sight-seeing, or a meal. Pair it with white bottoms – jeans, shorts or skirt, and appropriate footwear for a casual but thought through outfit.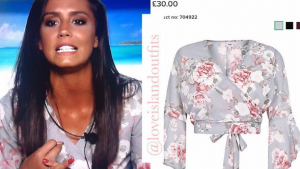 Lecture outfit
If you're feeling cute, take Amber's denim skirt (Topshop: £32) and pair it with Tyla's black crop top (Missguided: £10), or even a graphic tee like Amber. If you're feeling lazy, take Liv's comfortable blue cropped sweatshirt (Miss Selfridge: £20), and wear it with your go-to black jeans.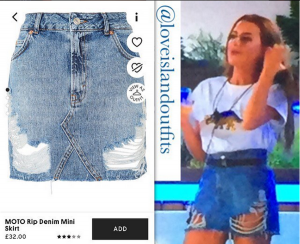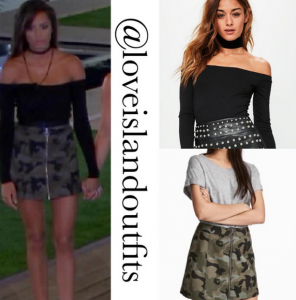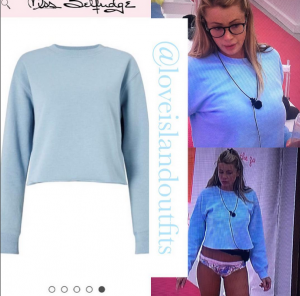 A Summer's Day
Sport Amber's lovely floral embroidered skirt (Topshop: £36) with a plain crop top in white, black or a colour to bring out the embroidery. Work this skirt with Montana's nude wedges (PrettyLittleThing: £35).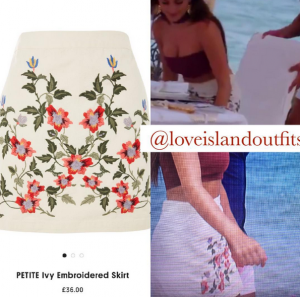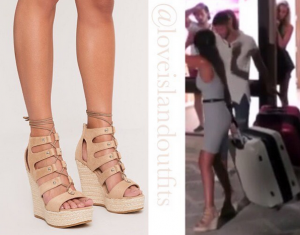 These outfits are sure to brighten up and refresh your wardrobe without being too expensive (most of the time). Credit goes to the Instagram page: @loveislandoutfits for finding stock and pictures to help us all try to remain close to Love Island. RIP Love Island 2017.