As summer comes to a close, another Freshers' week is on the horizon! Of course, this is a week that is in need of a great deal of organisation, what events will you go to, who will you go with, what new societies will you sign up to? Seriously, it's a lot to consider. However, what always seems to be on my mind prior to the big week is what clothes and makeup will I wear.
Freshers' week always feels like the perfect time to try out new trends and I always seem to end up raiding Superdrug and Boots the week before for some new colourful and sparkly cosmetics. Changing your make up is a great way to alter your look and throw yourself into the new uni year. A different coloured lipstick or a bolder eyeshadow can transform an outfit and make you feel fabulous! I personally love experimenting with new makeup and I'm not afraid to try out bold ideas. So if you fancy jazzing up your make up this Freshers' week, here are my four favourite cosmetics that I will be showcasing!
1: The MUA Silent Disco Palette
I purchased this palette at the beginning of this summer and I have been obsessed with it ever since. I desperately wanted a bright coloured palette at a reasonable price and this one definitely fits that criteria. Not only is it reasonably priced but it also applies easily and holds well. I assumed because it was so cheap that the colour may smudge or not be as bright as I would have desired but despite my concerns this was not the case. The colours in the palette last a whole night out. I especially love mixing the colours together and creating my own shade. Personally, I like to mix the orange, pink and red together to create a sunset peach colour. If you are a fan of eyeshadow and are not afraid of having a bold look then I would definitely recommend investing in this palette.
2: Collection Glam Crystals Eyeliner
Sparkly eyeliner is something I have been a fan of for a while now. Last Freshers' week I invested in a Glam Crystals sparkly liner by Collection and since then I have never looked back. Their Silver and aqua blue liners are my personal favourites but you can get a wide variety of different colours! Apply over black eyeliner and it will change up your normal makeup from day to night. This product will instantly add a bit of glitz and glamour to your look. I love it so much that I don't think I have had a night out this year without this eyeliner on!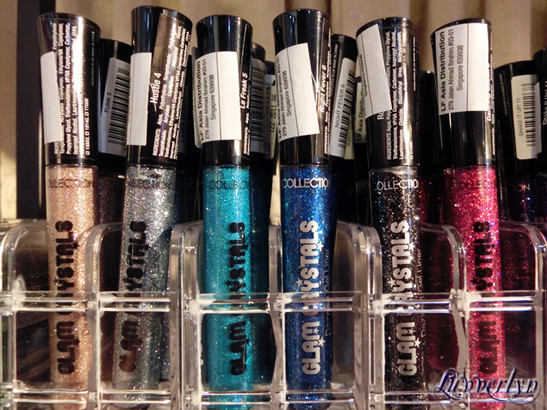 3: Rimmel's Kate Moss red lip
With the ongoing popularity of the Kylie Jenner lip kit , new lip trends seem to be dominating the make up scene at the moment. From crayons, to glosses, to palettes, the shops are bombarding us with a multitude of different products. However despite the variety of new lip cosmetics that are available, I will forever be a fan of Kate Moss' lipstick range. This range has been out for quite a while but I personally can't seem to find any other lipstick that beats it. I am a red lip lover and Kate's matt red lipstick is always in my make up bag. It has a fabulous bold colour and it lasts really well. I love the fact that I'm not having to reapply it multiple times a day. The range is extensive and you can get lots of different colours so you can choose what best suits your skin tone. If you are like myself and are overwhelmed by the large variety of new lip trends then I would recommend sticking to Kate's lipstick range! Honestly it won't let you down.
4: Glitter
If you have already taken a look at the events for this year, which I'm sure most of you have, then you will be aware that this year's BNO is Glitter v Neon themed, which I am personally totally excited about! Obviously if you decide to go for the glitter theme, then face glitter is a must! I absolutely adore wearing face glitter, if there is ever any excuse or opportunity to wear it, I honestly go all out and smother my face in it. However, you don't have to go crazy and be a glitter freak like myself , a small amount of glitter round by the side of your eye can be very effective! You can purchase a variety of different colours to suit the look you want to go for. Apply with a face glue or alternatively Vaseline and channel your sparkle!
So if you are feeling adventurous, experiment with these affordable cosmetics to reinvent your make up this Freshers' week!