So you've worked so hard over summer to get fit for university, and now you're back your drinking habits are going to send all that hard work down the drain, right? Wrong! Swap your usual 168 calorie double-vodka coke for these low-calorie drinks and you'll find yourself keeping that weight down.
Flavoured vodka and soda – Why not let the vodka do all the work, instead of the mixer? Cheat the system and buy a flavoured vodka. How about raspberry, lemon, or even coffee, add some low-calorie soda water and you're looking at a tasty alcoholic drink for a mere 58 calories (Single Raspberry vodka and soda).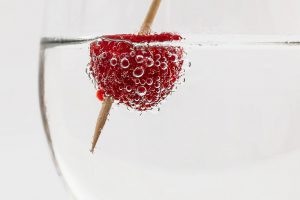 Champagne Cosmo – Ah, the classic Cosmopolitan, a drink of style, sophistication, and, of course, Sex in the City. But this drink will do nothing for your figure coming in at 212 calories. How about transforming this traditional cocktail into a champagne delight, mixing 87 calories of champagne (69-calorie Prosecco if you're on a budget), with some cranberry juice (52 calories) and adding an orange slice for some flavour, bringing this drink down to under 140 calories. Or why not swap your normal vodka for a raspberry-infused one, add some soda, cranberry juice, and a lime, and you're practically sorted for 115 calories.
Skinny Watermelon Mojito – Mojitos are the perfect refreshing drink whether you want to spice-up pres with a cocktail, or you're looking for a low-calorie beverage for drinks with the girls. Mix together some crushed watermelon, sparkling water, rum, and fresh mint leaves, and you're left with a sweet mojito at just 100 calories. Perfect!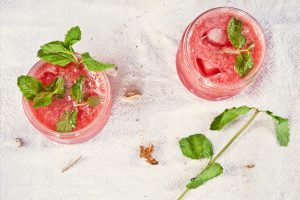 Berry Daiquiri – Strawberry daiquiris are above-all my favourite cocktail, but at 216 calories, a day of healthy eating would be ruined once you get a couple of these down you. Why not look for an alternative, and use fresh berries? Blend together with rum, ice, a splash of lime juice and a spoonful of stevia (sugar-alternative), and you have yourself a gorgeous Daiquiri for just under 150 calories.
G & (diet) T – Swap your usual tonic water for diet tonic water and you'll see your classic drink drop by 80 calories. Enjoy a gin and diet tonic for just 64 calories (or 128 in a double).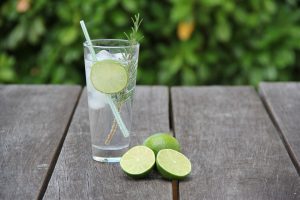 Pimm's Spritzer – A favourite amongst tennis-goers, and those relaxing on the garden lawn, why not turn pres fruity with some Pimm's? Mix 50ml of Pimm's with some low-calorie lemonade and you're set at 92 calories.
Go-to Malibu, cranberry and lemonade – If you're not the greatest fan of vodka, and you're looking for an alternative spirit, normal rum isn't the lowest calorie drink you could choose, but Malibu-brand rum tells a different story. At only 100 calories in a double shot, add some cranberry juice and low-calorie lemonade and you could have the perfect pre drink for 120 calories.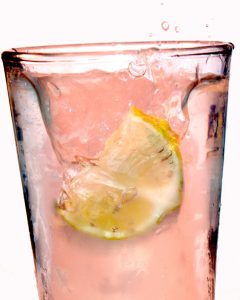 Wine Spritzer – I do love a good glass of wine…or a bottle or two at pres, but a typical glass of wine can add up to 150 calories, although not that bad, if you buy a high percentage wine and mix it with some low-calorie lemonade the calorie total can sink right down. You've then got a great drink that'll last all night, and still get you suitably drunk, for as low as 75 calories (depending on your chosen ratios).
Skinny Sunrise – A stylish cocktail for under 130 calories, what more could you want! Mix together a shot of lemon vodka, splash of orange juice, splash of cranberry juice, some soda water, and an orange slice for garnish, and you've got a delicious cocktail that'll stand out at any pres.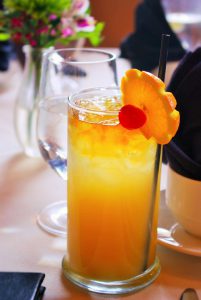 Jager Pom Pom – Feeling a jaeger bomb but the energy drink is just too many calories for you? Why not try a Pom Pom? Pour a shot of Jagermeister into a glass of unsweetened ice tea, add a splash of pomegranate juice, and you've got a great drink for only 120 calories. Add whatever juice you want to mix up the flavour.
Hopefully, these 10 drinks will help you think out-of-the-box when getting those calories down once university commences for another year. And hopefully, all your hard work getting fit over summer won't be completely worthless. Make sure you keep up the exercise and healthy eating though, one low-calorie cocktail won't always save the day – only sometimes of course!