It can be hard, as a vegan, to know exactly what you can and can't eat, especially in SUSU sometimes. We were invited to The Bridge to try an array of the best vegan options SUSU had to offer. We rated them, so you don't have to!
Bread and Olives, with an olive oil balsamic vinegar dip (6/10)
Though always a lovely start to a big meal, it was not specifically vegan and just below par of how tasty bread can be. The bread was homemade which added a nice touch to the meal. There was a slice of white non-toasted bread and a small thicker focaccia. It definitely could have been more plentiful and healthier. I don't know how popular olives are with students who are already poor but they're £3.50. Could be a nice treat! 
Vegan Cooked Breakfast (9/10)
We loved this!
Brunch was Nelly's favourite meal before becoming vegetarian and meat-free options can be hard to find that are tasty. Vegetarian sausages can often be very hit and miss, especially when eating out, so I was surprised that these vegan ones were so genuinely tasty, and rather meat-like even.
We agreed they were like Linda McCartney sausages – a nice, simple sausage. The hash browns were also cooked perfectly and delicious, and the beans and cooked tomato were nice. It could have done with a few more items – perhaps vegan bacon, toast, and mushrooms, but it was altogether tasty. 
The Vegan Grill (6/10)
At £7.60, it's one of the more expensive options for food on campus. Consisting of aubergine, courgettes, tomatoes, tofu with garlic dressing and mushrooms, the vegetables were delicious but we wanted more!
I thought that the tofu was raw and almost soggy but Nelly liked it and thought it was creamy in texture. 
Spicy Bean Burger (5/10)
The burger itself was tasty, with a good sauce and lots of flavour. The bread was a bit plain, an American-style thin burger bun.
It was very basic but that could be perfect for picky-eaters and those who need to eat in a rush!  
The Selection of Seasonal Vegetables (5/10)
We thought that for £6.25, this was a bit overpriced.
The kale was a bit soggy and the vegetables seemed more boiled than roasted. The potato seemed simultaneously under and overcooked. Again, we wanted bigger portion sizes! We though it might make more sense as a side dish rather than a main and we'd be sold.  
The Bridge Salad (7/10)
At £5 there was an impressive amount, and visually it was gorgeous. With dried cherry tomatoes, radishes, pine nuts and mixed salad, it tasted great and would be at home on Instagram. However, the tomatoes were boiled which was a bit weird with the crispy tofu. With protein added, it would be fantastic. 
Aromatic Fried Rice (6/10)

It was the best dish for size and flavour, with plenty of vegetables like spring onion, water chestnuts, beansprouts and peppers. With some tofu or Quorn added, it would be even better, and a warm salad option is a nice option. However, a little overpriced at £6.50.
Sandwiches (8/10)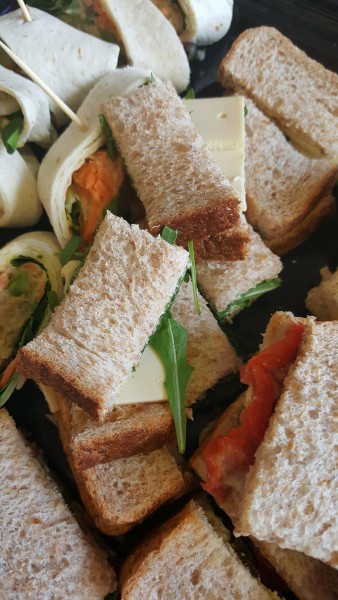 There was an array of sandwiches to test, including non-dairy cheese, chutney and spinach, a roasted vegetable, a (slightly) spicy rice and bean wrap, and a tofurkey and cranberry sandwich. These were delicious. Although no price was given, we can be pretty sure they are between £2 and £3, the same sort of price as other sandwiches.
The roasted vegetable and hummus sandwich is a classic, and a good solid lunch option, but also we're all a bit sick of hummus as the vegan option. The 'cheese' and chutney and the Tofurkey sandwiches were our favourites, because they were a good example of cruelty-free replacements for mainstream food. 
Overall, the food was nice to look at and good concepts, but we weren't too sure on their prices. The lack of substance could be combated with fried tofu or meat alternatives (both cheap in comparison to meat and dairy). There is an array of burgers available on the market that are meat and dairy free, which can be added to and garnished exactly like meat burgers with salad and chips. Some perspective: a 6oz steak served with chips and cabbage costs almost the same as the fried rice dish and is cheaper than the vegan grill. The breakfast and sandwiches we all highly recommend.
Thank you very much for having us, The Bridge!