Every travel lover has their fair share of travel accounts on Instagram they regularly scroll through, dreaming of their next weekend getaway whilst the dark cloud of procrastination looms over their head. But Instagram travel isn't real life. The sooner this is realised, the better. 
Instagram travellers regularly snap pictures depicting white sandy beaches, spacious clean hotel rooms complete with a crystal sea view, and fresh fruit for breakfast delivered straight to their room. When you see a picture of Paris, you're automatically whisked away imagining waking up in your hotel room adorned with Parisian vintage decor, views of the Eiffel Tower, snacking on a croissant as you rush out the door in your red lipstick, heeled ankle boots clip-clopping through the cobbled streets. Effortless, fashionable, relaxed… this is an idealistic view of travel. Yes – it can be done, with lots, and lots of money.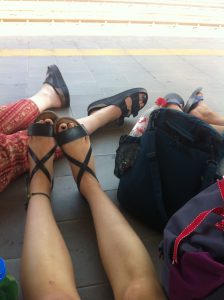 The realities of travel, especially as a student, go something a bit more like this: Waking up when it's still dark for your 6am flight or arriving at your destination in the middle of the night, agreeing to the most ridiculous flight times because it makes it so much cheaper. Delayed flights… cancelled flights… turbulent, uncomfortable economy class flights with budget airlines, all a far cry from the free champagne and extra legroom experience all these Instagram stars promised us. Walking for miles from the city centre to find your run-down hostel located in the middle of nowhere, asking locals for directions to have them chuckle at you and mutter something under their breath (Yes, this happened to me!). Walking everywhere until the entirety of your lower body feels numb (no cute ankle boots or taxis here). Feeling hungry after a gross hotel breakfast experience. Sweating so much from walking in Mediterranean weather, that you get heat rash. The list goes on… and that's just from my own personal experience. I'm lucky enough not to have lost luggage, passports or personal belongings, turned up at a dirty hotel, been scammed or mugged by locals or even airlines but these are all too common for frequent travellers.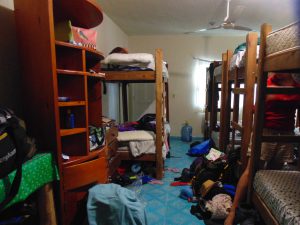 Travel is sold to us as a life-enriching experience, a chance to escape from the stresses of daily life and jet off to an exotic location, with all other members of the public conveniently hidden from view. We want to see the world without our holiday pictures being tarnished by busy tourists in the background, and to waltz into a different country without any mishaps. But for the very large majority of people, this kind of travel is simply unattainable. We share the world with other people, all wanting this #travelgoals dream too. We should want to travel to experience local cultures and cuisines we would otherwise never have a chance to experience, to see landscapes and places outside of our little homely bubble. Not to make our social media feed look good or impress other people on the internet. If you have the privilege of travel, embrace its imperfection; forget about trying to look good and just enjoy it!