One of the many brilliant aspects of the EU is the fact that it allows for students from all around Europe to study in a different country without a visa. It is through this very rule that I came to Southampton to study in 2017. However, with the upcoming (potentially no-deal) Brexit, this is all about to change. All of a sudden, I am no longer allowed to reside in England like I have done for the past two years. If you, like me, are an EU student ineligible for British residency here at Southampton, you have to apply for permission to stay through the Home Office's EU Settlement Scheme. 
The EU settlement scheme offers to options for EU citizens living in the UK, pre-settled status and settled status, pre-settled status being for those who have resided in the UK for less than 5 years, and the latter being for those who have been in the country for longer. The deadline to apply for the scheme is currently set at 30th June 2021, but in case of a no-deal Brexit, this will be pushed forward to December 2020. You need to live in the UK before it's exit in order to be eligible to apply.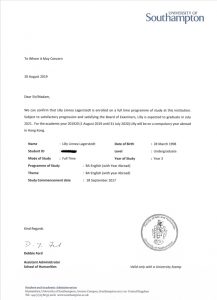 Once you've figured out which scheme to apply for, you must get your documents in order. Unfortunately, the home office will not just take your word for it, so you must prove your residence through official documentation. This can be in the form of a bank statement or a certificate from university. You can upload up to 10 documents proving your residence but the full period in which you have lived in the country must be covered. If you've been in Southampton for two years like me, you cannot for example just submit one year's bank statement. Documentation can be particularly tricky to secure if you are not in the UK during the application process, but if you email the University of Southampton Student Services, outlining the information which must be covered and linking to the government website they can provide a certificate of enrolment which should be enough to secure pre-settled status. You must also have a valid EU/EAA passport in order to apply.
The EU Settlement Scheme also requires you to do a mobile identity verification before you start your proper application online. The tricky part of this is that the only way to identify yourself is through an app only available on Android phones. Seeing as 47% of people in the UK currently use IOS Apple products, this can seem outrageous. The reason is that you must use the phone to scan a chip inside the passport by placing the phone on top of the passport, a feature which the iPhone does not have. So you might have to beg, borrow or steal from a friend in order to apply. Once you secure an android phone though the identification process is relatively quick. You must simply scan your passport, both chip and photo side. After this, you must take a photo on the phone clearly showing your face in good lighting, as well as provide a scan of your face, which is obtained through a couple of seconds of filming.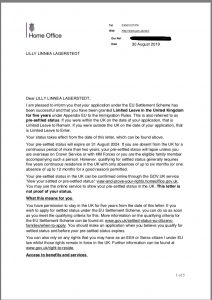 Once you have successfully identified yourself through the app, you will receive an email with a link to the government website where you must now complete your application by providing information about your UK life and documentation to prove it. After the submission the Home Office will review your application, and should respond within a few weeks.