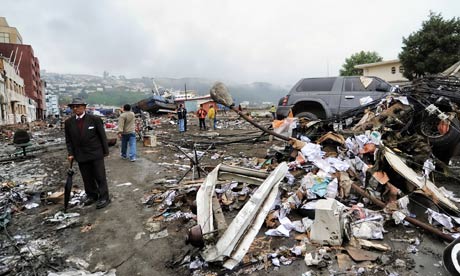 Three students from the University of Southampton have escaped unharmed from the catastrophic earthquake that hit Chile on Saturday.
The third year students, abroad for an element of their course, have finally been able to make contact, though phone networks are still sporadic.
The 8.8 magnitude quake killed 795 people, and left many homeless. 500 times more powerful than the recent tremor that devastated Haiti in January, the earthquake was so strong it NASA claims it sped up the earth's rotation and consequently shortened the day. Scientists have said the relatively low death count, comparative to Haitian deaths of over 220,000, was due to the enforcement of strict building codes that prevented such large scale collapse.
President Michelle Bachlet invited international aid efforts into the country after saying "we generally do not ask for help". The response from many countries will hopefully begin the long process of rebuilding the nation. Although experts say restoration will cost tens of billions of dollars and take years, they also commented that the country had coped remarkably well in the face of such a destructive natural disaster.