A student from the University of Southampton is about to embark on a 2000km bike ride to raise money for the charity Alzheimer's Society.
On the 25th June, Tom Sweeney, a third year international relations student, will cycle for 17 days in France from Lens to Paris as he follows each match in the European 2016 Championships, in a challenge that "combines my love for cycling and my love for the beautiful game!".
With a budget of only £100 for food and accommodation, Tom will be averaging about 110 km of cycling a day, which is approximately 8 hours a day of non-stop riding! Using websites like couchsurfing.com and warmshowers.com, Tom will be relying on the generosity of strangers to accommodate and feed him throughout the duration of the trip.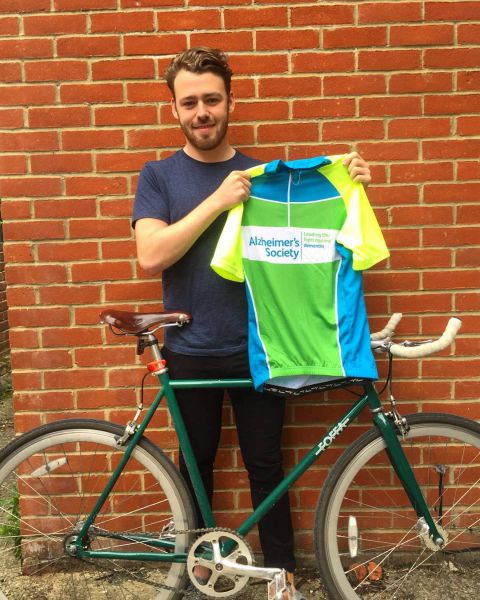 Tom hopes to raise £1000 for the Alzheimer's Society by "doing something different". The charity is one particularly close to Tom's heart, as his own grandmother was diagnosed with Alzheimer's, causing her memory to deteriorate.
Statistics from the Alzheimer's Society website show that one in six people aged 80 and over have dementia, a shocking statistic for a disease so often overlooked. The money Tom hopes to raise for the charity will not only fund the research of cures and treatments for the disease, but will also aid people and carers already affected.
The idea is simple. Tom will cycle to each game in the tournament, which means he will have to follow a strict time limit in order to reach each match. In order to keep up with the tournament, Tom will have to gradually increase his speed as the ride goes on, and as if that wasn't hard enough, he will only be using a single-speed bicycle! Having only picked up the sport in his second year of university, Tom isn't using a high-performance cycle for the ride, which he says will add to the challenging nature of the ride. Tom's vigorous training really began a couple of months ago, as he rode through the Atlas Mountains in Morocco. This journey motivated him to undergo an even bigger challenge. For the past 2 months Tom has been training 5 days a week, averaging about 40 miles on each ride in order to get ready for the challenging journey, which will look a little like this:
Any money towards his cause is one step closer to curing the Alzheimer's for good. "Every penny counts and all donations will continue to drive me forward on my way to the Stade de France and the Final!"
Tom's JustGiving charity page can be found here, and he will be blogging about his challenge, which you can follow here or you can follow him on twitter or on his instagram page. Take a look at how his training has gone by watching the video below: