Three Southampton University  MEng Electrical and Electronic Engineering students have received Lloyd Register Foundation Scholarships to cover their tuition.
Three fourth year  students received the scholarships in a ceremony on the 15th November, for their excellent academic and personal performance last year.
This is not the first time that these students have been successful, as they were also awarded academic scholarships last year. The latest scholarship covers each of the students' tuition fees for the coming academic year.
Lloyd Register Foundation is a UK charity established in 2012 by the global engineering company Lloyd's Register. One of its four main aims to advance skills and education within the subject of engineering.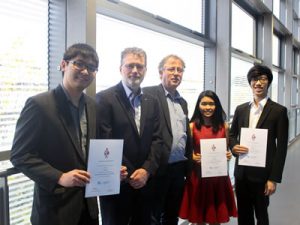 Tim Kent, Technical Director (Marine) of Lloyd's Register, and Professor Paul Lewin, Head of Electronics and Computer Science at the University of Southampton presented the scholarships to fourth-year masters students Yiqian Hui, Aaron Pang and WenYee Tey.
One of the four scholarship winners, WenYee Tey,  spoke to the Wessex  Scene about how she achieved her scholarship: "Before achieving this scholarship,  my average grade was in the range of a first.

"Studying on the Malaysian and Southampton Campus were both challenging. In the first two  years in Malaysia, we had labs and coursework to rush every week.

"Whereas in Southampton , the learning materials are more detailed so I have to spend more time in understanding them."
Professor Kent, a University of Southampton alumnus, congratulated the students.
Professor Lewin commented that: "It is fantastic to present these awards from Lloyd's Register Foundation and it's a clear mark of the students' hard work and success.

"We really are very keen that we work closely with Lloyd's Register Foundation going forward."
Lloyds Register Foundation recently established its Global Technology Centre alongside the University's engineering facilities on Boldrewood Campus.
A fourth year peer of the award recipients told the Wessex Scene: "Their achievements inspired me to become a much better student in all regards."
Does this achievement inspire you? Let us know in the comments below.