This week building work on the University's new teaching and learning centre will enter the next phase. 
Work on the Salisbury Road site will be handed over from site preparation contractor, PTC, to construction contractor, BAM. Work began on the site last July and the building is currently scheduled to open in 2019. The new building will provide the university with much-needed additional teaching and learning space, including a 250-seat lecture theatre, a range of large teaching rooms, computer space, independent learning areas and a cafe.
Since building began in July major developments have been made, including the demolition of Building 58a, the excavation of the area between Buildings 58 and Building 2 to make way for a new landscaped area, adjustments to Broadlands and Gower car parks' and the general preparation of the site for construction.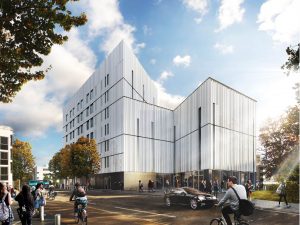 For more updates about the work see the development website.