English Associate Professor, Dr Gillian Dow, who teaches at University of Southampton has assisted in the launch of the latest £10 banknote featuring the popular English author, Jane Austen.  
Dr Gillian Dow is also the Executive Director of Chawton House Library, an Elizabethan manor house situated in Basingstoke, that once belonged to Jane Austen's brother.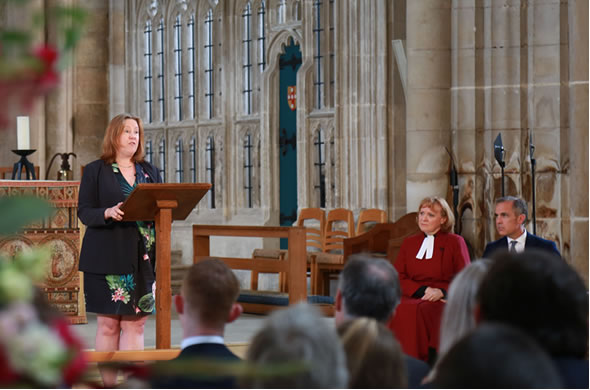 Dr Gillian Dow (speaking) with the Very Rev'd Catherine Ogleand and the Governor of the Bank of England, Mark Carney | Credit: Bank of England.
On Tuesday 18th July, Dr Gillian Dow addressed an audience at Winchester Cathedral, where she discussed Austen's life achievements and everlasting legacy;
Jane Austen has a textual presence across the globe, but there is something wonderful in imagining the further places she will now go, printed on the ten pound note – perhaps tucked in a smart wallet on a business trip to the States, in a handbag on route to Mauritius, or indeed a shopping trip to London.  I feel absolutely certain she would relish this honour.

Austen gained phenomenal global success long after her death, but there will always be people who haven't read her.  I hope they will now see her image and be tempted to pick up one of her novels.
The banknote design features a portrait of Austen, and is printed on polymer. It is also the first Bank of England note to include a tactile feature which helps those who are partially sighted or blind.
The note will be issued on 14th September 2017 and will enter into public circulation shortly after.