On Thursday 11th October, Southampton City Council Overview & Scrutiny Management Committee (OSMC) held an official meeting to scrutinise an update on Kentish Road respite centre and the Council's mid-term financial strategy.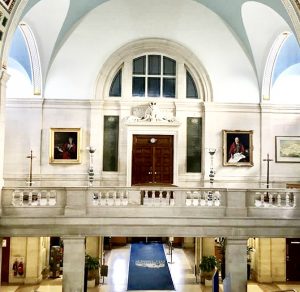 It was attended by members of the OSMC: Councillors (Cllrs.) Steve Galton (Vice-Chair of OSMC), Daniel Fitzhenry (Leader of the Opposition), David Furnell, Tom Bell, Toqeer Kataria, and Ivan White. Other participants included Cabinet Member for Adult Care Councillor Lorna Fielker and Cabinet Member for Finance and Customer Experience Councillor Mark Chaloner. Kentish Road respite centre campaigners Lisa Stead and Amanda Guest were also present and took an active part early in the meeting.
The event was fully open to the public to attend. The meeting programme was outlined in advance in the Public Document Pack. Details of the financial strategy are found in a public Cabinet Report.
Update on Kentish Road Respite Centre 
The meeting opened to review an update of the Kentish Road respite centre, a department of social services offering medical assistance for Southampton citizens with serious health implications and disability-related needs. Kentish Road is situated 15 minutes walk from the southernmost tip of Southampton Common, close to the A3057. The decision made at a Southampton City Council cabinet meeting over a year ago to axe this service had generated controversy.
Disagreements primarily arose about exactly whether the facility should be kept open. The most proactive and successful opposition campaigns were run by activists Lisa Stead and Amanda Guest. Their longstanding efforts are to prevent the centre from closing led the Council to reconsider and amend its decision. At an assembly, in April 2018 the Council cabinet officially confirmed the re-opening of Kentish Road with the aim of further provision of a high-standard care for those with special educational needs.
However, the centre's now only available on weekends and in urgent circumstances. The central argument expressed by Lisa Stead and Amanda Guest at the meeting was that Kentish Road, indeed, remains underused, while most of its former users are unable to return (although willing) and feel constraint for the weekend use. Henceforth, campaigners are calling to open the respite centre full time as they believe this will solve the underuse of the facility by reversing these constraints.
Firstly, Amanda Guest questioned whether it was a budget deficit-related issue that's led the Council to be unable to keep the centre open 24/7. However, the response she received was that the actual reason why the centre is now only available on weekends is the demand for its services isn't that significant. It was then stressed that, if after consulting with centre users the City Council found that demand was sufficiently high, corresponding measures would take place.
After Cllr Fitzhenry had asked what was going to happen to Kentish Road in the future, he also asserted that now's the right time to act on council expertise on what to do or be open to public consultations. He also added:
We must recommend that we open this [Kentish Rd Respite Centre] 24/7.
Amanda Guest went further, stating that from the beginning it wasn't the public who made the choice to close down Kentish Road. Reacting to this claim, Cllr Fielker again emphasised that currently, it's impossible to pre-judge objectively whether the respite centre will be actually needed 7 days a week, before adding:
I think it would be great to open it seven days a week. But at this moment in time, we have not committed to that, but it is an option on the table.
Cllr Galton (Vice-Chair) suggested that it's a positive thing that Kentish Road offers multiple services as long as all of them are particularly aimed at learning disabilities.
Another subject raised regarding this discussion covered the efficiency of current research methods, with concerns expressed about the latest research data's credibility. Developing this idea, Amanda Guest proposed the City Council attract external university experts to review statistics.
Three recommendations have been made by Mark Pirnie, Scrutiny Manager, for the OSMC as part of scrutiny at the end of this discussion were:
Cabinet Member for Adult Care, Councillor Fielker, needs to investigate the actual demand and occupancy rates of the Kentish Road respite service by re-assessing the credibility of the data from previous studies. Besides, alternative research methods need to be explored.
An instant re-opening of the Kentish Road respite service 24/7 will be taken into consideration, while the cabinet member will try to find another long-term solution.
Allow carers to obtain/purchase services of the Council-run site, such as at Kentish Road, through direct transactions.
Medium Term Financial Strategy Update, aka. the Council Budget 
The meeting then turned to the Medium Term Financial Strategy Update presented by Cabinet Member of Finance and Customer Experience Cllr Chaloner and Mel Creighton. The main objective was to analyse how the budget will be stabilised given that £6.32mn has already been overspent in the 2018/19 financial year cycle. This led to lively cross-party councillor debate with Cllr Challoner asserting that central government isn't treating local authorities fairly, to which Conservative Cllr Fitzhenry replied:
Your budget statement was the Government took all my toys and now I got to make do!
When asked about potential savings such as property rationalisation and disposal savings from Cllr Bell, Cllr Chaloner responded that 'property rationalisation & disposal savings could have reached £2.25m but failed as property structure is not suitable for this'. Later, Chaloner was asked to explain how the previous £6.32m overspend would be balanced, responding that 'each overspend has its own plan to balance it'.
Finally, it was recommended that the Department of Finance and Customer Experience and Cllr Challoner should prepare and submit for the committee's review a more detailed summary of contract savings of £245,000 from 2019/2020 proposed. It was also recommended that proposals to potentially shut down Glen Lee and Holcroft House Care Homes need to be temporarily postponed, as the committee required further evidence, including relevant figures on the occupancy rates of these homes.