On Friday the 18th of February I was extremely privileged to be invited to speak on behalf of the LGBT community at an event talking about how to empower women, co-ordinated by our fantastic Feminist Society.
The main event featured a panel of 7 speakers all of whom came from different student groups and communities, who discussed the issues surrounding women's empowerment and it's relation to the bigger picture. We were required to come up with a five minute speech on the barriers that women face in our community, what has been done to remove these barriers and how to progress further, as well as inspirational figures from within our community. While I could probably write an entire series of articles from the issues discussed in these paragraphs, and five minutes really wasn't enough, displayed below is a copy of my speech and a whirlwind tour of just some of the issues facing women in the LGBT community:
Some of you may be wondering what a gay man is doing talking to you about the barriers women face in the LGBT community – surely that's indicative of the problem in itself? I'll be honest, I wouldn't have been my first choice of speaker either, but as both a former LGBT society President and the LGBT co-ordinator for the Equality and Diversity Committee, I can at least offer some perspective on the struggles that women who aren't heterosexual or cis gendered face.
As a start, I want to talk about something close to many students: clubbing. Nights out can present a challenge to members of the LGBT community. One of my close friends often finds on nights out that men will almost immediately suggest a threesome on discovering she has a girlfriend; indicative of a misguided notion throughout society that women are simply present for the gratification of men.
More worryingly, many lesbian women are simply told what they need is a good shag from a real man and they'll come round to the idea of being straight. Of course, if I personally were to say the same thing to these men, I'd most likely be assaulted, but this instant refusal to recognise a woman's true identity shows just how misunderstood sexuality is by a lot of people. This also extends to biphobia, with some claiming bisexual women just aren't picky and will sleep with anyone – again, totally unacceptable, but apparently a normal viewpoint for a lot of people.
The issue also extends to women who do not identify with the sex they were assigned at birth. The case of Lucy Meadows last year, where a schoolteacher was driven to suicide following an article by Richard Littlejohn in the Daily Mail stating that  "not only was he in the wrong body, but the wrong job as well". This lack of understanding about Trans* issues is costing lives around the world, not only from suicide but also from numerous cases of transgendered men and woman being murdered. The LGBT community faces huge prejudice in large parts of the world, with people being imprisoned, punished or even raped in an attempt to "correct" their behaviour, even in supposedly 'equal' countries like South Africa. Much needs to be done to change this.
Closer to home, the LGBT community faces prejudice due to being in same sex relationships. Until only recently, question marks over housing, parental rights, adoption and tax benefits have all placed couples that aren't simply 1 man and 1 woman at a disadvantage, so efforts must be made to eliminate these barriers and ensure fair treatment for all.
So what has been done to solve these problems?
Well, as you may know, the first same sex-marriages will be taking place at the end of this month, and I for one am very excited. In spite of the recent spell of wet weather, this step forward shows that the Government is committed to not discriminating based on a person's sexuality, and that everyone and anyone should be able to marry if they so choose.
The Equal Opportunities Act has also provided a step towards removing these barriers – by not allowing employers to discriminate against those who identify as LGBT, the playing field in the job market has been set to a fair level.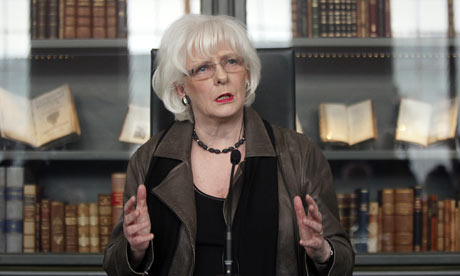 Finally, what has been most important has been the rise of a number of excellent LGBT role models. From Ellen De Generes, the chat show host, to Clare Balding, successful sportswoman and TV Presenter,  Alexis Arquette, a famous model to Dr. Marci Bowers, a trans women who performs pioneering gender reassignment surgery, there are numerous role models out there who can inspire women to go out there and be the best they can be. As the theme of this event is women in power,  it is worth also mentioning Johanna Sigurdardotir, the world's only out lesbian world leader to date, who was Prime minster of Iceland several years ago. It's my hope that she has paved the way for many more members of the LGBT community to take on the top job in Politics.
So how do we continue further?
Firstly, we need to ensure there is greater awareness in the Press with how to deal with Trans issues in order to prevent a case like Lucy Meadow's from happening ever again. No one should be driven to suicide as a result of the behaviour of our Press, and the sad part is that I don't think it's surprising to a lot of people that it happened.
Secondly, we need better education in schools. It's been 11 years since the repeal of Section 28, and yet in my experience, the provision for LGBT teenagers is at best inadequate in schools. I was lucky that I was able to find information from external sources. It's only through education and discussion that people will realise how their behaviour affects others.
Thirdly, I'd like to see a ban on corrective therapy. It seems insane that in this day and age, the Government allows people to treat homosexuality as a condition that can be 'cured,' when all it amounts to is quackery that harms the individual by forcing them to hide who they are.
I'd also like to see Government's follow through and place real pressure on countries who consistently violate the rights of LGBT communities. There's been a lot of talk about countries like Russia, Sri Lanka and Uganda, and very little action has been taken. It's money-where-the-mouth-is-time if we're going to tackle these issues head on and remove these barbaric laws.
Finally, we need to realise that, gay or straight, we all want the same goal: equality, and that only by working together and seeing past our differences that we can make that change.