There have been more issues with the SUSU Shop, coming after a whole host of scandals this year, including the infamous 'Muffin Lady trapped in door after entering through exit' debacle of November. The Undercover Undergrad has the scoop.
It seems the checkout team have been accused of setting off their 'cashier number blah de blah' buttons off at irresponsible levels. Preying on the confused and tired student population, they press these buttons twice or even thrice when only a solitary press is required, often leaving those confused more confused.
One confused student, wanting to remain anonymous recounted:
"I just wanted to buy a Kinder Bueno. I saw that they had sold out which made me slightly annoyed, but hey ho, I got a Kinder Egg instead; I always did enjoy those little toys. I entered the queue only to notice a pregnant lady behind me, so I did the courteous thing and let her go before me; she said I had a kind face. I couldn't wait to take a bite of my Kinder Bueno."
Peter Endearing, 20, continued:
"I got towards the end of the queue to the area where the checkouts are, and where they were. Them. I waited patiently when suddenly "cashier number 4 please" beckoned me forth, the instruction simple and understood. I started my walk towards cashier number 4 when, "cashier number 3 please", "cashier number 4 please", "cashier number 8 please". I panicked. I did something you should never do in the SUSU Shop. I broke rank and stopped. I was stranded in the middle of the emptiness, cashiers everywhere I looked, but none willing to transact my Kinder Bueno."
Mr Endearing took a few moments to compose himself: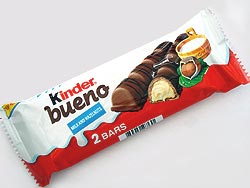 "It took me 3 hours to get outta there. Though, most of that was due to the Muffin Lady, who got trapped in the exit door again."
We tried to get a comment from the SUSU Shop, but they simply stated that:
"The SUSU Shop will continue to stock Kinder Buenos, they are available for the price of 69p."
If you are currently confused while reading this, then you have been warned.
She said I had a kind face.
If you are reading this and are not confused, then feel free to carry on living till the day you do become confused. Then return here and read, and if you remain confused, heed this warning. Beware the cashier of number 4, and 6 and 4 again, and also 8.
Not my words, but the words of The Undercover Undergrad.
Stay locked for more from The Undercover Undergrad.
And just who is The Undercover Undergrad?