Being on my year abroad may seem a somewhat strange time to submit my first article to my university magazine. Here I am in France, immersing myself in a new culture (or should that be patisserie?), revelling in my newfound greener, decidedly less water-logged pastures across the Channel having blissfully escaped a turbulent summer of resignations, back-stabbings, leadership contests, and not to mention a surge in racially motivated assaults. Referen-who? What? I don't recall that word.
Sadly, this is not the case (except perhaps the patisseries). It seems that on each excursion, in each lecture, each day, even while minding my own business on the tram, the pesky B word rears its ugly head. It would seem that my plan to go to France, eat a croissant and wait for this all to blow over was not as effective as I had hoped.
However, it has been effective in other ways. On Friday evening, quietly flicking through a weighty tome by Proust in true French academic fashion (DEFINITELY not watching Netflix in bed), I heard outside a large group of people chanting slogans and ringing foghorns. In true British fashion I vacated my seat to peer out the window with folded arms and grumble and the civil disturbance.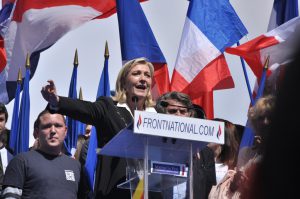 It was a procession of young people, students belonging to anti-fascist, anti-racist groups marching as a counter-protest to the protest being staged by the National Front against the reception of refugees from Calais. The concept of a protest protesting a protest may seem a bit ridiculous and exceptionally French, but the turnout assuredly was not. Expecting the spectacle to pass relatively quickly I was shocked to discover that the small straggles of people marching down the street unfolded into a vast procession that I was surprised to see considering the size of my town. Unfortunately I did not encounter the National Front's protest, however I hope that it waned in comparison.
What struck me was the fact that, despite being a cold, dark, wet November evening (temperatures have rapidly dropped in my area with snow being promised in the coming week) such a vast amount of people came out to show their solidarity, their support and most importantly get involved. 'And what the bloody-heck does this have to do with Brexit?' I hear you ask.
Well, if there is one thing to be taken from the entire affair, be it the referendum itself, the ensuing leadership contests from either major parties, or the most recent addition to the Brexit chronicle – the ruling that the move to initiate Article 50 must pass through parliament first, it is the importance of getting involved.
Regardless of which way we voted, and regardless even of our views on whether it should have occurred in the first place, the referendum gave us the opportunity to get involved directly in our nation's political process. But it should not, and does not, need to take either a referendum or a general election for that to happen. The fact that the initiation of Article 50 must pass through parliament first gives us the chance to shape our nation's political future. Now is the time to fight for what you think should be prioritised in negotiations and directly influence the form of Brexit. The only way to make representative democracy work for you is to represent your own views clearly enough for them to be represented. There will not be a referendum every time the government must make a decision.
It is in precisely this way that the recent legal ruling was not an attack on democracy, but the encouragement of it; we now have the chance to at least somewhat influence the direction of Brexit. But this is not a unique opportunity. There are endless causes to be fought. If you feel strongly about an issue perhaps rather than clicking links to articles that reaffirm your beliefs on the internet, or even trying to dig your head in the sand, you should motivate yourself to do something, or to say something. Waiting for it to blow over will not work. There will always be new winds that are equally hard to ignore.