November was Southampton Refugee Month, which was organised by refugee activist Ilaf Moslawy, President and founder of Soton2calais.  The events were intended to fundraise for and increase awareness about the current humanitarian crisis in Syria. 
I had the pleasure of attending  the 'Refugee Reality' event with guest speakers including MA student and hip-hop artist Lowkey  and Labour councillor Ali Haslemere.  I sat down with Ilaf to discuss her activism and how she aims to change the world.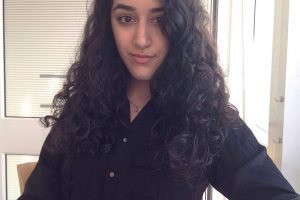 What inspired you to start Soton2Calais?
I felt the need to do something. After many nights of feeling helpless and deeply hurt by the articles I read, the images I saw, and the videos I watched of humans suffering due to other humans, I had to do something. Anything. It's all about solidarity.
How do you manage the extra work alongside your Medicine degree?
If you want to do something, or better yet if you feel the need to something, you will make time for it. I can't do my degree if I'm not helping people alongside of the studying. Med school is a long process and I do not have the patience to wait until I finish it to change people's lives.
What is the best part of organising these events?
I want to say everything after the event, but it's what happens inside the people's minds during the event. But by people coming up to me and thanking me and receiving messages even a week after the event about how it has affected them and how inspired they are, that's the best part. Knowing it made a difference.
What was the inspiration behind the Refugee Reality panel?
Initially, it was supposed to be two or so people sharing their experience of volunteering with refugees, similar to a panel event I organised earlier this year. With the intention to just raise general awareness. But because of the connections I had, I thought of taking the audience on a journey starting from the place where the worst humanitarian crisis of our time is occurring: Syria. Then travelling through the neighbouring Middle Eastern countries, crossing the Mediterranean to Greece, and then travelling across Europe to get to Calais, France. The final destination being the UK – with each speaker bringing the issue closer to where we, the audience, are residing. By allowing each speaker to share their experience, the audience is given an insight into the crisis at differing key locations and thus mapping out the journey of many refugees.
Unfortunately, the Syria contact was unable to Skype in due to air strikes in his region in Eastern Aleppo around the time of the event. He is safe and well which is all that truly matters. The other speakers were amazing and touched heavily on the humanity of the situation and the need to look within ourselves to change the world we see outside of ourselves.
How can students join campaigns to help refugees?
Soon Soton2Calais will cease to exist as an entity as I am in the process of converting it to a Student Action For Refugees (STAR) group. Students can help in many ways,  such as by sharing a link or event, attending our meetings, fundraising and volunteering in refugee projects in the local area and further afield.
Like our Facebook page and you'll stay updated! Whether it's spending 5 minutes at home or going away for a week, students can do a lot – their way!
Do you have any advice for people wishing to volunteer in Calais, Greece and other places affected by the humanitarian crisis?
Contact the organisation working for refugees in the destined area first. Find Facebook pages and/or volunteers who can inform you about best accommodation and tips specific to the area. Sort out accommodation before going. Find out which items to take with you but avoid travelling with donations if your purpose is to volunteer as border control may prevent you from entering the country if you make that purpose obvious. Make sure you're covered for health and travel insurance either through the organisation or arrange it independently.
During your travel, make sure you don't look like you're going on a volunteer trip and don't state that you are to officials. Travel light. Passport in a waterproof bag and on you at all times but securely. Write about your experience and/or keep a video diary so that you can keep your friends and family updated both during and after your trip (raising awareness!). Don't forget to have fun! Know that you're helping out and everyone deserves to enjoy themselves, especially in dire situations.
What do you think of the anti-migrant rhetoric of some media outlets?
The anti-migration rhetoric is appalling and incredibly ill-informed. It truly saddens me that people can write such horrendous accusations about our fellow humans and that some readers actually believe what they write. We still haven't learned from the past. For such propaganda to be accepted and thrive in this day and age is a huge indicator that we all have a long way to go until we can have widespread harmony within our society.
Southampton Refugee Month is about raising awareness about the current refugee crisis all over the world with an emphasis on Syria. We want students to be more engaged in what is happening across the Globe by hosting different types of events thus educating and entertaining at the same time. We want to inspire students to be more involved through volunteering by inviting people to talk about their experiences in Calais, Lesvos, and Aleppo. We want to provide students with skills and contacts to enable them to campaign for human rights and reach out to others to do so too.