The upcoming Council Elections will be exciting – and important – for Southampton. No party has a clear majority on the council, so the whole city is at stake. Labour, the Liberal Democrats and the Conservatives will all be hoping that they can increase their representation.
What's up for election?
Southampton City Council has 48 councillors, elected in 3-member wards. At each council election, 16 councillors – 1 from each ward – are elected to serve 4 year terms. Hence, councillors elected in 2014 will either face re-election or retire, whilst those elected in 2015 and 2016 will remain for 1 and 2 more years respectively. Every fourth year (such as 2017), there are no council elections.
Of the outgoing councillors, 8 are in the Labour Party, 7 are Conservatives and 1 is an independent. One of these Labour councillors is Simon Letts, the leader of the council and the Labour Parliamentary candidate for Southampton Itchen in the 2017 snap general election, when he narrowly missed victory by 31 votes. The independent is Keith Morrell, leader of the left-wing Putting People First group of independents, who have 3 councillors all representing the same ward (Coxford). Morrell stood for parliament as an independent in Southampton Test last year, obtaining 1.4% of the vote and finishing as the fifth most popular candidate.
In the wards of Bevois (Labour hold), Bitterne Park (Conservative hold), Peartree (Labour), Sholing (Conservative) and Woolston (Labour), the incumbent councillor is not standing.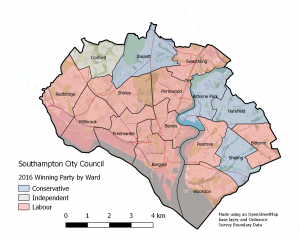 The current political make-up of the council is 25 Labour, 19 Conservative, 3 Putting People First and 1 Southampton Independents councillor – so majority control of the council is at stake.
However, both Southampton parliamentary constituencies swung heavily to Labour at the last general election, and general political trends in the area suggest that Labour shouldn't worry too much about losing power.
The Conservative, Labour, Liberal Democrat and Green parties are standing a candidate in all 16 wards, the left-wing TUSC are standing in 5, UKIP in 3 (considerably down from recent years), and there are 8 independent/minor party candidates, with various different views and policies.
Which wards are worth watching?
One student-heavy ward is Bevois – between Portswood and the city centre. It is by many metrics the safest ward in the city, being comfortably held by Labour – there's no reason to suggest that will change this time around, but it will be interesting to see how large the margin of victory is.
Simon Letts' ward of Bitterne could be an interesting race – it was a three-way contest between Labour, UKIP and the Conservatives in 2014. UKIP aren't standing this time around, and intuitively, the UKIP vote would mostly go to the Conservatives, allowing them to gain the ward quite comfortably. However, elections (local and parliamentary) last year showed that it very often wasn't the case. With a general swing to Labour likely across the city, Labour probably aren't too worried about losing here, but they should perhaps be cautious.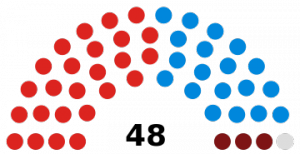 Bitterne Park was narrowly won by the Conservatives over Labour in 2014, 2015 and 2016. With Labour prospects looking good across the city, the ward may well turn red this time around.
Coxford, where Putting People First leader, Keith Morrell, is re-standing is certainly one to keep an eye on. Morrell was comfortably re-elected in 2014 – his first time standing for the party instead of Labour, from which he defected. However, his group colleagues were elected much more narrowly. Whether this was because of personal support for Morrell, or because the popularity of the group has faded, is unclear. The main opposition is likely to be Labour.
In Freemantle, the leader of the Conservatives on the council, Jeremy Moulton, is up for election. His margin of victory in 2014 was rather narrow (8%). His colleague was elected with an even narrower margin in 2015 (1.3%), and Labour won the ward comfortably (a 16.3% margin) in 2016. Consequently, it seems rather likely that he may lose his seat. Viva Europa, a self-proclaimed single issue anti-Brexit party is also standing here – according to the party's website:
[The party's]  simple aim is to have as many candidates standing in the May 2018 elections standing on a single-issue 'Protest Vote against Brexit'.
Given that the candidate here is the only one standing anywhere in the country, they don't seem to have been too successful with that.
Portswood ward is bound to be a close one – it has been for every election this decade so far. For the most part, it has been a close race with the Conservatives and Liberal Democrats – the incumbent Conservative councillor was just 51 votes ahead of the Lib Dem candidate when he was elected! However, Labour prospects in the ward have improved in recent years (they narrowly won in a three way contest in 2016), and there's plenty of evidence that the Greens are putting the effort in.
In Redbridge ward, the Southampton Independents party is standing. This minor local party appears to be the brainchild of Andrew Pope, their councillor in this ward who was elected as Labour in 2015. However, their website proclaims that their leader is Denise Wyatt, who is their candidate this time around. She also stood in 2016, coming fourth with 13.6% of the vote; not too far behind the Conservatives and UKIP, but well behind the successful Labour candidate. The party is also standing a candidate in the neighbouring Millbrook ward, and Pope stood in the Test constituency in the general election – coming fourth with 1.7% of the vote.
Sholing has swung frequently between the Conservatives and Labour – the Conservatives won the ward in the last 3 elections, but very narrowly. With Labour's fortunes looking good, they are probably hoping to win here.
Student Candidates
Matt Cowley, a third year Politics and Economics student who came a close second in this year's SUSU President race, is running for the Conservatives in Redbridge Ward.
Olivia Reed, a second year Politics student who came second in the race for SUSU VP Welfare, is running for the Liberal Democrats in Bitterne.
Amy Greenwood, a fourth year medical student, is running for the Liberal Democrats in Coxford.
Sam David Harris, a first year Electrical Engineering student, is running for the Liberal Democrats in Woolston.
No other parties appear to have student candidates.
In summary, it looks like there's a good chance that Labour will strengthen their grip on Southampton City Council. But the Conservatives probably aren't going to give up without a fight, and it's not completely unlikely that the outcome will be in their favour. There's also a reasonable chance that the Liberal Democrats will make a comeback on the council, whilst independents and minor parties look set to stagnate or even lose a councillor.
Whatever you think of the possible outcomes, it's important to remember that you can change them. If you're registered to vote (including if you registered at your current address for last year's general election), go out on Thursday and use it!
For more information about the parties (which are standing city-wide), here are links to their local websites: