Political Profiles: Sajid Javid
Sajid Javid is considered to be a front-runner in the battle for the future of the Conservative Party, with many believing that he would be better suited to uniting his Parliamentary colleagues compared to the likes of Boris Johnson.
Javid studied at a state school and was the first in his family to attend university. In 1961 his father Abdul emigrated from Pakistan with little money to his name. It is due to such humble beginnings that Javid has previously compared himself to the London Mayor Sadiq Khan, as both of their families originate from Pakistan and both have fathers who drove buses. Regrettably, Javid has experienced racism throughout his life; for example, in an interview for a career in the City he was told that he would not fit in. Furthermore, during his Parliamentary career, he received hate mail on 'Punish a Muslim day', despite not being religious. This year he issued a personal apology for the government's 'hostile environment' immigration policy, sympathising with the Windrush victims that '[they] could have been me, my mum or my dad'.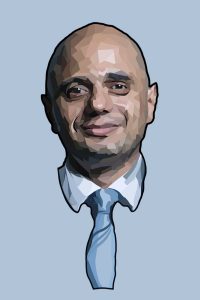 First elected as the MP for Bromsgrove in 2010, he has served the Conservative Government in various roles. Entering the Cabinet in 2014 as Culture Secretary, he was later shuffled into the role of Business Secretary following the Conservatives' 2015 election victory. Javid has long been viewed as a eurosceptic, but it was during the referendum that he was seen to have briefly backed the Remain campaign. In the aftermath of the Leave victory, David Cameron's resignation prompted a battle for the Country's and the Conservatives' leadership. Javid sought to be Chancellor, backing a joint ticket with Stephen Crabb, who was ultimately unsuccessful in his leadership bid. Once Theresa May took control, Javid was appointed as Communities and Local Government Secretary in the new Cabinet. Most recently, when the Windrush Scandal came to light earlier this year, Javid replaced Amber Rudd, becoming the first Home Secretary from an ethnic minority.
Previously in his career, Javid was subject to heavy criticism for his response to the steel crisis as Business Secretary, which saw his trip across to Australia cut short. Cheap Chinese steel flooded the markets, causing tens of thousands of British jobs to be cut. Sajid Javid also caused controversy as Home Secretary when he undermined the long-standing British foreign policy of opposing the death penalty – whatever the circumstances. Javid wrote to the US Attorney General that he would not oppose the death sentence for the so-called 'Beatles', as this punishment: "will be held up as an example of how we treat and deal with alleged Isis fighters". Javid's neoconservatism has prompted his support for military intervention in Libya, Iraq, and Syria. In response to recent rises in crime, Javid has sought to expand the controversial police practice of stop and search.
This year Javid made the landmark decision to relax the law allowing NHS prescription of cannabis, following high-profile cases of young people who were denied treatment for their epilepsy. Nonetheless, he made sure to clarify that he is not in favour of legalization for the purposes of recreational use. Also this year, Javid has also altered the direction of government policy regarding immigration, where he has lifted caps on the numbers of nurses and doctors.