In an era of populism, growing political extremism, and continuing rampant discrimination, there is increasing concern about how to manage difficult political conversations within British universities. Universities have long been a bastion of free speech, but many feel that this has been misused. Others, meanwhile, feel that free speech is a non-negotiable right which is heavily endangered.
Universities pride themselves in containing a broad spectrum of political ideas, and Southampton is no exception. The University of Southampton's student body presents a diverse range of political ideologies, from Conservatives to Marxists. Other cross-party societies include the Politics Society, the Debating Union, and Logos, a free speech discussion group.
Some, however, see the tradition of free speech at universities as being under attack and a variety of policies are blamed for contributing to this alleged decline. For instance, universities and student unions have been involved in 'no-platforming', in which certain speakers and organisations have been banned from participating in university events because of their political beliefs. By extension, many universities have also implemented policies creating 'safe-spaces', whereby vulnerable students are protected from hateful speech and triggers.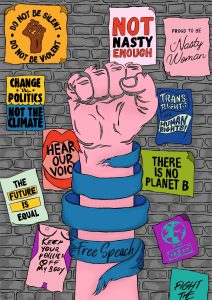 But how well do the University of Southampton and the students' union (SUSU) protect free speech? Spiked, a pro-free speech magazine, has ranked British universities and student unions according to how well they protect free speech. The University of Southampton has been awarded an 'amber' status, which Spiked puts down to the university having policies which have hampered free speech on campus. This included banning a conference at the university which was critical of Israel back in 2016, effectively no-platforming them. Nonetheless, in the university's code of practice, the university states it is committed to ensuring people of all political beliefs are not denied access to the university. Meanwhile, SUSU received a 'green' status, with there being no evidence of censorship by the union. This compares favourably with the rest of the UK's student unions, with only 12% being given the same green ranking by Spiked.
Logos is perhaps the society most associated with free speech at Southampton University, with events usually involving one speaker presenting their opinions, followed by a question and answer from the audience. Logos heavily emphasises the importance of free speech in its organisation, describing itself as 'a discussion group, committed to free speech'. It has often aired controversial topics, such as abortion, as well as inviting controversial speakers such as Peter Hitchens. From the perspective of free speech activists, free speech is an essential part of university life which helps develop academic vigour and understanding amongst students.
Nonetheless, some argue that the threat posed to free speech has been exaggerated. Free speech, it is argued, should not apply to those who seek to 'misuse' it for negative purposes, at the detriment of wider society. This would mean excluding groups which, for example, indict violence, something the university's code of practice does.
Free speech advocates are right: free speech is often targeted at British universities. However, this comes at a time when political extremism is on the rise, and some argue that free speech can be exploited. Ideally, a middle ground needs to be reached on campus, where lively debates occurs but are done with respect for all groups of students. Although Southampton hasn't always ensured free speech is protected, both SUSU and the university have tried hard to preserve it. Lively free speech and participation in student politics exist, but equally the university tries to make all students feel welcome on campus.