As the new Barclays Premier League season got underway last Saturday, Wessex Scene's Sport Writers for 14/15 attempt to predict the outcome for this year's campaign as well as casting a quick verdict on the F.A. Cup, Capital One Cup and Champions' League victors.
  My View:
PL Winner- Manchester City
It appears a difficult task for City to win the title for a second consecutive season, but their stable and richly talented squad should prove the difference. They are a team of winners and arguably have a stronger spine than United and Chelsea. Not any huge additions but then I don't really think they need any. They're that bit more experienced now than when they won the championship under Roberto Mancini. Getting off to a stronger start than last year would help though.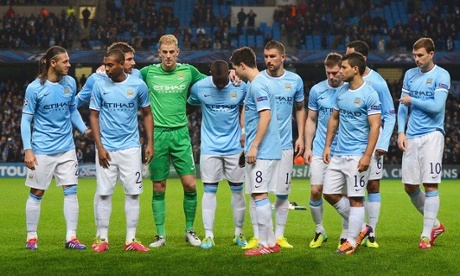 Remaining top four-
2nd- Manchester United
We are likely to see a galvanised side under the leadership of Louis Van Gaal, big name players and those who were on the fringes last term will be desperate to show their quality this time around. Van Persie firing on all cylinders and a rejuvenated Juan Mata should be the key for the Red Devils. Ander Herrera and Luke Shaw look promising acquisitions too.
3rd- Chelsea
Despite predicting a third placed finish, I really had difficulty choosing between the West Londoners or Manchester City for the 14/15 league title. Looking more like a traditional Mourinho team nowadays, the purchases of Cesc Fabregas and Diego Costa appear near perfect for this league. Costa struggled to adapt to Spain's style of play during the early stages of the World Cup but should score plenty in England. Mourinho factor definitely in play this season, but may be edged out by the two Manchester clubs in the race for the title. Surely a big trophy on its way to Stamford Bridge though..?
4th- Arsenal
There is a feel good factor about the Emirates at the moment, their Charity Shield win over City adds to the F.A. Cup victory. Alexis Sanchez could be lethal this campaign, and the retention of Aaron Ramsey will likely help their chances of a top four finish. A dynamic team who on paper should comfortably slip into their familiar fourth position. Less 'Wenger Out' cries now…
Relegation-
18th- Crystal Palace
Despite their marvellous finish under the stewardship of the wily Tony Pulis, they do look like obvious relegation contenders this time around. Really needed more proven transfers and seem to have lost out on many to other premier league clubs, which is never positive. Also difficult to see whether Pulis will stay on as manager (*he hasn't). Team spirit and a knack for throwing a surprise could see them escape but it is doubtful unfortunately.
19th- Burnley
As much as I would love to see them stay up, I can't. Sean Dyche has no Premier League experience as a manager and Burnley's squad is largely untested at this level. That said, forward and talisman Danny Ings has the potential to be a big hit in this league and could propel the Lancashire side up the table. Goals win games and you can see him scoring some important ones. However they look vulnerable defensively and minus Kieran Trippier their English contingent are unlikely to be pushing for international duty anytime soon. Ginger Mourinho or not, it will take something special for Burnley to keep their place in the top tier.
20th- West Bromwich Albion
Despite being a reasonably experienced outfit, like Crystal Palace they have been trampled on in the transfer market. The addition of Joleon Lescott will help sure up the back four and they won't concede as many as Burnley I don't think, but they are lightweight going forward. A pretty uninspiring choice of manager in Alan Irvine and fans must be increasingly incensed at the bizarre dismissal of Steve Clarke last season. Pepe Mel did the best he could and escaped relegation but got the sack too. Maybe a tad harsh, but tempting to say that this club deserves to go down.
F.A. Cup- Liverpool
Capital One Cup- Arsenal
Champions' League- Chelsea
Player to look out for- Tom Ince
Ben Burwood:
PL Winner- Chelsea
Last year's Chelsea side was by no stretch of the imagination Mourinho's side, which he made clear. Despite this 'the special one' still comfortably helped them into the Champions' League places. Now Mourinho has been given money to spend and a combined price of £62 million for Diego Costa and Cesc Fabregas will add the goals the team were lacking last year. Goals from Costa and Fabregas' creativity combined with the Mourinho factor could see them reach top spot.
2nd- Manchester City
City have got undeniable quality in their side. However last year Pellegrini showed Premier League naivety which may cost them. I feel Chelsea will be able to pip City to the post this year. Constrained by financial fair play, they haven't bought in many players so far this transfer window. That said, in the long run I think City have the quality to beat most teams in the league.
3rd- third, fourth and fifth are a real toss up between three sides for me. I will stick my neck out and say Liverpool will finish third. The Merseyside club still have to buy a striker to replace some of the goals lost through Suarez's departure but I feel Rodgers' improved his tactical awareness last season, implementing different formations for different opponents. They lack strength in depth compared to the other top teams but if they can keep the majority of the first eleven fit, they could be a threat.
4th- Arsenal
I think they will edge out Manchester United. Whatever you say about Wenger, he almost certainly guarantees Champions' League football. He has spend big money on Alexis Sanchez who has the ability to light up the Premier League this season. The loss of Vermaelen could harm Arsenal defensively, a side who have frequently struggled out of possession. I think 'The Gunners' will start well but begin to fade as they campaign goes on.
Relegation-
18th- West Bromwich Albion
After last year's struggles they could find themselves in trouble again. They have added to their squad but I don't think it will be enough. The Midlands club have missed the goals brought by the likes of Odemwingie and Lukaku and I believe they will do again this time around.
19th- Leicester City
Nigel Pearson's side should go straight back down. Their free flowing pass and move style works when you are one of the top Championship teams, but in the top tier I see 'The Foxes' struggling defensively.
20th- Burnley
Despite signing a number of the top tier's fringe players such as Michael Kightly and Matt Taylor from Stoke and West Ham, I think Sean Dyche's 'Clarets' will have difficulty at both scoring and preventing goals. Like Leicester I can see them heading straight back down.
F.A. Cup- Manchester City
Capital One Cup- Manchester United
Champions' League- Real Madrid
Player to look out for- Alexis Sanchez. Big year for British talent like Sterling, Barkley and Ramsey though, whilst Kasper Schmeichel will be the pick of up and coming keepers.
Alasdair McDowall:
PL Winner- Manchester United
A manager breathing new life into a squad capable of winning the title. Still hurting from last season but motivated and determined to improve. Big name players, the right man at the helm and no European distractions, surely this season will belong to the red devils.
2nd- Arsenal
A confident youthful team still flying high off of their F.A. Cup (and now Charity Shield) triumph. Also bolstered by some big new signings. The strongest squad Arsene Wenger has had to work with in years; a strong performance is expected.
3rd- Chelsea
They have comfortably made the top four season after season and nothing is changing anytime soon. However, Chelsea's and Jose Mourinho's European aspirations may come at the cost of a top two finish.
4th- Manchester City
A strong enough side to make fourth place with ease. However, they are likely to struggle against the big teams who have figured them out as Arsenal did in the Community Shield. A bigger challenge for the champions to retain their crowns this season, and it is one I'm not sure they can overcome.
Relegation-
18th- Crystal Palace
Whilst Palace survived for the first time ever last campaign and finished with a flurry, they have never been in a consecutive season in the top flight. They are still the underdogs in my mind and it might be too ambitious to ask the same of a comparatively weak side in the best league in the world.
19th- Burnley
Newly promoted teams always struggle to find their feet in such a tough league. An impressive performance by Burnley in the Championship last season, but much like Palace, they are unlikely to go toe-to-toe with established sides and win too often. 'The Clarets' to plummet straight back down.
20th- Sunderland
Sunderland have been looming around the relegation zone for a fair few seasons in a row now and some of their performances last time around did not merit that of a Premier League side. They often struggle to hit the 40 point mark and that's why they are a serious relegation candidate.
F.A. Cup- Liverpool
Capital One Cup- Everton
Champions' League- Paris St Germain
Player to look out for- Alexis Sanchez