After the world was treated to what was another sterling week of tennis at Wimbledon, Will Scott looks back over the fortnight and evaluates who were the winners and losers during the famous championships.
---
Good:
Novak Djokovic
As with all sporting events there can only be one winner. The Serbian successfully defended his title to complete a hat-trick of Wimbledon titles. Whilst the final proved to be of relative ease the early stages of the tournament proved more tricky. Having opted not to play any warm up tournaments on grass, such as Queens or Halle, it's fair to say that Djokovic was far from his best over the first week. The start of the second week provided the biggest scare though as he went two sets down to the big serving Kevin Anderson, only to recover and complete the final set at the beginning of the next day's play. From there on in it was plain sailing as his fitness, court mobility and outstanding defensive game saw him brush aside the likes of Cilic, Gasquet and Federer for his 9th Grand Slam title and firmly put the bad memories of the Roland Garros final behind him.
Serena Williams
The "Serena Slam" is complete, and at Flushing Meadows in Autumn Serena will be playing for the calendar year Grand Slam. The women's game is often overshadowed by the men, however this feat cannot be underestimated. To hold one Grand Slam trophy is good enough, the ability required to be the holder of all four at once is just unfathomable. Serena has absolutely dominated the tour for the past year and this time at Wimbledon was no different. Whilst she had to beat her sister, and was pushed all the way to the edge by England's Heather Watson, Serena's victory was outstanding and leaves no doubt as to her ability on the court.
Roger Federer
It's always tough to be defeated in the final, especially somewhere where you've experienced so much success. However this fortnight can still be seen as a great display for the world number two. Having been seen as possibly over the hill by many, the crowd favourite came roaring back in revitalised form with a new style of play defined by an incredible first serve. It's safe to say that the suave Swiss can put last years relative struggles down to the change of racquet, and that now he's found an incredibly high level of comfortability with it after more than a year. His outstanding performance against home favourite Murray was at a level we haven't seen from Federer in the past 5 years and whilst he couldn't reproduce that form in the final it has still been a sterling display to prove he's back to his best. What's more, the Wimbledon fans showed in the final that he still is loved over here in Britain, despite knocking out the 'home' player, so this hopefully will inspire him to carry on playing for a few more years to come.
Garbine Muguruza
It feels a little cliche to just put both members of the men's and women's finals in this section, however they should all be pleased for different reasons. Any time you're the 21st seed and reach a final that's a monumental achievement, and when you're only 21 years old it's even more impressive. The young Spaniard played great tennis to defy her seeding and battle all the way to the final, where she faced Serena who she'd defeated previously (not many on the women's tour can say that). However, it wasn't to be this time around. Although Muguruza proved she belonged at the very top level with a break of Serena's serve when she was serving for the championship – now that's mettle.
Dustin Brown
The feel good story of this year's championship, 'Dreddy Tennis' brought life to the early rounds with his aggressive style of play. Not afraid to take any risks, and a huge fan of the serve-and-volley tactic lead to the German being a huge hit with the Wimbledon crowds. His greatest moment was of course his 3-1 defeat of legend Rafael Nadal in the third round in front of a packed centre court. His movement and use of the drop shot was no match for Nadal, perfectly exploiting the Spaniard's movement struggles on the grass surface. Whilst he was unable to defeat Troicki in the following round this took nothing away from Brown, who was a breath of fresh air to the tournament.
Bad:
Rafael Nadal
Having taken home his first grass court title in more than 3 years in the build up to Wimbledon, some had high hopes for the injury plagued Spaniard. However there was another huge disappointment as for the fourth consecutive year he was beaten by somebody ranked outside the top 100. I think it's safe to say that after it's happened that many times in a row it cannot just be down to a bad performance on the day, or a great one by his opponent; Rafa is no longer a force on the grass court. He looked lost on Centre Court against Dustin Brown's aggressive style of play and I personally think that we won't see him get beyond a quarter final at SW19 again.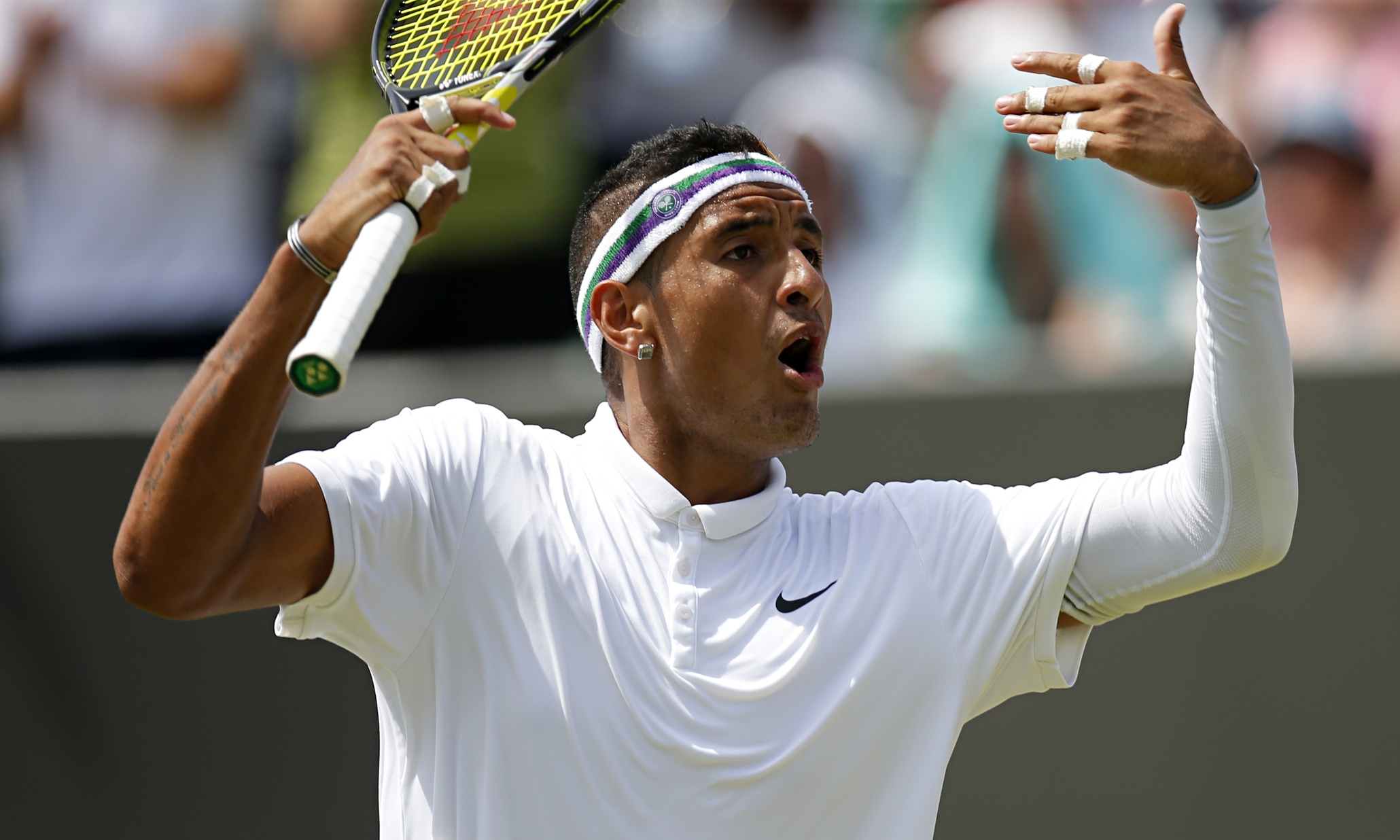 Nick Kyrgios
Whilst I personally have no issue with his character, and find it a breath of fresh air to the game, Kyrgios worked his way in to the headlines for all the wrong reasons this week. The biggest issue was when he appeared to throw a game of Richard Gasquet's serve after being given a penalty for foul language; no effort was made to return any of the Frenchman's serves. This didn't go down well with the onlooking crowd, and drew boos from many. He also drew a wardrobe violation for wearing the official Wimbledon headband (odd I know) and was fairly snappy with reporters post matches. The young Australian also got into a spot of trouble as he attempted to climb a wall to peek over and watch one of Aussie legend Lleyton Hewitt's last games at the famous championships. Whilst all of these actions aren't atrocious (apart from throwing the game) they take away from people discussing his tennis, which has improved at an astonishing rate over the past year.
Eugenie Bouchard
The young Canadian, who is seen as one of the globes most marketable athletes. After losing in the first round she continues a poor run of form, meaning that she has still won only 4 games since the end of the Australian Open at the start of the year; not a good stat. Having finished last season ranked 7th in the world, this year should have been a year to push on and start looking for her first major victory however so far it has proven difficult. Bouchard needs to find form, and with that some confidence, sooner rather than later if she is to rise up in the game as much as many have predicted.
The Media
It wasn't an ideal week for the media, most notably the BBC who changed the format of their evening highlight show "Wimbledon 2day" midway through the championships. After much criticism due to the lack of highlights involved in the show, and the odd studio audience a change was made during the second week. Other issues for the media include one reporter asking Tomas Berdych how he was feeling for the next round when in fact he had lost his match, and one other reporter cheekily trying to ask Wozniacki what she thought of Rory McIlroy's injury.