I have been more excited this week than normal. Why you may ask? It Women in Sport week. Women in Sport week is aims to celebrate and showcase women in sport at every level. This week is in its second year of running and aims to get more girls and women physically active in sport.
As a runner there are so many women to choose from to be my role model so this is a really hard choice. But I think mine is going to have to be Kelly Roberts. Kelly Roberts is not an Olympian but this Sunday she is running the Chicago marathon with a mission to qualify for the Boston marathon. This sounds like a reasonable thing to do when you look at it like that but when you realise the running background she has come from it is so much more than running a marathon. Kelly Roberts self claims that she is the ex-president of the I F hate running club and was over 100kg. When her brother died and she was grieving, it got to Thanksgiving (the last Thursday in November) she decided to go and run to the end of her road. Three months later she ran a half marathon and four months after that she ran a marathon. She wanted to show the reality of how hard running is and how hilarious it is. Back to the Chicago Marathon and Boston. Ok so Kelly says that she will do what she thinks is impossible, she wanted to break four hours for her marathon time after her first one . Four marathons later she did it and it produced this amazing instagram post.
It's still #WSW16 get back to something you once loved or try something new https://t.co/Ivg5WIXGhb or https://t.co/MMEJsBZKtM this weekend! pic.twitter.com/P7p3FJ8Hy0

— Women in Sport (@Womeninsport_uk) October 8, 2016
Kelly then watched the Boston Marathon which then led her to realise that she was making excuses for why she wasn't doing it was just silly and she had to go and do the impossible and go for it. The Boston Marathon is like the Olympics in that you have to run a qualifying time to run in the Boston marathon, in one of many qualifying marathons around the world.
She hired a coach and for the past six months has been training so hard and getting through her doubt about believing in herself enough that she can do it and run faster, intense track work outs and running in a  very hot New York summer.  She is my role model because she realised that being strong enough to run a sub four hour marathon, which is running 9:09 mile splits, didn't instantly mean that she was happy with how she looked. But this summer she shed that skin and belief and took off the vest and ran in a sports bra and didn't care what others thought. Leading to the gallery on instagram of the strongest fiercest women there are of #SportsBraSquad. I found this so empowering in my running this summer and joined in because who cares what others think of you when you run. Now why did I mention the Chicago marathon? Well the Chicago marathon this Sunday is where she is aiming to run a 3 hour 33 marathon which is the qualifying time for the Boston marathon .
Wo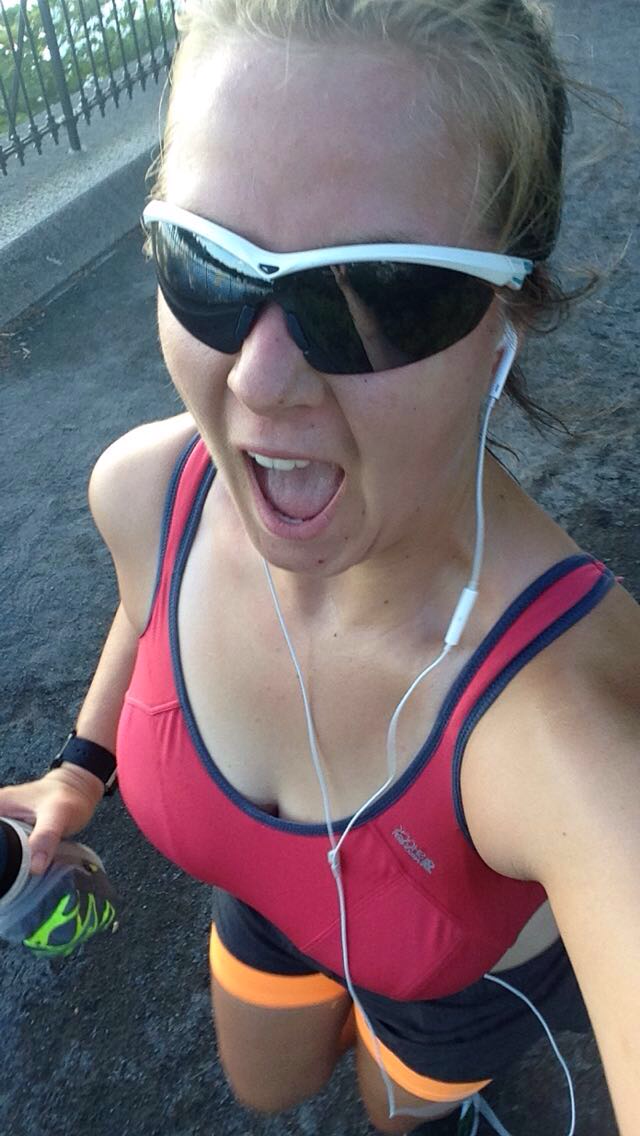 men in sport week is important because it empowers women who are trying something new for the first time and going to go and swim or run for the first time that they are not alone. Kelly Roberts is an ambassador for a program called #psyougotthis which is to help people to take the first step out of the door and start to exercise. As doing sport for women is often not considered elegant in contrast to men where if they don't do sport it's considered weird. Doing sport and running for me reminds me that I am stronger than I think and that I can accomplish so much more. Sport has empowered so many women to go and chase greater career goals because of the empowerment that sport has given them. Because when I crossed that finish line of the Winchester half marathon I did what I didn't think I could do. I need role models to show me that in a world where being a women in sport is hard to not get shouted down that men are stronger and unequal coverage within sports I need reminders that strong beats skinny every time. Also that running in a sports bra in the summer is the best feeling ever.