A Guide To Varsity For Those Who 'Don't Get' Varsity
Varsity can be confusing at the best of times, quite often even the organisers and athletes can become lost in the swirl of sports that is going on, so there seems to be little hope for a spectator. However, fear not! Jessica Sansom has your back, here is her guide to Varsity.
It's a cold, blustery Saturday morning and somehow I've found myself huddled under a multi-layered shield of jumpers as I watch a group of men wrestle each other to the ground in the middle of a muddy field. If you'd told me 72 hours ago that I would be getting up at 7.00am to watch a Varsity rugby match, I regret to say that I would have laughed in your face. I do not 'get' sport. I have never 'got' sport. I treat sport in the same way that I would treat a slightly nutty relative at a family gathering: tactically avoiding where possible, smiling weakly when introduced by others and diving for the sanctuary of the buffet table at the first opportunity. Surprisingly, despite all this and the seemingly sub-zero temperatures, I'm having a great time. For my fellow sport-a-phobes out there, it's difficult to explain the rush of being surrounded by a crowd screaming support for your team. It's infectious. Even if the very thought of a football makes you shudder, you can't help but be swept away by the sheer enthusiasm emanated by everyone else. Add into that free food, face paint and hilariously excited friends and you've got a pretty great day.
When my friend Sarah first suggested coming with her to Varsity as part of the Press Team, I inwardly recoiled at the prospect. This suggestion popped up only two days before Varsity began. Problem solved – there wouldn't be any tickets. I was free to live another sport-free day without any guilt of letting her down. But then that little voice popped up in the back of my mind and before I knew it, I was posting on the Varsity Facebook page asking for spare tickets. Luckily I managed to get one and the next thing I knew we were on our way to Portsmouth. So, since I now consider myself a weathered Varsity veteran, I wanted to pass on some words of advice for any sports novices planning on going next year. Here they are, my pearls of wisdom, my top 6 Varsity tips for people who don't 'get' sport:
Have a wander
I have to admit that I'm a tad biased here as my one and only instruction of the day was to wander. With my limited sporting knowledge and unfamiliar surroundings, 'head wanderer' was really the only role that I could fill to help the Press Team. That way, I could remain completely clueless but help report scores and make notes for this article. I know that the temptation is to pick a match and stay with it and undeniably this tactic has its merits. By wandering however, you get to figure out which sport you find the most interesting. With the limited knowledge of a sports novice, a taste of various activities can be helpful.  Think of it like a Pick & Mix. You can take little samples from here and there and if you find out after 15 minutes that you don't like a particular flavour, you're not forced to eat the whole packet.
Pre-compose witty retorts for your sporty friends
It is inevitable that, as a novice, you will receive a fair amount of mockery from your experienced friends as you get to grips with the fundamentals of being a spectator. For me, a lot of these cruel taunts were aimed at my increasingly apparent status as a 'weather weakling'. You must consider that a 'true' spectator will have experienced and survived a variety of weather conditions throughout the years. They have therefore developed a curiously thick skin, hardy enough to weather the elements without complaint. In comparison, my skin is remarkably un-weathered. My body was not prepared to withstand a slight breeze, let alone an icy wind that we had to endure whilst standing rooted to the spot. Whether it's your battle against the elements, your confusion of specific terminology or your stupid questions, you will unavoidably be mocked. It's therefore imperative to think of potential retorts in advance. Stock up that verbal ammo. When you're standing on that pitch, gazing dazedly at the action and the increasingly cryptic gesticulations of the referee, you won't have the mental energy to come up with amusing replies. Trust me.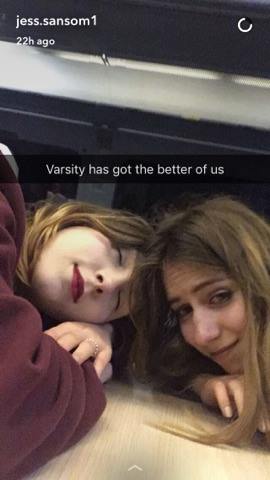 Adopt sports language wherever possible
This tactic helps with point number two. I like to compare it to the activities of a magpie: look out for shiny new sports words, collect them and claim them as your own. From my experience you don't necessarily have to understand what they mean, you just have to say them with conviction. Sporty friends can be very helpful here. Listen to their enraged cries, mimic their vocab and, when the time is right, simply nod sagely and announce that we need to 'tighten our defensive line so the opposition can't get over the gain line.' Also, the more forcefully you shout it, the more everyone around you believes that you know what you're saying!
Stash and grab food tactics
This turned out to be an unexpected bonus at Varsity. Free food! Yes, you heard me right. Free Dominoes pizza on offer to all the spectators. The problem is, when it comes to Dominoes, we all know that one slice is not enough, but if you turn up Oliver Twist style asking for more, you're likely to get turned away. That is why I recommend buddying up with a friend to complete your food mission. Simply switch which stand you each go to, and if you want a particular flavour, swap the bounty when you reconvene.
Stalk the radio team
This would have to be my biggest tip for Varsity. Sarah and I stumbled upon this gem completely by accident. In the hunt for a plug for our dying phones, we ended up in the room where Surge Radio was commentating on the matches. From this vantage point, we could watch the match whilst listening to someone explain the whole thing. They clarified the confusing terminology, kept us up to date with the scores and gave updates on other events during the breaks. We were particularly lucky at Portsmouth to find the sanctuary of their warm commentating booth, but even if this isn't possible next year, tune into Surge and all your confused befuddlement will melt away.
Pick out 'your player' in the game. Pick out 'your person'.
Whether it's because of their playing skills, your lucky number or their beautiful backside, pick out a player and stick with them. This may seem obvious but it makes the game so much more enjoyable, even if you don't understand. When the balls/shuttlecock/sports apparatus is moving too fast and the people are shouting confusing things, just look out for your player. What are they up to? Are they being particularly fancy with their footwork (in which case you can cheer); are they upset because their team is losing (in which case you can commiserate); are they doing a particularly funny run (in which case you have endless entertainment)? Whatever it is, you have something to focus on and stops things becoming dull.
So there you go, the lessons I learnt from Varsity 2017. I have to say my biggest tip of all would be to make sure you go next year. Even if sport is decidedly not your thing, it's a massive laugh. You don't have to understand sport.  Just grab some mates, don the face paint and try to perfect those witty retorts.
Save
Save