I built a playground in Uganda; here is why I think you should too!
This time last year I was just finding out about this charity working in East Africa, the opportunity was to spend a month volunteering with them in Uganda to build a playground. East African Playgrounds managed to persuade me with the promise of mountain gorillas and their ability to play into my yearning ache for another adventure. Before I knew it I was telling my parents that I'd just put a deposit down and had committed myself to fundraising £1600 and that 10 months later I was to fly out to Uganda! It's fair to say that they were a little taken aback.
East African Playgrounds charity have a strong belief that, playing, and having time to actually be a child is what ensures key stages in social development. The children this charity builds for don't have it easy at all, often their childhood is non-existent. By building playgrounds in schools all over Uganda, they hope to inject a bit of colour into the lives of these children and give them that necessary downtime to just be kids. Playing is an essential part of growing up, it aids in developing skills such as teamwork which will be immensely useful to them in later life. So that is why I built a playground in Uganda.
My time in the pearl of Africa has latched itself onto who I am, making me miss every part of it. Even the dirt under my nails as I shoveled more mud into tires to later to become brightly painted stepping stones. If there is one thing I learnt in Uganda, it was to never underestimate the versatility of tires and the joy they can bring. On the opening day children who had previously only had a deflated ball to play with waited impatiently until they're teachers finally told them that it was okay to play. They ran and screamed towards what we had built. The kids were just everywhere, racing for the swings and with the drums being hammered in an incredible African beat.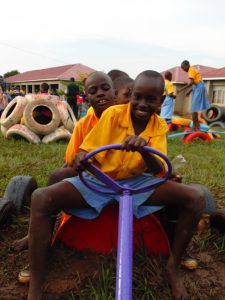 The next week I went trekking up and down stunning hills through endless villages, with adorable kids running after me. Each evening at the end of the day we would row up towards the next island that would be our home for the night and I would just sit in awe at these unbelievable places. One of the island we stayed on rose out of the lake, hosting a slightly rickety tree house and a bonfire lighting up the space where we camped. Sitting in the tranquility, surrounded by some of the kindest people I've ever met and under the bright moonlight on this island made me wish I would never have to leave. At this point Uganda and all it's beauty had truly captivated me, it's hard to explain how enchanting the rolling hills and rising volcanoes really are, it's a view you have to see for yourself to understand the magic.
Having been ill the day before the gorillas I looked our guide in the eye, reassured him I would be fine and forced myself to look the picture of health before heading into Bwindi's impenetrable rain forest. It has always been a dream of mine to go into a rain forest, and the day didn't disappoint. Being completely surrounded by trees and plants wrapped up in the humidity is a sensation I doubt I'll ever be able to recreate. After an hour or so our guides stopped us and the adrenaline kicked in as a saw a mountain gorilla slip into the plant growth and then out of sight. Ditching our bags, we hiked up a path the trackers had fashioned out of cut foliage. We stopped, and I tried without a lot of success to balance on pile of vines. Our guide pointed into a bush that was moving. I will never forget that moment that I peered through the leaves and looked straight into the eye of a 150lb mountain gorilla capable of crushing me. The whole thing gave me such a strange mix of amazement, excitement but also intense fear, I just couldn't bring myself to look away. It was truly a once in a life time experience that I cannot recommend enough. These creatures are beautiful and critically endangered, I feel honoured to of seen these animals in their natural habitat. It is thanks to conservation projects and efforts supported through tourism that these mountain gorillas are kept protected; which is why combining projects like those run at East African playgrounds with gorilla trekking is so important.
Uganda is an incredible country that should be on everyone's bucket list.
If you want to hear more about the Uganda Gorilla Trek Challenge run by Southampton RAG and East African Playgrounds, head along to the info meeting on Tuesday the 11th of October at 6.30pm L/T K (13/3021).