Paris – the city of art, the city of lights, the city of love. The French capital has become famous for being the place where romance blossoms; whether that be by admiring the sunset from the top of the Eiffel Tower, taking a moonlit stroll down the River Seine, or a romantic dinner down a hidden alley of restaurants. Paris of course lives up to its reputation, however, with Valentine's Day coming up, France holds a multitude of romantic destinations for a couple's retreat away from the hustle of the most popular, bustling French city.
Lyon: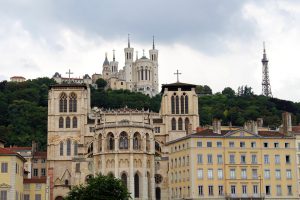 France's third largest city, Lyon is a luscious rival of Paris, situated in the Rhone-Alpes, with roots reaching as far back as 2000 years. It's a maze of romantic, medieval alleyways, quirky shops, and amazing food, makes the old town of Lyon perfect for a cosier and more intimate valentine's getaway. With more restaurants per head than any other place in France, Lyon has been labelled the gastronomical capital of France. Its location places it centre of the finest everything, most notably wine, seeing as it sits between two of the largest wine producing regions in France (Beaujolais and Côtes du Rhône). So why not try the finest cuisine, whilst watching the world go by in a traditional bouchon. After, take a stroll through the gorgeous medieval alleyways, taking in the breath-taking architecture of a renaissance neighbourhood, or even take the railway to the top of Fourvière and admire the beautiful Basilica of Notre-Dame.
Bordeaux: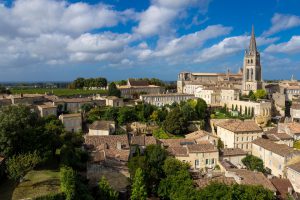 Bordeaux, a popular French destination, known for its wine, is also an enticing alternative destination to Paris. Bordeaux offers the advantages of a city, yet it is not ruined by overwhelming tourism and commotion. A city you can explore by foot, presenting beautiful architecture, the Garonna river, vineyards and winding streets. Take a romantic visit to the finest winemakers at Saint-Emilion, and then enjoy an unforgettable dinner at the award-winning restaurant Le Chapon Fin. The city is scattered with high-end fashion houses, yet its narrow streets also provide a great maze to walk around arm-in-arm admiring its local shops, churches and architectural masterpieces, as well as its Roman Catholic Cathedral dating back to the 11th century. The city holds a Grand Theatre home of opera and ballet, for a romantic evening performance. Bordeaux is a great place for the romantic city experience, away from a multitude of unpleasant tourism.
Lille: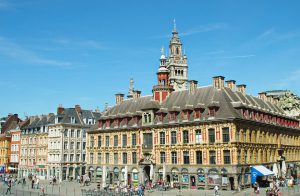 Lille is one of France's most underrated major cities. The North-West French city has transformed itself into a glowing and confident cultural hub with a striking old town, renowned art museums, an array of shops, exceptional dining, and a stylish nightlife scene. The charming old town of Lille is home to French allure, with designer boutiques and popular brands, whilst also homing the sweetest French coffee shops and bakeries, most notably Au Merveilleux a beautiful bakery with the speciality of meringue topped with chocolate. For an enjoyable day take a trip up La Tour Beffroi (The Belfry Tower) for an incredible view of the city, a trip to Musée de L'Hospice Comtesse to absorb their wonderful culture or to Vieille Bourse (Old stock exchange) to admire the architecture in the morning and booksellers in the afternoon, then finish the day down Solferino Street for a delightful evening of music and drink, or alternatively at the Opére de Lille for an impressive performance. For the chocolate lovers amongst us, Lille is also the best place to indulge in our guilty pleasure, take a visit to Meert, a chocolate shop open since 1761, there will be no lack of chocolatey gifts for your partner here.
Annecy: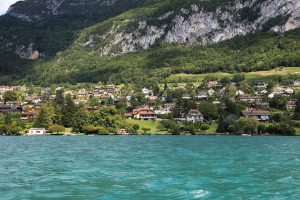 South of the Lake Geneva in Eastern France, Annecy is one of the most beautiful resort towns in the French Alps, exposing a beautiful lakeside setting. In summer, Annecy becomes a busy tourist destination, however throughout the rest of the year it becomes the perfect romantic destination. Lac d'Annecy has been labelled Europe's cleanest lake, with pure, glistening water, a stroll along the lakeside, watching the swans on the water and then having a perfect kiss on Pont des Amours (Lover's Bridge). Later take a boat up to the mountain villages, for an idyllic way to spend an afternoon. Within this colourful city, its most photogenic landmark, Palaid de l'Ile, centre of the Thiou Canal, originally built for Lord Annecy, now holds a small museum of art and historical exhibits, and Château d'Annecy (Annecy castle), makes a beautiful trip overlooking the town from a hilltop. Aside from this, alike any French city it is home to delightful shops and boutiques, as well as exquisite restaurants and a farmers market. A perfect romantic weekend.
Nice: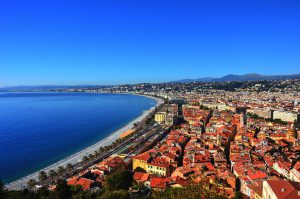 Nice, the Queen of the French Riviera, a city of natural beauty and a mild Mediterranean climate makes an excellent couple's holiday. A day at the spa, cleansing yourself in chocolate, is one of La Bulle d'Isis's eighty treatments offered. Then follow this with an evening at one of Nice's many wine bars – the perfect date. Nice's art scene provides a perfect daytime date also, in particular, Musée d'Art Moderne et d'Art Contemporain displaying the modern side of the art scene, or Musée Matisse surrounding offering a 17th century contrast. The music scene in Nice is also worth a stop, with large venues like Acropolic and Théâtre Lino Ventura pulling in big names, and local venues and restaurants playing cultural music live, couples can enjoy a perfect evening in any part of the city. A stroll down Promenade des Anglais hand in hand, overlooking the glistening sea is a must for any couple.
France is one of the most romantic countries in the world, yet its romance goes way beyond the city of Paris. Undeniably, Paris is the number one choice for most couples going on a romantic getaway, with its beautiful sights, excellent dining, incredible shopping scene, and all-round reputation. However, other cities and towns in France must not go unnoticed, and provide substantial competition to the city of love itself.