Paris – the city of art, the city of lights, the city of love. The French capital has become famous for being the place where romance blossoms, however, as seen in Part 1, with Valentine's day coming up, France holds a multitude of romantic destinations for a couple's retreat away from the hustle of the most popular, bustling French city. Part 2 explores some of the more unknown French destinations that should not be overlooked for the perfect, romantic getaway.
Sancerre: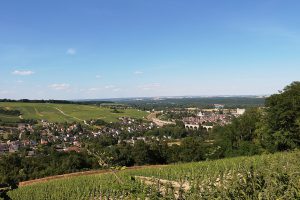 The picturesque town of Sancerre is located in the Cher department of central France, overlooking the Loire River. If you want a quiet, relaxing getaway of wine tasting and scenic routes, Sancerre is the most perfect place for you. Originally developed around a medieval castle, largely destroyed in the 17th century, it's remaining architecture and open landscape makes it wonderful for some time alone as a couple, outside of the non-stop city life of Paris. Sancerre, in and around it, holds over 300 vineyards, many with 'wine caves' allowing you to try and buy local wines, which is an incredibly romantic date. To learn about local wines, a visit to Maison des Sancerre would be perfect. Aside from wine tasting, enjoyable activities also include cycling through the countryside, and canoeing down the Loire river, to add some adventure to your getaway.
Biarritz: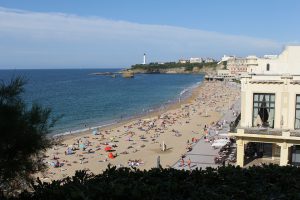 Situated on France's Atlantic coastline, Biarritz is a city with luxurious beaches, casinos and a surfing culture, yet it is also a perfect destination for young couples looking for an alternative romantic getaway. As a bustling, fun city, it presents a scene of excitement and adventure. Alongside the traditional tourist museums, including one of the sea, and one of chocolate, the local cliffs lookout over the main beach and creates a scenic route for a couple's hike. The casino's central position on the beach front is the perfect spot to enjoy a glass of wine gazing over the sea, and its small restaurants and enticing shops along the port full of sailboats also create the ideal setting for a romantic getaway unlike the well known French cities.
 Aix-en-Provence: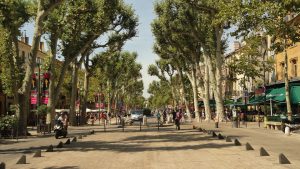 A city located in the South of France, Aix-en-Provence is a beautiful place full of gardens and squares, labelled the city of fountains. A stroll down the tree-lined Cours Mirabeau is an absolute must for a romantic couple, it is bordered by fine houses, cafes and fountains, following the old city wall. It's surroundings are worth the time. The Aix Cathedral, containing styles from the 5th to 17th century, amongst other grand architecture makes the city an admiring place to spend the day wandering. The city also holds many spas, specially fed by natural springs that flow underneath, a relaxing way to spend the day with the one you love, and of course you can finish the day with a candlelit dinner at one of the city's many restaurants.
 Sanary-sur-Mer: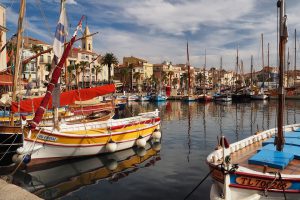 Sanary-sur-Mer is a commune in the Var department in the Provence-Alpes-Côte d'Azur region of South-East France. As a seaside town far from the busy areas of tourism, it makes a quiet and enjoyable couples' hideaway. Take the time to enjoy each other's company away from the fast moving pace of a city. Sit outside a café overlooking the Mediterranean, look around the daily market, and wander down the harbour side admiring the boats and clear blue water. With a small beach, cosy village, and sights such as Chapelle Notre-Dame-de-Pitié (a 1560 chapel), Église Saint Nazaire (a Gothic revival church) and Tour Romane (Romance Tower, a medieval construction), it creates the perfect relaxing holiday to really get to know each other and take your time with everything you do.
Ile D'Aix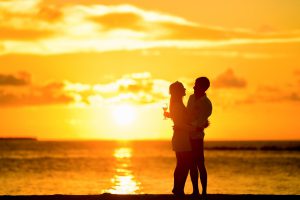 Ile D'Aix is a breath-taking and beautiful island off the West coast of France, with a population of only 240, this traffic-free, secluded island is wonderful for a romantic getaway. Hire a bike, take a horse-drawn carriage or simply walk around the island, admiring its coastal landscapes. Full of blissful, secret alcoves and pristine beaches, it really is a beautiful place to spend with a loved one in peace. The island is also home to unusual museums, such as the African Museum, Napoleon museum, and Mother of Pearl House to keep you occupied, and Mediterranean-inspired restaurants to enjoy. An island of paradise, holding vineyards, sandy coves, cliffs, beaches, and the beauty of nature, a day or two on this little island is time well spent with your loved one.
As the romantic centre of the world, France's romance stretches far beyond Paris. These alternative destinations provide fierce competition to the city of love itself with their unforgettable sights, exquisite dining, stylish shopping scene, and all-round reputation, whether that be the more familiar in part 1 or the more obscure in part 2. Each destination offers something different for every couple looking for that perfect, romantic French getaway, away from France's bustling city of love.