Just after Easter last year I took part in LOST99 run by Southampton RAG. LOST99 involves dressing up in suitably ridiculous wear, jumping onto a blacked-out minibus to be driven at least99 miles away to an undisclosed location, ultimately to be faced with the challenge of a hitchhiking race back to Southampton. All in aid of charity of course.
After raising the required amount of money to take part – £50 per person, the main aim of Lost99 is to get back to campus in the shortest time possible. However you can complete challenges along the way which earn minutes off your time.
Armed with a list of challenges, a pink tutu, fluffy pink wig and hopeful signs with Southampton scrawled across them, we we're given the first challenge; an egg. An egg to take care of and bring back to campus safe and sound. Because the real Anjali couldn't make it that day, we named our egg Anj the Egg so she could be there in eggy spirit.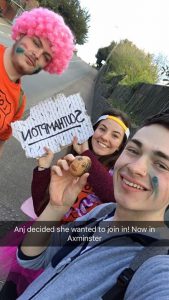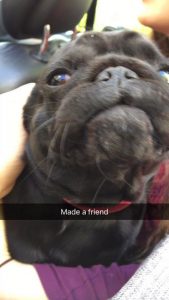 Although I had been really excited about the day I was slightly nervous about the whole hitchhiking business. Here we go I thought as we were dropped in Torquay over 100 miles away. After racing away from the other groups, we stopped by the roadside, thumbs out smiles on. As soon as a convertible with an adorable pug in the passenger seat pulled up and let us in, all the nervousness went away.
Seven miles down, I spied a fancy car with ribbons on the front. Lucky for us one of the 99 challenges we'd been given was attend a wedding. As we started to approach the car the bride and groom started coming out of the main entrance way. Their wedding photographer started taking pictures, we interrupted and tried to explained why we wanted to crash their wedding. The couple were more than happy to get involved, their wedding photographer snapping the picture for us!
LOST99 pushed me out of my comfort zone, had me singing in the car with strangers, taking selfies with an egg and bargaining with bus drivers for free rides. I hadn't been able to get away over Easter and I was craving adventure, LOST99 gave that to me. I had such an incredible day, with some amazing people and I honestly cannot recommend this insane experience enough.
This year's LOST99 is happening on the 13th May. Tickets have now reopened due to popular demand, but will go off sale this Sunday at midnight, so the time to act is now. They can be brought from the box office at http://boxoffice.susu.org/view/353/rag. More information for the event can also be found on the Facebook page: https://www.facebook.com/lostsoton/?fref=ts