I wish I could afford to fly somewhere exotic, perhaps the Caribbean. But realistically, I'm a student with a summer full of serving other people on their holidays instead of actually being on one. However, I refuse to let this stop me from exploring, to experience something at least close to travel. So, I propose for all of us out there with very limited budgets this summer to explore your home, you never know what you might find.
For me, this means exploring the little coastal town of Bridport in South West Dorset. Bridport, for those who leave the limits of this tiny town and then return in the summer, is often referred to as "The Shire". The rolling green hills and the small town made up of three streets is what makes Bridport fit this description perfectly.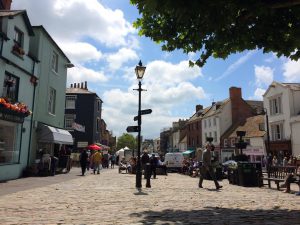 I won't lie, I found it hard to walk down the same street I've walked past a thousand times and view it in a new light. I have so many memories in this town, good and bad, that it's hard to wash them away from the walls to reveal a different perspective. But with the right mindset, a fresh view can be taken.
I found a new love for the weekly market, the eclectic mix of jewellery, fresh fruit and vegetables, clothes and completely random collections of items from times long past. The velvety coffee from one of the many independent cafes in Bridport awakening my senses to the side of Bridport I love. Every other shop is a cafe in Bridport, but I would particularly recommend either Aroma or The Chocolatiers Café if you need to have your daily cocoa intake.
In my explorations of home, I wandered down to a quieter part of town, behind the main streets, where the vintage and art undertones of this west country town come to life. The Alleyways and Bridport Vintage market offer up an array of amazing vintage classics that would get any vintage fanatic swooning.
My home travel wouldn't be complete unless I followed the river down to the sea. I am extremely lucky to live on the World Heritage site of the Jurassic Coast. The stunning golden cliffs that graced our tv screens in the hit crime drama Broadchurch stand pride of place at my local beach, West Bay.  Armed with award-winning salted caramel Purbeck ice cream by the seaside with these cliffs as a view, my travels are complete.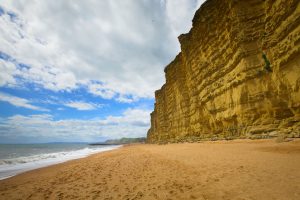 I may not be going away this summer (yet), but I like the fact with a little adjustment of the mind I can turn a street I've walked down for 20 years into something new. Bridport is a 1hr30 drive from Southampton, and I couldn't recommend this little slice of The Shire enough.
I dare you to walk out of your front door this summer and look at your home differently.
Go on, explore.