Thinking of booking a last-minute break after you've realised how long university summer is, or maybe you need an extra stop in your inter-railing journey? These five cities definitely make the best city breaks for students throughout the summer without breaking the bank.
1.     Amsterdam, Netherlands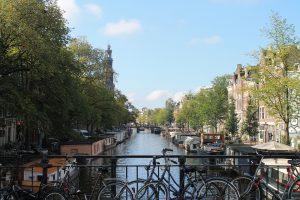 Ranked number one for student city breaks, Amsterdam is on everyone's bucket list. With July London flights as low as a £56 return, Amsterdam won't fail to ensure you still have some money left to take back to uni. Despite being famous for its Red Light District and gorgeous coffee shops, the city has so much more to offer with multitudes of history, culture and entertainment – it is easily one of the most loved cities of Europe. The city boasts an array of historical musts with the Anne Frank Museum, Van Gogh Museum and Rijksmuseum. If history and art aren't your thing, no worries, hire a bicycle and spend the day exploring the city down its 400-year-old waterways, or even hop on a canal boat. Its connecting streets offer a variety of shops and cafes to explore and take a stroll through the famous Bloemenmarkt (Flower Market) if you have time. Take a visit to Amsterdam's sex museum and even take a wander down the Red Light District at day or night (if you're feeling more risqué) to gather an understanding of why it gained its notorious reputation. Of course, any student trip would not be complete without a buzzing nightlife. Amsterdam offers a night to suit anyone with club nights, dance festivals, casinos and restaurants – even coffee shops are usually open till midnight. Take a picture with the "I Amsterdam" sign to show all your friends you've been, and that's an amazing student city break complete.
2.     Budapest, Hungary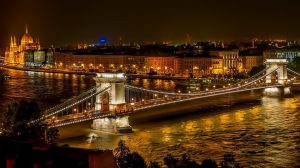 For those students who love to party, Budapest should not be forgotten. The city is home to some of the coolest bars in the world including Szimpla Kert, once voted third best bar in the world, a ruin pub crammed with everything vintage and retro. With London return flights around £100 in July it would be a shame to miss out on this vibrant city. Not to disappoint, Budapest's nightclubs stay open until 6am so you can party all night and watch the sunrise in the morning, the city even offers boat parties. One of their most famous nightclubs, Instant, boasts 8 bars, 4 dance floors and surrealist decoration inspired by neurotic hallucination. During the day, Budapest also offers a variety of things to do. If you're looking to relax (or work off a hangover), the Budapest Baths are the best place for you – take a soak in the healing bath and relieve the stress. Bathe in their range of swimming pools, and enjoy a relaxing massage. Any trip to Budapest would not be complete without a bit of tourism; take the funicular railway or hike up to Buda Castle on the Castle Hill to take in some history and admire the city's best views. Down in the city, visit Heroes' Square featuring the historical equestrian statue Hungarian Millennium Monument. Take a look in the Square's museums, or wander down to the city park and go boating on the lake. Maybe even take a river cruise for the day on the Danube – €11 with a drink. Of course, shopping is a must of any trip so why not explore the Great Market Hall. If you're feeling wild, the city offers the 7-day Sziget music festival in early August, packed with the big names in music. If you're looking for that ultimate city getaway where you can go wild for a few days, Budapest is number one for you.
3.     Hamburg, Germany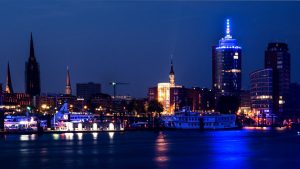 If you're in need of a city getaway but on a tight budget, Hamburg may just be the place for you. Although not a city you immediately think of, it offers a great holiday for students. With flights as cheap as a £60 return from London in August, and rooms as cheap as £15 a night on Airbnb – what's not to love. Once you're there why not check out the Altes Madchen brewhouse; relax in their bustling beer garden, and make your way through their 60 craft beers from across the world. Take a shopping trip down the bohemian Sternschanze neighbourhood for vintage pieces, Maison Suneve for more designer boutiques or down Mönckebergstraße, the main shopping street. The port is a beautiful place, stroll up and down Landunsbrücken overlooking the coast, even make a stop at Strand Pauli – a cool beach bar to watch the sun come down. If you're looking to fill a day hop on a boat tour from Jungfernstieg, where you can stop for a spot of sailing or even a nice walk around Hamburg's artificial lakes. If a boat tour isn't for you, spend some quality time with your partner or friends by hiring a canoe, kayak or paddleboard to explore the city's many waterways. For nights out, the city does not fail to deliver; a night at the Reeperbahn (the St. Pauli and Red-Light Districts) is a must, offering a variety of clubs such as Halo (perfect for house, RnB, hip-hop and electronica fans), Molotow (an incredible underground club), and Moondoo (party in style with student nights on Thursdays). End your getaway with a trip to Elb-beach to relax before you head back home. Hamburg is a perfect student getaway offering the perfect combination of relaxation and nightlife – as well as being rather cheap.
4.     Istanbul, Turkey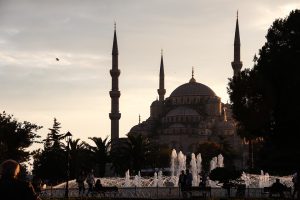 This beautiful city is the perfect alternative city break. Although not the cheapest place to fly to, with the cheapest flights coming in at over £130, Istanbul is worth it. Like Hamburg, you can get rooms on Airbnb for as low as £15 a night. All areas are within walking distance so you won't have to worry about travel costs once you're there. Full of history and culture, places like the 6th century Basilica Cistern and Aya Sofya offer an understanding of the city's past. For stunning architecture take a look at the Blue Mosque, or visit its rival Hagia Sophia, once the biggest cathedral in the world and now a beautiful museum of historical significance. For shopping, the market is the best place to go presenting an air of Turkish culture, as well as a visit to the Grand Bazaar. For regular high street shopping take a stroll down Istiklal Caddesi, that includes a three-story Mango outlet offering discounted past season collections. For a variety of shops, cafes and bars, take a trip to Taksim Square. The city overall makes the perfect place for students wanting to culturally explore an alternative city to the popular Berlin, Barcelona, or Paris. On top of its spectacular culture, the city does not fail to offer a multitude of bars, whereby after 10pm the whole of Beyoglu turns into, what would seem, a buzzing outdoor party with pints as low as £2. Into the night, the city remains thriving; Minimüzikhol hosts cool DJs with fashionable crowds, whilst Roxy offers those classic disco hits. The selection of clubs is endless. Istanbul gives the classic student both a chance to explore a culturally bursting city, as well as party hard.
5.     Barcelona, Spain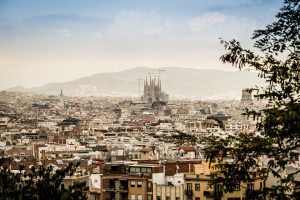 Barcelona is the perfect getaway for a city break with sun, sea and culture. Located on the Spanish coast, it offers beautiful beaches and mountains, as well as intriguing museums and churches, green parks and, of course, amazing shopping opportunities. This bustling city is full of things to do and it won't be as expensive as you think. If you're on a budget but still want to explore an incredible city, Barcelona is for you. Multiple museums throughout the city open their doors for free on the first Sunday of each month, such as the Picasso Museum which also has free entry on a Thursday evening. The 4km sandy beach of course is another free aspect of Barcelona, spend the day topping up your tan and have a dip in the glistening waters. Above all, explore the city, whether by foot or grabbing a tourist bus, and the wonderful architecture it presents from the Sagrada Familia to Gaudi's Parc Guell. Also, be sure to visit Las Ramblas before heading down to Barcelona's Gothic quarter. The food Barcelona has on offer is also divine from coffee shops and restaurants everywhere, to scrumptious food in St. Josep la Boqueria, one of Europe's largest and most famous food markets. For sportier students, Barcelona is the ideal city, home to one of Europe's most popular football teams, with Camp Nou stadium tours available. The beach also offers a fun range of water sports from kayaking to banana boats, and from parasailing to snorkelling. Into the night, the city will not fail you, providing you with a wild night out at clubs such as Nitsa, Marula Café, W and Loft. With July London return flights below £100, why miss out on this incredible city break, where you can explore the culture of a city, whilst also relax on the beach.
These five city breaks will absolutely spice up your summer and provide you with everlasting memories. Although flights can sometimes be costly, once you're there the living is often cheap and cheerful, and you'll have a blast wherever you decide to go. So, if it's a last-minute booking, or if you're an early planner for next year these city breaks are not to be missed.