Still in need of a summer city break? Whether you're looking for a historical and cultural enlightening, a relaxing break away or even a wild city nightlife, these five beautiful cities will provide you with the perfect trip away, full of fun without breaking the bank.
6.     Prague, Czech Republic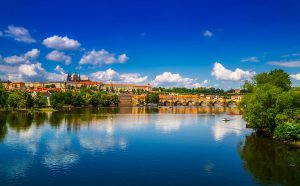 Prague is a brilliant city for students on a budget, with return flights under £100, hostel prices as low as £14 a night and hotels as low as £26 a night if you look for the right deals. Prague is bursting with things to do. Take a stroll across Charles Bridge (Prague's most popular bridge), wander around the Old Town Square (featuring beautiful baroque and art nouveau buildings, explore the Jewish Quarter (home to dated synagogues), memorials and museums) and take a walk down Golden Lane (full of colourful cottages turned souvenir shops). Also on the historical and cultural side of Prague, visit Prague Castle (one of the largest castles in the world) and St. Vitus Cathedral, or even check out the Museum of Communism.  Another tourist must is to get a picture in front of the Lennon Wall. For some fun, have a go at Prague's mind maze, located on a back street that'll test your mental skills to solve the challenge, or visit the Kafka Museum for a surreal trip into a strange world. For a chill afternoon take a river cruise down the Vltava River. Of course, a trip to Prague would not be complete without some beer, at the PUB Praha 2 you get to pour your own pint (costing less than £2) from the comfort of your seat. Pub crawls are incredibly popular in Prague also. With an extravagant nightlife, Prague is a top night out. The Karlovy Lazne Club is five stories tall, each with a different theme, making it the biggest club in the region. Going out won't break the bank either, with most entries not exceeding €5. The bar U Sudu even offers half-litre beers for less than €2. As well as clubs, Prague holds some lovely beer gardens and cellar bars, that lead down to secret underground dance rooms. Looking for a cheap party holiday? Prague may just be the answer.
7.     Berlin, Germany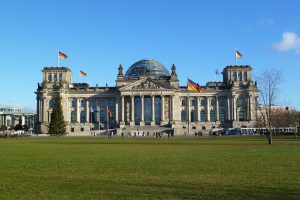 Berlin is a wonderful city offering so much history, culture and adventure. Famous for its architecture and street art, with the most well-known pieces of work being found on the Berlin Wall – a sight in itself. Take a visit to other key sights: the Brandenburg Gate and Reichstag, and for more history explore Museum Island, and the Jüdisches Museum presenting the story of Berlin's Jewish population. If you're looking for a quick way to navigate around the city, grab a rental bike dotted around central Berlin, that'll get you to all the key sights. For cheap shopping head to the giant flea market down Mauerpark to grab a bargain, or if you're looking for luxury, head to the department store, KaDeWe. The bustling capital also offers summery things to do: how about taking a picnic in Körnerpark, enjoy a drink in a beer garden, or visit one of Berlin's beautiful lakes such as Plötzensee that is also home to a small beach. There is even a swimming pool in a shipping container located in the River Spree; Badeschiff is just another hidden quirk Berlin has to offer. Renowned for its clubs and all-night raves, Berlin is the perfect haven for party-goers, gaining a reputation for its exciting nightlife. For the best nightlife head east to areas such as Kastanienallee, the Mitte and Prenzlauer Berg. A night out is super cheap with entry below €10 and beer as cheap as 90 cents. With London return flights as low as £60 and hostel rooms available from £8 a night, as well as hotels from £20, this city break is doable on a student budget.
8.     Rome, Italy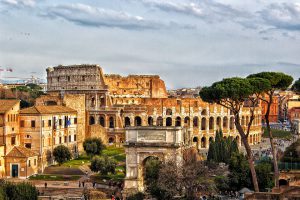 Rome is one of Europe's most amazing cities, home to a vast amount of history that'll intrigue any student. Exploring the Roman Forum, Colosseum, Trevi Fountain, and Spanish Steps are all tourist musts when taking a break to Rome, and on top of that a trip to the Vatican City (the metro costs only €7 for 24 hours) is also worthwhile, where you can admire St. Peter's Basilica and, although €16, the Vatican Museum, where you can also see the Sistine Chapel – all incredible places. You can even hire a bike, or take a tour bus if you want to get around the city quicker. Beyond the history, Rome is a beautiful city with lots to do. At Villa Borghese lies La Casa del Cinema where they screen both Italian and international films for free – grab a drink and relax. If you're looking for somewhere different to spend your evening take a trip to Baja – a boat restaurant and cocktail bar on the Tiber River, a perfect escape from the city itself. Or for an upwards getaway, check out Lanificio Rooftop, a place that rocks food, live music, DJ sets, exhibitions and a cocktail bar. Alternatively, visit La Bibliotechina situated in Rosati Park, a dance club and burger bar with an outdoor garden area, perfect for summer. Then take the night away at Bosco Delle Fragole, open until 5am, this is an open-air club in the deep forest on Monte Mario – one of the best places to be on a summer night. Or visit Le Terrazze perfect for those that enjoy the club scene. You can get to Rome for just over £100, with good hotel rooms available for around £25 a night, so don't miss out on this wonderful city.
9.     Reykjavik, Iceland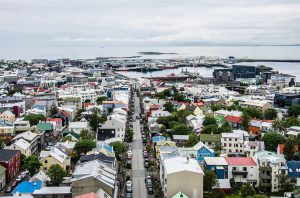 Although flights can sometimes be rather expensive, a city break to Reykjavik may be just what you need, from quirky museums to the Northern Lights. Wander the city viewing the sights of the Harpa concert hall, the Hallgrímskirkja Church and the relaxing Lake Tjornin. For independent boutiques and cafes head down to Laugavegur. A popular sightseeing route is the Golden Circle tour that begins in Reykjavik and takes you out of the city presenting you with breath-taking views of places like Thingvellir National Park, Geysir (the original geysir) and Gullfoss Waterfall, Iceland's most beautiful and most popular waterfall. Only a 40-minute drive out of the city is Iceland's pride and joy, the Blue Lagoon. Soak in the beautiful waters of this geothermal spa pool surrounded by lava fields with a swim-up bar to make it even better – although expensive it is not to be missed. The nightlife may not be like a typical European city, but in Reykjavik, it's all about the bar crawl. At the weekend, locals join 'The Rúntur', a wild bar crawl lasting all night. Grab drink after drink, sample some fine live music and party hard into the early hours of the morning. One bar in the city centre, Vegamot, features world-renowned DJs and is open until 5am. Reykjavik may not be one of your cheapest holidays, especially as a student, but it is a breath-taking experience that should definitely be put on your bucket list.
10.     Sofia, Bulgaria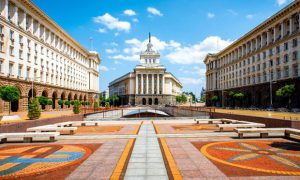 This gorgeous Bulgarian city is perfect for those wishing to tighten the strings on their purse and getaway at a much cheaper price. Sofia's premier clubs, restaurants and galleries give the city a youthful and vibrant feel throughout. For the traditional tourist, everything is accessible by walking and the city offers a vast amount of culture and history; explore St. Alexander Nevsky Cathedral, one of the largest Eastern Orthodox Cathedrals in the world, for free – a national symbol of the city with magnificent architecture. The city also offers free Sofia tours beginning at the Palace of Justice to get an understanding of the city at no cost at all. Even more appealing may be the free food tour available beginning at Park Crystal, where you can taste delicious Bulgarian cuisine. Take a rest in one of the city's quirky cafes such as Antrakt café-gallery that hosts alternative art, music and theatre. The street art is also amazing, and you could spend a whole day admiring and exploring its complexities. Sofia is a green capital holding many parks, the biggest being Borisova gradina, home to famous Bulgarian's statues – grab some fresh air, take a picnic, or even hire a bike to cycle around the lakes. If you're feeling adventurous take a hike up Vitosha mountain where extreme sport activities are available such as paragliding, mountain biking and rock climbing. Onto nightlife, the city does not fail to impress with pints as cheap as €1.24 and clubs open to the early hours, with bars open until 5/6am. Club Terminal 1 is a large and popular club presenting live music with an urban underground interior, in contrast Yalta Club is the most happening electronic music club with resident and guest DJs. Although flights can be costly, this beautiful city is worth the cost, and spending once you're there will be at a minimum.
These five city breaks will be completely worthwhile and will provide you with life-long memories. Although flights can sometimes be costly, once you're there the living is often cheap and cheerful, and fun will be had wherever you decide to go. So, whether it's a last-minute booking, or you're an early planner for next year these city breaks are not to be missed.