For any avid traveller, visiting the great sights of the world is a must. But aside from the grand monuments that attract us all, some countries around the world offer some of the coolest swimming pools known. Why not relax on your travels, or cross something different off of your list. If you're a keen swimmer like me, visiting these crazy and cool swimming pools seems to provide a fun challenge.
 San Alfonso Del Mar, Algarrobo, Chile
Of course, top of the list has to be the world record holder for the largest swimming pool in the world; a crystal clear lagoon 1,013 metres long, covering 20 acres and containing 250 million litres of seawater. As well as swimming, kayaking seems to be the most popular sport in this mini-ocean. If you love swimming this is definitely a pool to put on your bucket list!

The Cambrian Hotel Pool, Adelboden, Switzerland
This pool is a magnificent heated infinity pool exposing breath-taking views of the beautiful Swiss Alps all around you. Take a break from your hike, and relax in this pool of pristine scenery, and enjoy the spa indoors.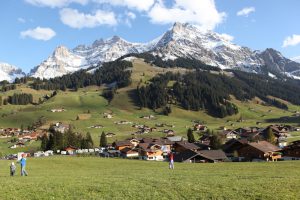 Market Square Tower, Houston, Texas
Test your nerves in this stunning glass-bottom pool that overhangs Houston, Texas 500 ft up! This pool is situated at the top of Market Square Tower holding 463 rental apartments, so probably not a pool all of us will get to experience, but definitely worth a try! If you're a thrill seeker, this pool is for you, and it comes with some astonishing American city views too.
https://www.youtube.com/watch?v=bxhNCYw3shY
Alternatively, there is also an overhanging pool 36-stories high at the InterContinental Dubai Festival City, accessible through the resort, overlooking the glittering skyline of Dubai.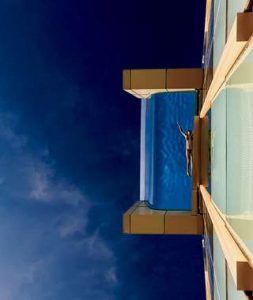 InterContinental Hong Kong
This beautiful infinity pool will give you a breath of fresh air; in the day, relax as you overlook the maritime scenes of Victoria Harbour, and at night take in from a distance the stunning views of the Hong Kong skyline with its shimmering lights and bustling vibe. A gorgeous resort with three infinity pools, lily ponds, and a poolside café.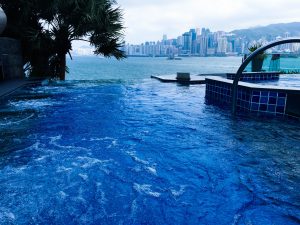 Nemo33 pool, Brussels, Belgium
At 108 ft deep, this pool boasts being the deepest recreational pool in the world, as well as being one of the world's most popular diving facilities. Make the most of your time travelling and have a go at a diving course, so you not only explore this wonderful pool but the oceans beyond it.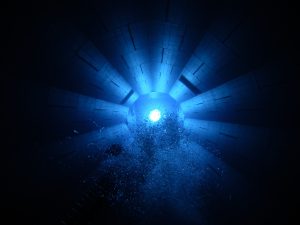 Marina Bay Sands Resort, Singapore
A bit of a thrill-seeker, but also a pool lover? Try out the Sands SkyPark infinity pool, situated 57 stories high, making it the largest and highest infinity pool in the world. Not only does it present a spectacular view, but you'll be swimming across the Singapore skyline itself. Not one for the fainthearted.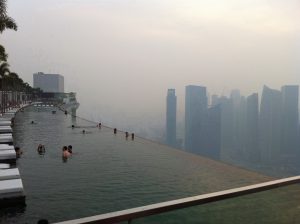 The Red Pool, Library Resort, Koh Samui, Thailand
Is red the new blue? This pool is tiled with red, yellow and orange mosaics to give it this alternative look. If you've seen Piranha or Jaws, maybe this isn't for you, but it looks pretty cool at least.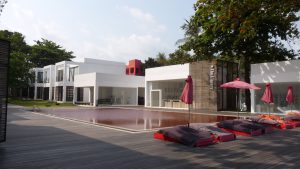 The Conrad Maldives, Rangali Island
Decisions, decisions – to swim in the pool or the sea? Well, The Conrad solves just this offering a serene infinity pool that meets waters with the pale blue of the Baltic Sea. Gaze for miles out into the glistening ocean, whilst you relax in the comfort of your own swimming pool – what more could you want.
Gold energy pool, Lhasa, China
Rejuvenate in this gold-plated pool of pure luxury atop a hill in Chinese Tibet. This pool will take you to another place of pure relaxation and meditation. Surely swimming in a pool of gold is super cool.
Chongwe River House Pool, Zambia
This pool may seem small and unimpressive, but take into account its location and you'll understand its magnificence. The safari lodge pool overlooks the incredible mountains of Lower Zambezi and the Congwe River, but, not only is it an impressive view but if you're lucky you may even come face to face with an elephant or two – a bucket-list worthy experience.
Yunessun Spa Resort, Hakone, Japan
Probably more weird than cool, but the Yunessun Spa Resort situated in Japan lets you relax and enjoy a swim in a multitude of drinks, ranging from wine to green tea. So if you've had a long day at work or travelling, why not bathe in red wine, instead of having a glass? I mean, what's cooler than that.
The Tank, Golden Nugget Hotel, Las Vegas, Nevada
Swim face to face with the Kings of the Ocean in Las Vegas' The Tank. A crazy hotel swimming pool that features a 200,000-gallon shark tank, that you can rush through on a three-story waterslide, as well as swim next to.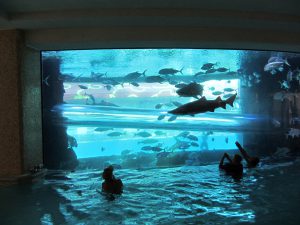 Mardan Palace Pool, Turkey
On the coast of the Mediterranean, this pool overlooks the glistening ocean, whilst also trailing around the resort itself in one large, connecting pool. Beautifully lit up at night, Mardan Palace pool is worth the visit.
Bondi Icebergs Public Pool, Australia
On everyone's bucket list should be the infamous pool that is Bondi Icebergs, situated on the cusp on the Tasman Sea. This 50-metre public pool is accessible to everyone, so take a swim whilst you admire the stunning Australian surroundings, beach and ocean, with wildlife, such as whales, you can spot from poolside. Release your inner Bondi beach girl!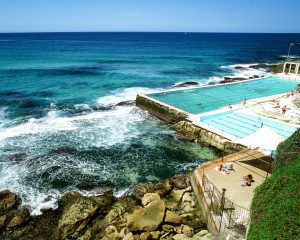 Ik Kil Cave Pool, Mexico
What looks like a big hole in the ground, is, in fact, an incredible natural pool surrounded by waterfalls, vines and flower lines. It's very deep and full of catfish, but a breath-taking experience, so see if you can muster up the courage to take a dip. Have a go at cliff-jumping too.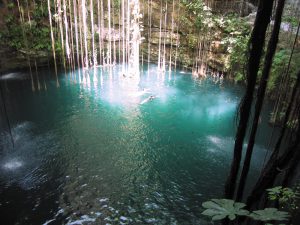 I hope this run down of the world's coolest pools gives you some inspiration for your journey around the world, happy travelling!