It goes without saying, for most students at least, that travelling can be an expensive pursuit. The costs of flights, accommodation, transportation and entertainment can quickly build up. It's definitely not uncommon to spend more than you had initially planned! A substantial portion of your budget, understandably, would go towards flights. Cheaper European flights become more affordable and attractive as a result. But as an avid traveller myself, I wasn't willing to accept higher flight prices to stop me from travelling the world! The sweet moment of grabbing a bargain on flights was important for me and will be important for many of you too.
There are a number of proven, unproven and suggested tricks you can use to save money on flights. One tip that is known to work is to carry out flight searches in incognito mode. This is because airline websites and ticket retailers use cookies on their sites, and are able to track your multiple visits, and subsequently raise prices for you even if the price for another person is lower. This might sound sneaky, but it's widely accepted to be true on most websites. Refreshing cookies or searching in incognito mode of your browser can help you get around this.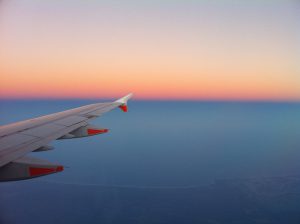 Another widely accepted trick is to become members of a Frequent Flyer loyal program airlines offer. You will find this on many online articles and websites. I will agree that it does work and save you money, but my advice is to implement this in a different way. Becoming friends with an Airline Alliance (like Star Alliance and OneWorld) is more likely to pay off than fixing your loyalty to one airline. These Airline Alliances have multiple international airlines in a partnership, which means that most often, miles collected with one member airline can be used on another member airline. If you want to save money, it isn't advisable to stick with one airline alliance, even if you wish to travel on the routes it flies on. Alliances can also have exclusive Business Lounges too in airports; membership can make them more accessible, for a more comfortable airport layover!
The resources and tips to grab airfare bargains are abundant. Some are better and more applicable than others, but some are "myths" as well. The challenge is to distinguish between what tips and resources would work for your trip, and what wouldn't. After years of research and experimenting in airfare "hacking", I have learnt much of the insider secrets and hacks that really "work" to bring the flight price down. The best saving I've made to date is a return flight from London to Hong Kong, for ONLY £282 pounds during last year's spring break! If you are equipped with the right tricks up your sleeve, you could make significant (and I mean significant!) savings on flight tickets!
If you aspire to travel the world without breaking the bank and master the unique skill of hacking airfares, then this book linked below that I wrote is the one for you!