Two years ago, my friend and I heard about Jailbreak at Freshers, and decided to give it a go. Little did we know that it would end up being one of the most exciting, mad, tiring and rewarding experiences we would have at university.
On the first day of Jailbreak, we spent the whole time just collecting donations, and then had an interesting night's sleep at Gatwick Airport. But we finally managed to get a flight to Paphos in Cyprus, and it was here that the adventure really began… We were on our way to Cyprus! It was only when we landed we realised we had 12 hours to get from Paphos in southern Cyprus to our flight home, which was on the other side of the island. Not knowing too much about Cyprus and its history, we soon found out after leaving the airport in Paphos and speaking to a very nice elderly man, that the town of Ercan (where our return flight was flying out from) was not only on the other side of the island, but it was also in the Turkish controlled part of northern Cyprus. The elderly man then helped us find a bus that would take us to the Cypriot capital of Nicosia, which he said was as near to the northern border as any southern Cypriot bus driver was willing to take us.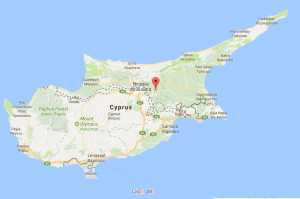 After the two and half hour bus ride we finally arrived in Nicosia, or rather, a dodgy looking bus station on the outskirts of Nicosia. At this point it was about 21:00 and we had no idea how we were supposed to cross an illegitimate border that no taxi driver would want to cross in time for our flight. Fortunately for my friend and I, Jailbreak HQ back here in Southampton were in contact with us every hour and were keeping an eye on us from the skies. It was a great comfort to us to know that someone knew where we were at all times while we were contemplating how to get to the northern part of Cyprus.
We eventually found a willing driver and set off. At this stage, the adrenaline started to kick in, and even though my friend and I had not slept for nearly 24 hours, we were wide awake as we sped through the city towards the border. This was quite possibly the most 'adventurous' taxi ride of my life, my adrenaline levels spiked even higher when the taxi driver pulled up by the turning just before the border, took the 'taxi' sign off the top of his car, and asked us to give him our passports. Not knowing what would happen if we said no, we gave them over and immediately after let HQ know where we were.
After turning the corner we arrived at the famed border crossing. It looked very ominous as we approached, being lite up by enormous floodlights, which revealed two very tall barbed wire fences on either side running along the border. After crossing the border we continued towards the town of Ercan and began to notice how drastic the differences between the north and the south were. In the south, there had been large cities with bright lights, but in the north, there was very little in the way of light. This most certainly added to the strange atmosphere we felt; driving past abandoned towns with graffiti on the buildings, and past several large unfinished mosques, which looked more like strange shadows in the distance rather than real buildings. However, after another hour of speeding through the darkness of northern Cyprus, we finally arrived at Ercan Airport. We picked up our bags, thanked the driver, and then watched him drive back into the darkness.
This was my experience of Jailbreak, and while it was scary at times, my friend and I did make our flight in time and nothing bad happened to us at all.  Jailbreak was easily one of the most fun, adrenaline filled, and awesome experiences I've had at university, and I would highly recommend it to anyone who wants to get out of their comfort zone and enjoys traveling. What is more, if you are a bit apprehensive about trying it, the team in Southampton are very well trained and will always contact you regularly, find out where you are and will look after you no matter where you are in the world.