Why do people dread packing so much? It doesn't have to as hard as everyone makes it. Making sure you've packed all the stuff you need and having packed it well can really make sure that your trip is the best it possibly can be. Be it a short trip with only a carry-on, or a few months of travelling covering multiple climates, these tips will ensure that whatever happens whilst you travel, packing won't be the most stressful part.
It starts with a List.
Be organized, write a list, what do you need to take with you? Think about the key things first such as phone, money, sun cream, any medication, and passports. Next, think clothes. What is the weather like where you're going? Then shoes: are you doing a lot of walking? Then don't pack heels, pack trainers. Write all of this down on a list before even going near a suitcase.
Cut the List
Chances are you wrote things down on that list that you don't actually need to take with you. Cut the list down to the bare necessities, if you have room at the end then you can add the items you crossed off.
Pick the Bag
Half the trouble is finding the best bag for your trip. Personally, I think everyone who travels should have their go-to carry-on suitcase and their go-to backpack. Know the measurement limits of the airlines for their carry on. The best ones are easy to carry and have a side handle as well as wheels. The only way to find the best backpack for you is to go to a shop and try them on. Make sure it is not too big or too small for your back; trust me; either will make you extremely uncomfortable. If you are unsure of the fit then speak to a staff member and they are always more than happy to help. The best backpacks are extendable and include different compartments. It's also super helpful if they have bungee cords on the front for extra attachments.
Start Packing (Suitcase)
Pack only items remaining on your list. Lay trousers flat horizontal across the bottom of your suitcase. Roll all your other clothes and put them on top of the trousers until full. Fold ends of trousers over the top of rolled clothes. Pack shoes on top and place underwear inside them, using this space as well as ensuring your shoes keep their shape. Put all extras in the gaps left behind.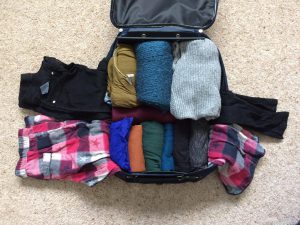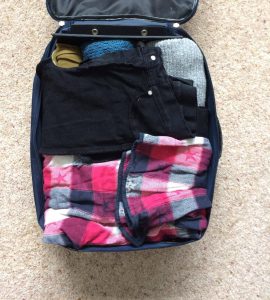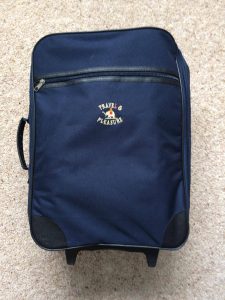 Credit: Chelsea Smith
Start Packing (Backpack)
Pack only items remaining on your list. I honestly cannot recommend vacuum pack bags enough here. They have saved me so many times when on longer trips. Fold your clothes and squish all the air out to fit in so much more than otherwise possible. Take a spare vacuum pack bag to store dirty clothes in between washes, keeping your clean clothes clean. Even better, pack some scented dryer sheets in the bags to keep your clothes smelling fresh
6. Any room?
Go back to the items you crossed off at the beginning and see if you can squeeze them in too with the extra room you've gained from these pro tips!