Everyone has their own way of planning a trip, this is never more noticeable than when trying to plan a holiday with a group of friends. Some of you will want to wait for the last-minute deals, some will be persuading the group the weekend isn't the best time to go because prices are increased, others will have planned the meals out months in advance. Everyone has their own way of creating the best holiday for them. But which one are you?
The Deal Hacker
You know when and how to get the best deals. Booking your flights six weeks before or two weeks before to make sure your seat on the plane is the cheapest one. You know all about the sneaky cookies bumping up prices, thank God for incognito mode, and all the travel hacks known to man. For you, there is nothing more relaxing than sipping on your sangria by the pool knowing you paid the least to be there.
Favourite website: Voyage Prive, exclusive deals on exclusive hotels for the most jealousy-inducing holiday.
The Prepared Traveller
After countless Google searches and advice from friends, you've picked the perfect spot for you. Scouring through top ten lists of destinations have found you your paradise. May it be the perfect city, or perfect hideaway. It has the beach you want, the old town to wander through at night, the culture… everything is YOU down to a T. There are absolutely no horrible hidden surprises for you on your travels because you have researched the place so much you feel like a local. You won't miss out on the hidden restaurant that had a glowing review on trip advisor but otherwise that no one else knows about. For you, the research pays off. The relaxation comes from knowing you haven't missed out on the perfect vacation because you are prepared.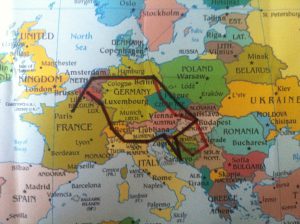 Favourite websites: Rough Guides, Lonely Planet, you name it. If it has a guide; you're there.
The Impulsive Flyer
You've had enough of day to day life. You need an escape and you need it now. You spend all of ten minutes finding the cheapest flight to wherever it may be. The next thing you know you're on the way to the airport picking out a hostel to stay in that night on your phone. You've probably forgotten something and you might not get the best deal but it's the excitement of going on a whim that you can't resist. You probably end up in the most obscure places but you don't care. You're not at home, it's unknown and it's exciting. What's better than that?
Favourite websites: You're signed up to receive notifications of flash sales from any and all budget airlines such as Ryanair and EasyJet.