You've heard of Lonely Planet's 2018 destinations, you've probably heard of many lists claiming to have the ultimate destinations for you to visit in 2018, but really these lists are made up by people sitting in fancy office chairs in London with a small army of sponsors. This, right here, is THE ultimate list; made by students for students. So get packing because the travel bug is about to hit. 
1. Laos, Kieran Murray
Laos may be the most underrated travel destinations in Southeast Asia, seldom mentioned whilst millions flock to Thailand, Vietnam, Malaysia and Indonesia's Bali. Seldom talked about, relatively poorly developed and still affected by millions of unexploded American bombs from the Vietnam War, Laos also offers superb tourism. Whether you seek luxury in the spas, cafes and historic sites of Luang Prabang; an adventure to the ancient and remote Plain of Jars; or want to interact with locals in a village homestay, you can be catered for. Laos is one of very few truly communist countries and relies on tourism for 10% of its GDP making up for 1 in 11 of its jobs. Its friendly, ambitious and welcoming people deserve this income. As 2018 is its self-declared Visit Laos Year, and the country is one of the world's fastest-growing destinations – now is as good a time as any to make a trip.
2. Porto, Portugal  Amiee Ramgolam 
Picture yourself in a sky car, it's a sunny day and the river below you is sparkling – and your friends are rocking the car as hard as they can. That was my first experience of Porto. Add to that the gorgeous historic sites and buildings, the wine and port (seriously try Vinho Verde it's a revelation), and flights for around £50 and you're onto a winner. Once you get there don't forget to climb the Torre dos Clérigos – a bell tower with panoramic views of the city – and snap that perfect Instagram. And if you're shy about traditional food there are plenty of familiar chains about the city, although I wouldn't let that stop you from trying a pastel de nata or francesinha, which, incidentally, is perfect for nursing the inevitable hangover after a visit to one of the numerous bars and clubs Porto has to offer.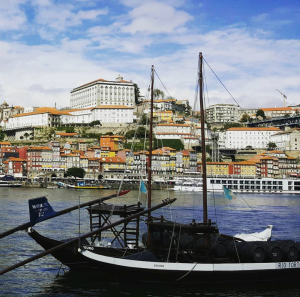 3. Berlin, Germany Simon Pinney
Have you ever fallen in love with a city? I know I have. Berlin is that city. It is a city that captured my heart and I always wish to go back. It is a city with a vibrant and changing history, where monuments and buildings make you feel, happy and sad. The nightlife is incredible, nothing beats knocking back drinks on a rooftop of a bar overlooking an incredible view of a bustling city. I could go on and talk about generics of a city like food or drink or museums, but that would ruin the wonder and magic of Berlin. It is a city where you could end up anywhere, from a backstreet with performers and graffiti-covered walls to an open-air amphitheater on a disused airfield where everyone sings along to Wonderwall. For me, Berlin is a perfect adventure and I think everyone should visit even if it is just once.
4. Sihanoukville, Cambodia, Freya Millard
I could not recommend the city of Sihanoukville in Cambodia highly enough. Cambodia as a country is an incredible travel experience that really hits all the criteria for those who seek a good adventure. The natural scenery in Sihanoukville is just phenomenal, the colours so vivid and the atmosphere so optimistic. The beaches here are a slice of paradise and whilst you're drifting in the sparkling sun-warmed sea you'll realise just how incredible this planet truly is and just how small your troubles back at home are. On top of that, the nightlife here is brilliant with cheap drinks and cheesy music. There are clubs all across the beachfront, fire dancers and performers lined up and fireworks hitting the sky at night, it's honestly the stuff of dreams.
5.Uganda, Chelsea Smith 
Lush green hills surround the islands in the south, dense rain-forest cloaks Bwindi's Impenetrable Rain-forest while flat savanna provides perfect safari in the north. Uganda is often named the 'pearl of Africa' at the heart of the continent, with Lake Victoria covering a third of the country, Uganda has so much to offer. For the thrill seeking students among us go from grade five white water rapids, to standing within metres of the protected Highland Mountain Gorillas. For the less adventurers spend your days canoeing from island to island, swim in the shadow of a volcano and shower by moonlight. Uganda is an incredible place that can accommodate for any trip you might have planned, not to mention the local gin is out of this world.