Berlin captured the heart of the twelve-year-old me on a school trip. I was dragged around an icy city that soaked through my collapsing trainers to learn about a history teenage me wasn't really interested in. I've never really been into history, I could have quite easily wished I was back home in England with a cup of tea. But I didn't, beyond my frozen feet I saw a city with quirks and humor. The unapologetically weird city resonated with my misfit teenage persona. The Christmas lights and crowded markets gave a sense of something magical, different and separate from everyday life. 
Since that first trip to Berlin, I've always been planning to go back, and have done so three times since. Whether in the middle of winter or the middle of summer, it never managed to disappoint. This is a city whose way of life is shown through its streets. I arrived the other year to step out of a U-Bahn to see someone painting an image of a woman fading into a sketch of a city skyline on the side of a building. By the time of the last day of my trip, four days later I walked back to the U-Bahn and the painting had transformed into an incredible piece of art- that was an advert.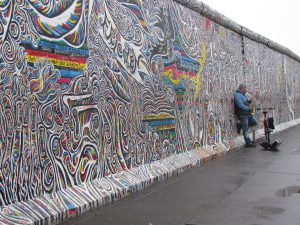 Things are done differently here. That advert in the UK would have probably just been a cheap image printed out and stuck on a billboard or bus shelter, but no, in Berlin it is painted onto the side of a building by an artist. You just need to walk along East Side Gallery to understand that the art runs deeply within this unsuspecting European capital. Take a walk down any side street to see the murals and street art decorating walls.  Or find something a little weirder: I found myself in a basement surrounded by a mechanical robotic production of artists' work. But then again if you don't fancy wandering into a basement, the city has plenty of legitimate galleries to have a wander through.
If the weirdly wonderful street art wasn't enough, the flea markets that line the parks in summer, and Christmas markets overtaking squares in winter tops it off. Muer Park hosts a market full of creations and vintage finds, not to mention some incredible street food from some random corners of the world. After doing a little bit of shopping, you can head along the abandoned runway to the open air amphitheater – catch the right day and watch the karaoke performances with the crowds, or be brave enough to sign up for a song.
Whether it's the currywurst or the beer, Berlin's food and drink scene is also not to be missed. Ranging from a world famous kebab van to a revolving restaurant looking over the city at the top of the TV tower, there is plenty on offer for any palette or wallet.
I get tired of hearing Berlin is great for people who love history. Yes, there are some incredible displays and museums and places where people once stood. Yes, it is sobering, yes it is interesting. But, there is so much more. Berlin is not a city of history, Berlin is a city of weird and wonderful. It's a place for everyone, and if you haven't gone yet book a ticket and let me give you a tour.