There is no need to get there as the park opens and race with middle-aged dads in crocs pushing their families in front of you. No need to wait for hours when you could be enjoying the rest of the park. You'll walk smugly past the regular line and wonder why on earth anyone wouldn't plan ahead.
I grew up in one of those families that went to Florida one year and then decided that they never needed to go anywhere else. From that point onwards if we were going on holiday we were going to Orlando. The main reason? Disney World.
I know, I know. We're hardly the Swiss Family Robinson. People often tend to judge the lack of adventurousness displayed by a family that returns to the same place and does the same thing every holiday. Especially when the place you're visiting is a glorified plastic palace. Yet, there is something truly magical about Disney World. Maybe it's precisely the fact that you know what you're getting when you walk through those park gates: clean, good-natured fun and a chance to experience the magic of childhood no matter what your age.
Still, there are some people who go to Disney World and come back unimpressed. Fair enough, for some it may just not be their thing. For those I've talked to, though, the complaint always seems to be the same: the lines. Now, to be fair if you're going to Disney World you need to be prepared to wait in at least some lines. However, it need not be a complete nightmare; there is absolutely no need to wait in lines for hours on end. This will require a bit of organisation, but trust me once you get there it's worth it. So, here are some tips from a Disney World veteran.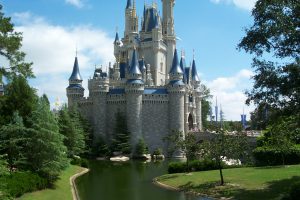 Magic Hours
When choosing which days you want to go to the parks keep in mind that Disney also has 'magic hours'. This means that on some days people staying in Disney hotels get to enter the parks earlier (and leave later) than everyone else. Therefore, if you're staying at a Disney hotel go on these days and make the most of the extra time because lines will be a lot lower before everyone else arrives and after everyone else leaves. On the other hand, if you're not staying at a Disney hotel avoid these days because by the time you get to the park (even if you get there at the usual opening time) lines will have already been building up for at least an hour. You can find out which days the 'magic hours' for different parks are on by looking online or by using the 'My Disney Experience' app.
Fast Passes
For every ride there is a separate 'fast pass' line. This line is much shorter than the usual one because there are a limited amount of fast passes for each time of the day. For every day you get 3 fast passes so decide ahead which rides you really want to go on. This is where you will definitely need the 'My Disney Experience' app. Once you've decided on your attractions and linked your tickets to the app you should be able to use it to book fast passes 30 days in advance or, if you're staying at a Disney resort, 60 days in advance. You'll need to book them as soon as possible. Once you've used your 3 fast passes you can immediately book 3 more for that day so try and book your 3 early so that you can try to book another 3 afterward – you may get lucky!