This is the story of eleven friends punting their way through Sicily trying to climb some pretty rocks and eating even prettier food.
After a full day of travelling, we landed in Palermo and crawled towards arrivals to pick up the hire cars just before midnight. After dodging the inevitable up-sale attempts and signing away our first-born children in the case that a car came back with even a suggestion of a scratch, we were on the road. The Italian driving experience is the ultimate trial by fire for anyone who hasn't driven on the other side of the road in a foreign country. For instance, there used to be a national system in Italy where drivers lose priority once on a roundabout which has been updated in most parts. However, this does mean the occasional driver will pull out in front of you as if you don't exist – almost making you die. Luckily, there's one thing you can always be certain of, a mk1 Fiat Panda will appear from thin air and find a gap to overtake you on a skinny B road doing approximately twice the speed of sound come rain or shine.
Italy treated us to extremely high-quality sport climbing for the whole trip so good in-fact that three of us forgot that we had to drink water to survive as humans. Day one saw Ludo get heatstroke, me on day two and then Felix every other day. Drink more water people! Every crag (place where you climb) we visited was full of interesting and engaging routes at all difficulties which is a very rare find in England. Living in Southampton on the south coast, our go-to place for sport climbing is Portland which features limestone that produces razor-sharp edges. Not only is it hard-wearing on your skin, it can start to feel very samey especially if you're not making an effort to vary the crags you visit. Although Italy is also full of limestone, the rock style within a crag felt far more varied and each route gave a unique experience.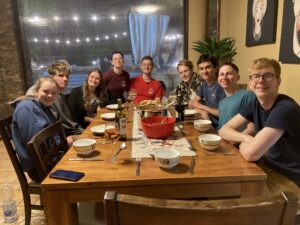 ­Although it's easy to become dehydrated, we certainly didn't forget to eat! Each night two people (of the eleven that went) would pair up to cook a big family meal for everyone. Honestly, I was dubious of this plan knowing the culinary history of some of my friends (we all know the cereal burning kind). But it turns out that pairing them with those (slightly) less likely to give you life threatening food poisoning was plenty sufficient and made for an epic time at dinner every night. Everyone pulled through and provided their own lovely unique meal each night, the most memorable of which being the day we made pizzas in a real Italian pizza oven in the Airbnb's kitchen. I must now build one someday.
My trip came to a close by sleepwalking through Stansted arrivals and being met with a beautiful sign held by my favourite taxi driver that displayed a lesser known nickname of mine. Big cheers to Ellie for fully organising it and to everyone that came and made it a sick lil trip. Also I don't actually like sport climbing.